The Nikon D5000 is a DX-format camera that is used by many photographers. Thanks to its interchangeable F-mount lenses with a wide variety of options to choose from, ranging from fish eye to telephoto zoom options, this model has become an ideal choice as a first camera.
Our list of the best lenses for Nikon D5000 users is sure to have something just perfect for you. Discover budget-friendly options and top-notch professional choices – so no matter your level or price range, there's a lens that fits your needs!
Best lenses for Nikon D5000
Here's a detailed list of Nikon D5000 lenses sorted by type, including cost range, specifications, and performance ability. Cost ranges are indicated:
0 – 500$ – Budget $
501 – 900$ – Average $$
901+ $ – Expert $$$
The list of Nikon D5000 lenses:
PORTRAIT lenses
1. Nikon AF-S Nikkor 85mm f/1.8G
2. Sigma 30mm f/1.4 ART DC HSM Lens
ZOOM lenses
3. Sigma 17-70mm F2.8-4 Contemporary DC Macro OS HSM
4. Sigma 18-35mm F1.8 Art DC HSM
TELEPHOTO lens
5. Nikon AF-P DX NIKKOR 70-300mm f/4.5-6.3G ED
WIDE-ANGLE lens
6. Tokina AT-X PRO 11-16mm F2.8 DXII Lens
MACRO lens
7. Nikon AF-S VR Micro-NIKKOR 105mm f/2.8G IF-ED
Portrait lenses for Nikon D5000
1. Nikon AF-S Nikkor 85mm f/1.8G
PROS:
+ Soft bokeh effect
+ Focal length of 85mm
+ Quick focusing
CONS:
– No built-in image stabilization
Debates continue to rage on as photographers strive to find the best lens for portrait photography. The most popular contenders are 35mm, 50mm, and 85mm prime lenses. This Nikon D5000 85mm lens is an option to consider, allowing you to capture vibrant images that exude energy!
Build and handling: The Nikon 85mm f/1.8G is designed well with its heavy-duty plastic exterior and metal lens mount, complete with a rubber seal to successfully keep dust at bay. Additionally, even though it may appear somewhat bulky, it is still relatively lightweight to transport during these portrait photo shoots.
Performance: Photographers and videographers alike will both appreciate the Nikon D5000 portrait lens. Its wide f/1.8 aperture is ideal for low-light conditions, while its shallow depth of field capabilities ensure subject separation from background elements in your images. This lens also includes two focus modes: manual priority AF and manual focus. Also, a super fast and quiet wave motor autofocus technology, which is perfect for creating stunning video projects!
Best for: As mentioned earlier, the Nikon D5000 lens is ideal for portrait photography but it can be a multi-use tool in the hands of an experienced photographer. It offers great results not just for portraits, but also for product shots and different events.
The Nikon 85mm f/1.8G stands out as a top-tier lens for use with Nikon D5000 cameras, particularly when it comes to portrait photography. It affords you an amazing bokeh effect and rich contrast along with a shallow depth of field. If you want to take your portraiture to the next level, then this is worth considering adding to your arsenal.
---
2. Sigma 30mm f/1.4 DC HSM Fit Lens
PROS:
+ Wide aperture
+ Solid build quality
+ Smooth autofocusing
CONS:
– Lack of weather sealing
When you glance at a lens with an aperture of f/1.4, it's already apparent that there are powerful advantages attached to the device. The 30mm lens is no exception; not only does it have a fast HSM autofocus and excellent construction, but its compact size and affordable price point make it stand out from other lenses in its class.
Build and handling: With its thermally stable composite (TSC) construction and metallic look, the Sigma lens for the Nikon D5000 exudes professional appeal. Its design is sophisticated with detailed indicators that are easy to read. The focusing ring glides effortlessly when turned, offering just the right amount of resistance without feeling too tight or loose. The AF/Manual switch can be changed seamlessly between modes in a single glance.
Performance: Sigma's Hypersonic Motor internal autofocus system performs impressively with a quick and almost silent operation. This lens is configured so that the front element will remain in place when focusing, and manual focus can still be utilized even while autofocus is activated. The corner sharpness of this Nikon D5000 Sigma lens is slightly less than the center sharpness but still acceptable.
Best for: The Nikon D5000 lens is the optimal choice for indoor portrait photography because of its short focal length and vast f/1.4 aperture which allows for impeccable shots in dimmer conditions. Furthermore, this can be used beyond portraiture to capture remarkable street scenes, breathtaking landscapes, and stunning travel snapshots!
Ultimately, the Nikon D5000 lens proves a fantastic choice. It offers robust construction and exceptional bokeh in areas with low focus – perfect for those stunning images you desire! Despite its lack of weatherproofing, this lens is a wise investment given its impressive performance at an economical price point.
Zoom lenses for Nikon D5000
3. Sigma 17-70mm F2.8-4 Contemporary DC Macro OS HSM
PROS:
+ Focal length from 17 to 70 mm
+ Image stabilization
+ Perfect for everyday use
CONS:
– A bit of distortion
The Sigma 17-70mm f/2.8-4 DC Macro OS Lens is a perfect lens for everyday use, offering an extensive focal length range, fast and precise HSM autofocus, reliable optical stabilization technology, and minimum focusing distance in a sturdy yet affordable package.
Build and handling: Boasting a sturdy build crafted with quality materials, including a durable brass bayonet mount and glass optics, the lens is surprisingly available at an affordable cost. Moreover, Thermally Stable Composite material ensures stability in varying temperature conditions for reliable performance. Other features include a manual focus ring located behind the front element along with a 7-blade rounded diaphragm that creates stunning bokeh effects for incredible visuals.
Performance: With the Nikon D5000 multipurpose lens, you can capture stunning shots with sharp focus and low depth-of-field even on a DSLR camera sensor's f/4 setting! Furthermore, it has built-in Vibration Reduction technology that provides up to 3 stops of compensation for shake-free images when activated through the OS switch located on the lens barrel!
Best for: This cost-effective option is the perfect lens for your daily needs. With its 17-70mm focal lengths, you can capture wide-angle shots even in dim light and zoom out to snap streetscapes, architectural building details, and more! It's one of the best travel lenses for Nikon D5000 at such a great price point.
The Nikon D5000 standard zoom lens is an outstanding choice for photographers. Not only does it provide unbeatable image quality and macro performance at a budget-friendly rate, but its construction also ensures that this investment will stand the test of time.
---
4. Sigma 18-35mm F1.8 Art DC HSM
PROS:
+ Large aperture for a zoom
+ Affordable pro-grade gear
+ Excellent in night photography
Investing in the Nikon D5000 zoom lens is a wise decision for any professional photographer, as it provides exceptional performance at an unbeatable price. This powerful piece of equipment offers far more value than its initial cost implies and will surely exceed your expectations.
Build and handling: The Sigma ART series is a go-to choice for photographers, due to its professional quality and attractive design. Crafted with aluminum alloy, this lens has an elegant look and feel that many admire. Although it weighs 28.6 oz (810 g), the weight may be considered heavy but certainly not excessive or unbearable.
Performance: The Sigma 18-35mm f/1.8 DC HSM Lens stands above the competition for Nikon D5000 owners due to its impressive f/1.8 aperture, allowing users to capture images with a shallow depth of field and beautiful bokeh effects. Furthermore, this lens is fast and whisper quiet in operation thanks to its hypersonic motor – making it an ideal choice for both photography professionals as well as those looking for quality results on a budget!
Best for: The Nikon D5000 zoom lens is the perfect solution for all of your photography needs. With wide-angle capabilities and a large aperture, it's ideal for every type of indoor event – from weddings to product shoots. It also performs excellently outdoors in any light condition. Whether you're shooting street scenes or portraits of friends, this lens will deliver stunning results with vivid skies and low-light clarity! Plus, its stellar astrophotography performance makes it one of the best lenses for Nikon D5000.
All in all, the Nikon D5000 zoom lens is an excellent addition to any photographer's equipment. It provides great adaptability and performance regardless of diverse circumstances or surroundings, always producing top-notch results without breaking your bank account. Whether you're dealing with rough weather conditions or difficult locations, this lens will never fail to amaze you!
Telephoto lens for Nikon D5000
5. Nikon AF-P DX NIKKOR 70-300mm f/4.5-6.3G ED
PROS:
+ Lightweight for a long-range zoom
+ Extremely affordable
+ Built-in image stabilization
CONS:
– Doesn't perform well under the low light conditions
For those of us on a budget, this cost-effective Nikon D5000 telephoto lens is the perfect solution. Not only will it save you hundreds upfront, but its performance and image quality are still on a high level!
Build and handling: Outfitted with the same construction as many other consumer-level options, the Nikon D5000 landscape lens is both remarkable and mundane. With its weight of only 14.7 oz (415 g), it makes handheld shots easy to take and get clear images. Furthermore, its sleek yet simple design looks quite nice.
Performance: If you're looking for a Nikon D5000 lens on a budget, this option may be the one. Featuring an f/4.5 aperture, it's not ideal for low-light shooting but it does feature Vibration Reduction image stabilization to make capturing objects easier. However, to reduce noise in images and take advantage of its features fully, using a tripod is highly recommended as well so that shutter speeds can be lowered accordingly.
Best for: If you're searching for a lens to take long-distance shots on a limited budget, this is the perfect fit. It performs flawlessly when photographing wildlife or scenery, and it's lightweight enough to bring on trips without requiring the use of a tripod all the time. In this case, capturing those one-in-a-lifetime birds or other fleeting moments won't be missed due to the time spent setting up the tripod.
If you are a passionate photographer on the hunt for an accessible and budget-friendly lens to use with your Nikon D5000 for wildlife photography, this is it. You'll be able to gain incredible value from its cost as well as explore fresh focal lengths and dimensions that will greatly add depth to your portfolio!
Wide-angle lens for Nikon D5000
6. Tokina AT-X PRO 11-16mm F2.8 DXII Lens
PROS:
+ Ultra wide-angle
+ Fast autofocusing
+ Impressive build quality
CONS:
– No image stabilization
If you want the utmost clarity and speed in low-light photography, then this Tokina lens for Nikon D5000 is perfect. With an ultra wide-angle f/2.8 aperture zoom that guarantees crisp images at any range, it's no surprise why so many photographers love this versatile lens! Whether indoors or outdoors, its consistent aperture control grants you a stunning result!
Build and handling: The Tokina lens features robust plastic housing and an ergonomic rubberized ring to provide optimal grip. It contains nine shutter blades in the aperture for exquisite, velvety bokeh-style backgrounds. Moreover, it is equipped with two Super Low Dispersion glass elements and two aspheric elements that improve contrast, and clarity and reduce chromatic aberration. Additionally, advanced multi-layer coatings minimize reflection off surfaces for maximum optical performance.
Performance: The autofocus system offers refined and silent operation with its internal motor that enables you to shoot crisp images with minimal deterioration around the edges. When shooting in strong natural light, there is likely to be some faint chromatic aberration or fringing near the corners of your pictures. However, this can quickly be corrected during post-processing!
Best for: With its wide-angle view, this Nikon D5000 lens is perfect for those areas with limited space such as real estate and indoor events. The possibilities are endless – you can use it to capture stunning landscapes or group photos so that nobody gets left out of the frame! Also, because of its large aperture and wide-angle capabilities, you can even take beautiful night sky shots too!
For Nikon D5000 owners, the Tokina 11-16mm F/2.8 lens is a superior choice in terms of value and quality! Featuring an impressively fast aperture that remains constant throughout its focal length range as well as excellent optical performance, this lens will not disappoint.
Macro lens for Nikon D5000
7. Nikon AF-S VR Micro-NIKKOR 105mm f/2.8G IF-ED Lens
PROS:
+ Large aperture for low-light conditions
+ Focal length of 105mm
+ Built-in image stabilization
CONS:
– A bit heavy for hand-held shootings
Macro photographers everywhere will be delighted by this lens' size and ability to create life-sized photographs with DSLR sensors! Furthermore, the f/2.8 aperture plus optical stabilization system makes it possible for you to capture amazing pictures even in low lighting conditions. With this lens, your macro photography dreams are sure to become reality!
Build and handling: The Nikon D5000 macro lens is an engineering marvel, boasting dimensions of 4.6 x 3.3 inches (116 x 83 mm) and clocking in at a weighty 27.9 ounces (790 grams). Its sleek black composite material provides an ergonomic grip to its manual focus ring and toggle switches for quick settings switching between autofocus or manual mode. As well as the optical stabilization system on/off ability make this high-end tool even more user-friendly.
Performance: The lens is designed with SWM Technology for fast and quiet autofocus, making it easy to switch between manual and automatic modes. Moreover, its IF system ensures the front element stays stationary which makes your circular polarizing filters easier to access. Additionally, its advanced VRII mechanism allows you to take sharp images even at shutter speeds four stops lower than regular!
Best for: The macro lens for Nikon D5000 is perfect to capture tiny subjects, such as insects. With its 105mm focal length and lens hood, this lets you take photos from a suitable distance and prevent any shade from the lens. So you will be sure that your photo won't be ruined thanks to these advantages.
If you are an avid enthusiast of macro photography and own the Nikon D5000, then this Nikkor lens is for you! Its optical stabilization feature ensures your pictures will be clear and crisp at 1:1 magnification.
---
Conclusion
When determining which are the best lenses for Nikon D5000, it all boils down to what kind of photography you plan on doing. Weighing the benefits and drawbacks of each lens is a must before committing – there isn't one ideal solution that works for everybody! Hopefully, you have found your answers here and are now ready to acquire new gear to boost your skills.
Read more: Best Nikon DX lenses.
Disclosure: Some of the links may be affiliate links, at no additional cost to you. If you make a purchase then I will earn a commission, which helps me to run this website. Again: no additional cost for you.
---
PIN IT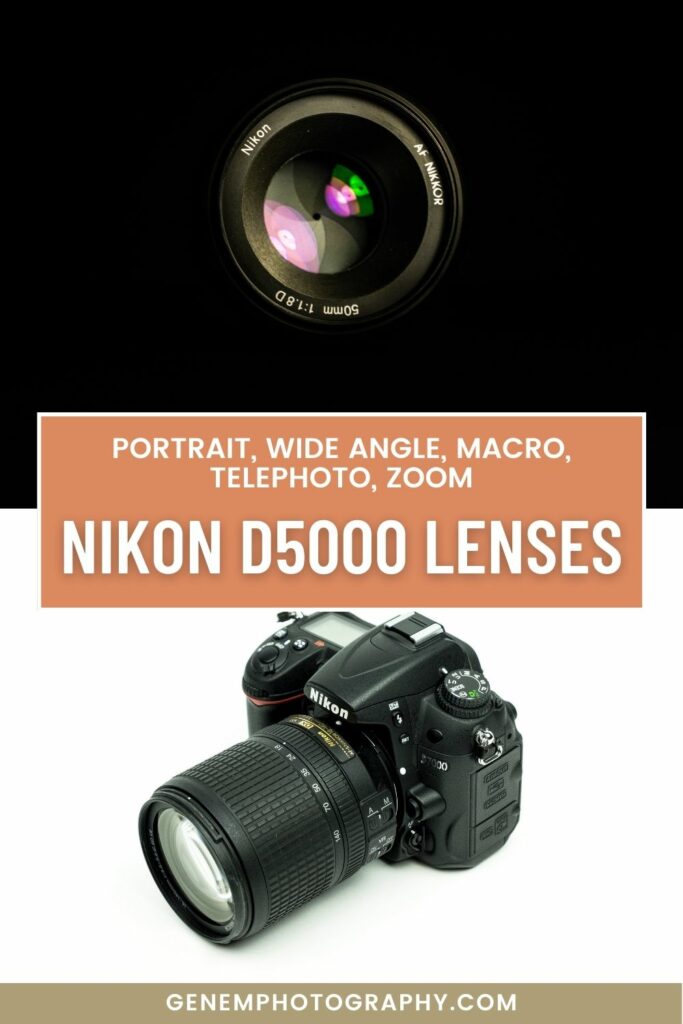 ---
Read more about Nikon lenses: