The Nikon D5200 is a popular camera among photographers due to its DX format and a plethora of interchangeable F-mount lenses that offer everything from wide-angle to telephoto zoom lens options. This makes it an ideal choice for anyone looking for their first DSLR camera!
Our list includes the best lenses for Nikon D5200. There you will find budget-friendly options as well as pro-grade choices, so whatever your level of photography or price range is there's an ideal lens just waiting to be discovered.
Best lenses for Nikon D5200
Find the perfect Nikon D5200 lens for your camera by browsing through our comprehensive list, which includes performance abilities, cost ranges, and specifications. The prices have been categorized as follows:
0 – 500$ – Budget $
501 – 900$ – Average $$
901+ $ – Expert $$$
The list of Nikon D5200 lenses:
PORTRAIT lenses
1. Nikon AF-S Nikkor 85mm f/1.8G
2. Nikon AF-S Nikkor 50mm f/1.8G
TELEPHOTO lenses
3. Sigma 150-600mm 5-6.3 Contemporary DG OS HSM
4. Nikon AF-P DX NIKKOR 70-300mm f/4.5-6.3G ED
ZOOM lenses
5. Sigma 17-50mm f/2.8 EX DC OS HSM
6. Nikon AF-S DX NIKKOR 16-80mm f/2.8-4E ED
WIDE-ANGLE lenses
7. Nikon AF-S DX NIKKOR 10-24mm f/3.5-4.5G ED
MACRO lens
8. Nikon AF-S VR Micro-NIKKOR 105mm f/2.8G IF-ED
Portrait lenses for Nikon D5200
1. Nikon AF S Nikkor 85mm f/1.8G
PROS:
+ Soft bokeh effect
+ Focal length of 85mm
+ Quick focusing
CONS:
– No built-in image stabilization
Photographers are always searching for the optimal lens to use when shooting portraits. The most sought-after options include 35mm, 50mm, and 85mm prime lenses. If you looking for some extra spark, then look no further than this Nikon D5200 85mm lens! You'll be able to capture vivid images that burst with life and energy!
Build and handling: With its rugged plastic exterior and metallic lens mount, the Nikon 85mm f/1.8G is designed to effectively keep dust away. Moreover, although it looks bulky at first glance, this camera remains surprisingly lightweight for easy portability on portrait photoshoots.
Performance: The Nikon D5200 portrait lens is a great addition for photographers and videographers alike! Its f/1.8 aperture ensures that you can capture stunning images in any light, while its shallow depth of field capabilities guarantee subject separation from background elements. Additionally, the two focus modes – manual priority AF and manual focus – give you ultimate control over your shots. Plus, it has a quiet wave motor autofocus technology that allows you to create beautiful videos without any noise!
Best for: As previously mentioned, the Nikon D5200 lens is an ideal option for portrait photography. However, it can also be used to capture a wide scope of images in the hands of an experienced photographer. From portraits and product shots to special moments at events at a very low price point.
The Nikon 85mm f/1.8G is among the best lenses for Nikon D5200 which will significantly upgrade your portrait compositions. This lens has a beautiful background blur, shallow depth of field, and higher contrast that generate stunning photos at reasonable costs. Making it an ideal pick if you're aiming to take your portraits to new heights!
---
2. Nikon AF-S Nikkor 50mm f/1.8G
PROS:
+ Lightweight
+ Extremely affordable
+ Fast autofocusing
CONS:
– A bit of visual distortion
If you're a hobby photographer searching for an economical lens that doesn't compromise on quality or performance, this Nikon D5200 portrait lens is worth considering. It has very similar specs to its previous 85mm and offers an advantage in terms of price efficiency. It's also lightweight enough to fit conveniently into your camera bag without adding any extra heft!
Build and handling: This Nikon D5200 prime lens is even lighter than the previous one, weighing in at a mere 6.6 oz (185 g). It's made for lengthy hand-held photography sessions and offers all the necessary features to make your experience optimal. Additionally, the prime lens has an efficient rubber seal on its mount that helps keep out dust and debris which enhances its durability.
Performance: The wide f/1.8 aperture of this lens creates an enchanting bokeh and remarkable subject-background contrast, even in low light! Autofocus may not be the fastest but what it lacks in speed is made up for by its superior image quality. The only disadvantage is that maximum sharpness won't be achieved at the corners or edges when shooting with wider apertures, though you will still get great results overall at this price point.
Best for: This lens is perfect for taking portrait photographs, allowing you to frame your subjects with minimal space. Due to its versatility, it also allows you to capture detailed product images, beautiful landscapes, and event photos too! Compared to the previous 85mm this 50 mm lens for Nikon D5200 offers increased space-saving capabilities.
Ultimately, this lens is ideal for portrait photography with the Nikon D5200. You will love its lightweight design and its exceptional image quality while praising the inexpensive cost of admission. Whether you're a starter or a seasoned photographer looking to add versatility to your camera gear, it's hard not to appreciate what this lens has to offer!
Telephoto lenses for Nikon D5200
3. Sigma 150-600mm 5-6.3 Contemporary DG OS HSM
PROS:
+ Lightweight for superzoom telephoto
+ Built-in image stabilization
+ Affordable price
CONS:
– Above 500mm loses a bit of quality
If you're in the market for an exceptional telephoto lens, then this is might be your best bet! It's perfect for capturing wildlife or sports events and offers unbeatable quality without breaking your budget. For sure, it's one of the best lenses for Nikon D5200 if you need a superior zoom telephoto.
Build and handling: If you're passionate about wildlife or sports photography, the Nikon D5200 telephoto lens is an ideal choice for you. Despite its impressive professional feel and performance capabilities, it weighs only 68.1 oz (1,930 g) – lighter than most other lenses in its class! With this strong grip and portable design, your photographic journey will be taken to new heights!
Performance: Perfect for stunning outdoor photography, the Nikon D5200 landscape lens is an ideal choice for photographers who crave immense focal lengths and wide aperture alongside pro-grade features. Not to mention its remarkable performance in dim lighting conditions and its hypersonic motor providing smooth autofocusing – you will be able to capture images with ease while utilizing the built-in image stabilization technology!
Best for: If you're looking to take breathtaking photos of distant subjects, then this telephoto lens is the ideal option. With an incredible maximum focal length of 600mm and even sharper images when paired with a tripod, it's perfect for capturing wildlife that may be hard to reach. It's also brilliant for sports photography or capturing intricate landscape details.
This Nikon D5200 lens is an absolute must-have for shutterbugs hoping to take pictures of faraway subjects such as wildlife or sports games. While it may be pricier than other options, its remarkable features and performance make the investment worth it!
---
4. Nikon AF-P DX NIKKOR 70-300mm f/4.5-6.3G ED
PROS:
+ Lightweight for a long-range zoom
+ Extremely affordable
+ Built-in image stabilization
CONS:
– Doesn't perform well under the low light conditions
If you're on a tight budget, then the Nikon D5200 wildlife lens is just what you need. Not only will it help reduce costs upfront and save you hundreds of dollars, but its image quality and performance levels remain at a reasonable level!
Build and handling: The Nikon D5200 wildlife lens is a remarkable, yet simultaneously common product. With its low weight of 14.7 oz (415 g), handheld shots are simple to capture and clear images can be acquired effortlessly! Its user-friendly design makes it perfect to capture your desired subjects.
Performance: If you're searching for a Nikon D5200 lens that won't break the bank, then this could be your ideal pick. With an f/4.5 aperture, it doesn't perform well in settings with low lighting conditions. However, its Vibration Reduction image stabilization will make photographing stationary objects easier! To get clear and noise-free images while utilizing all of its features fully though, I'd suggest using a tripod – so it allows you to keep down shutter speeds.
Best for: It's the most cost-effective Nikon D5200 lens that works great when shooting wildlife or scenery from far away. You won't have to worry about lugging around a tripod all the time with this lightweight option, so those once-in-lifetime shots of birds and other fleeting moments won't be missed due to setup times.
An affordable and user-friendly lens to use with your Nikon D5200 for wildlife photography. It's a cost-effective option that provides immense value and enables you to discover unique focal lengths that can add incredible depth and complexity to your portfolio.
Zoom lenses for Nikon D5200
5. Sigma 17-50mm f/2.8 EX DC OS HSM
PROS:
+ A large aperture
+ Built-in image stabilization
+ Cheap for a zoom lens
Nikon D5200 zoom lens is an exceptional addition for any photographer! With its vast aperture, near and distant objects are easily within reach. This specific lens is budget-friendly yet offers a lot of performance – perfect for those starting in the photography world.
Build and handling: To compensate for the weight of 19.9 oz (565 g), it is equipped with built-in optical stabilization. Additionally, two Fluorite Low Dispersion elements, two glass-molded aspherical elements, and one hybrid aspherical element come together to provide remarkable image quality. Super Multi-Layer Coating also produces crisp images by cutting down on glare.
Performance: This zoom lens for Nikon D5200 offers as a key feature a large aperture of f/2.8. Its constant aperture allows for consistently superb visuals across shooting scenarios – even under deficient light. The images produced are sharp throughout most of the frame, with slight blurring witnessed around mid-zoom settings only.
Best for: This lens is a fantastic addition to any travel photographer's arsenal, with its 17-50mm focal lengths providing you the versatility necessary to capture landscapes, street scenes, portraits and more. As it seems clear, it's also a pretty decent option for everyday use.
The Nikon D5200 zoom lens is an unbeatable choice for photographers. Featuring a remarkable f/2.8 aperture and optical stabilization, this budget-friendly option offers excellent performance and quality at an incredible value! Truly, the cost-effectiveness of this lens is one of the best.
---
6. Nikon AF-S DX NIKKOR 16-80mm f/2.8-4E ED
PROS:
+ Great build quality
+ Built-in vibration reduction
+ Perfect for traveling
CONS:
– Has some distortion
If you are looking for a travel lens for a Nikon D5200 on a budget, then it is a great option to look at. With its wide aperture size, it can not only capture images from afar but also up close with stunning quality. Furthermore, due to its affordability and ease of use – amateur photographers will find this an ideal choice!
Build and handling: The Nikon 16-80mm is an ideal combination of portability and performance. Measuring just 3.3 x 3.1 inches at its shortest length, it weighs a mere 16.1 ounces – perfect for the D5200! This lens features polycarbonate construction with rubberized rings to control both zoom and focus functions, as well as high-end glassware including four ED elements. Plus it has built-in Nano Crystal Coat technology which minimizes ghosting and flare.
Performance: This lens may not have the constant f/2.8 aperture many photographers favor, but its f/2.8-4 is still quite fast and comes with 4-stop Vibration Reduction for added sharpness. Despite some instances of lateral chromatic aberration and distortion at the short range, it still can be easily adjusted in post-production. It still offers exceptional clarity that outshines most other lenses on sale today!
Best for: For the traveling photographer, there is no better companion than the 16-80mm lens. This one piece of gear offers you an incredible range of focal lengths for any kind of scene – from grand scenes to more intimate portraits and street photography! With it, your travel photography needs are all effectively satisfied with a single compact lens.
When it comes to versatility and affordability, the Nikon D5200 travel lens is one of the top picks. Its lightweight design with an expansive f/2.8-4 zoom range allows for comfortable shooting on long trips, despite some unavoidable distortions and slightly soft edges at its maximum aperture. Even so, this superb lens consistently impresses!
Wide-angle lens for Nikon D5200
7. Nikon AF-S DX NIKKOR 10-24mm f/3.5-4.5G ED
PROS:
+ Affordable price
+ Fast autofocusing
+ Image quality sharp throughout the range
CONS:
– No built-in image stabilization
This Nikon D5200 wide-angle zoom lens is an ideal choice for beginners, combining superior quality at an affordable price. With its fast autofocus motor and versatile focal lengths, it will provide you with remarkable image resolution as you take your first steps in photography!
Build and handling: Nikon consumer-level lens weighs only 16.2 oz (458 g) which is perfect for anyone taking shots hand-held! Despite its small size, it still produces high-quality images! Through its internal focusing system, the front element and filter thread remain in place when you adjust focus – a great perk for those who often use polarizers or ND filters.
Performance: The Nikon D5200 lens possesses a remarkable maximum aperture of f/3.5, which is good when taking into account its cost range. Additionally, its Silent Wave Motor offers quiet yet stable video recording. The image center is extraordinarily clear from start to finish, with the sides also producing impressively crisp results at most apertures — except 10mm wide open.
Best for: If you're in search of a lens for Nikon D5200 that can capture plenty within one frame, then that might be it! Perfect for real estate photos, group shots, and events. Its wide-angle capabilities and focal lengths provide the perfect environment to take photographs with many subjects in a frame. Even street photography fans will find themselves enjoying taking pictures in tight spaces.
This Nikon D5200 wide-angle lens is the perfect choice for amateur photographers who want to capture a broad array of scenes without breaking their budget on additional camera equipment.
Macro lens for Nikon D5200
8. Nikon AF-S VR Micro-NIKKOR 105mm f/2.8G IF-ED Lens
PROS:
+ Large aperture for low-light conditions
+ Focal length of 105mm
+ Built-in image stabilization
CONS:
– A bit heavy for hand-held shootings
Macro photographers are sure to be drawn to this lens for its petite size and ability to project life-sized pictures with a DSLR sensor. Plus, the f/2.8 aperture combined with optical stabilization technology allows you even in low light photography conditions, to capture stunning shots!
Build and handling: Built with a robust black composite and measuring 4.6 x 3.3 inches (116 x 83 mm) in length and diameter, this macro lens for Nikon D5200 is a great addition for any photography enthusiast! Designed to conveniently toggle between manual and autofocus modes as well as enable an optical stabilization system with the flick of a switch. It also provides ease of use through its comfortable rubberized grip on the manual focus ring.
Performance: Utilizing Nikon's Silent Wave Motor technology, this lens offers silent and speedy autofocusing as well as a seamless transition between auto to manual focus. The Internal Focusing system also enables the front element non-rotation for effortless incorporation of circular polarizing filters. Further, its advanced Vibration Reduction II feature allows you to capture sharp images even at shutter speeds four stops lower than usual without any sacrifice in quality.
Best for: Capturing those little, fascinating details of the world is made easier with this Nikon D5200 macro lens. Its 105mm focal length allows you to stay at a comfortable distance away from your subject – no more having to push too close for that perfect shot. With shots taken at a distance, you can capture stunning photos without worrying about lenses casting shadows.
For those passionate about macro photography, it's one of the best lenses for Nikon D5200. By incorporating its optical stabilization feature to attain 1:1 magnification and close focusing, it produces sharp images that are second to none.
---
Conclusion
When selecting the best lenses for Nikon D5200, it all comes down to what type of photography you are after. You must make a thoughtful decision by examining and comparing each lens' features – there is no one-size-fits-all option! Hopefully, our guide has offered more insight into this matter and prepared you better when investing in fresh gear that will amplify your capabilities.
Read more: Best Nikon DX lenses.
Disclosure: Some of the links may be affiliate links, at no additional cost to you. If you make a purchase then I will earn a commission, which helps me to run this website. Again: no additional cost for you.
---
PIN IT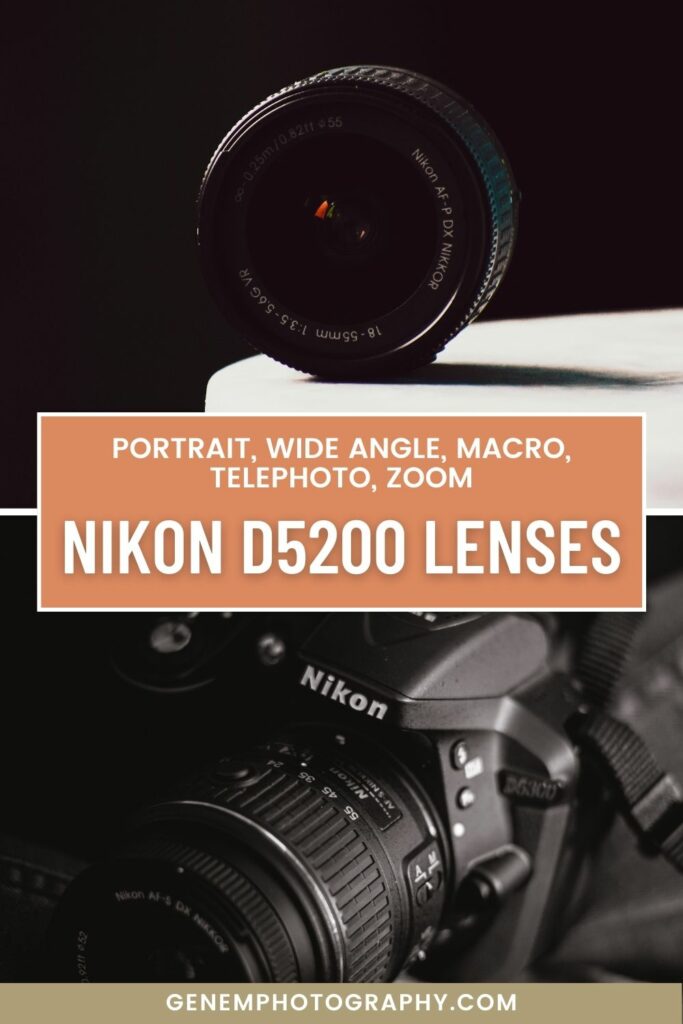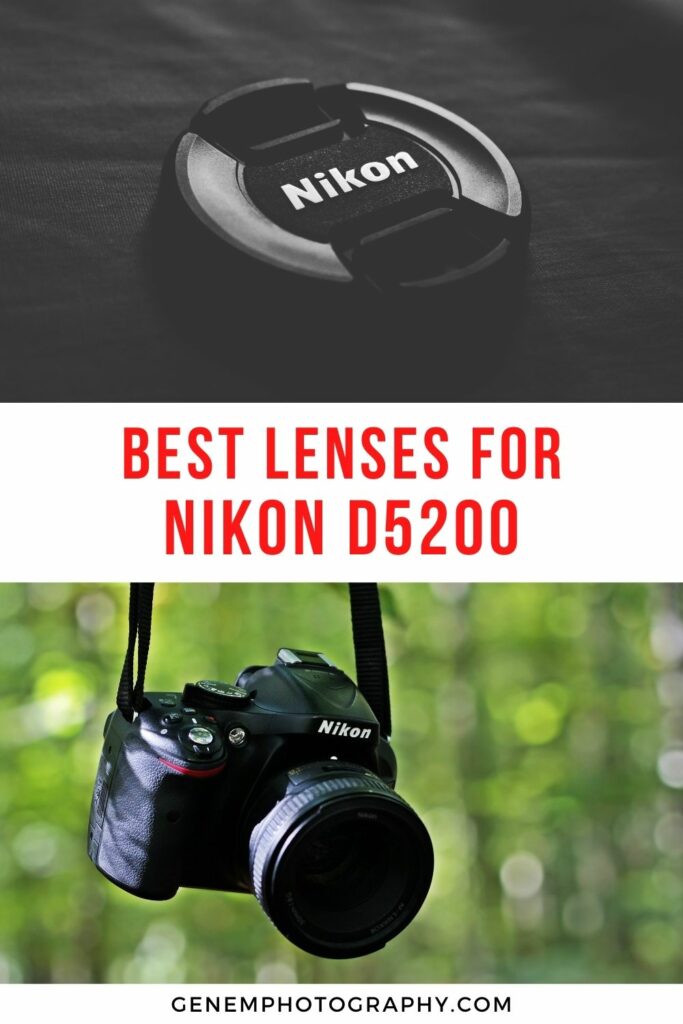 ---
Read more about Nikon lenses: