The Nikon D7100 camera is mostly used by hobby photographers or those pursuing a photography career. It has been an excellent choice as a first camera due to its interchangeable F-mount lenses. Luckily there are several lenses for Nikon D7100 to choose from.
Whether you're already advanced or just starting as a photographer, this list of best lenses for Nikon D7100 users is sure to have something perfect for you. We've included both budget-friendly options and premium-grade professional lenses, so everyone can find what they need!
Best lenses for Nikon D7100
In the list below, we outline comprehensive details about a selection of Nikon D7100 lenses and categorize them by type. From their cost range to specifications and performance to where to use them. Cost ranges are noted as:
0 – 500$ – Budget $
501 – 900$ – Average $$
901+ $ – Expert $$$
The list of Nikon D7100 lenses:
PORTRAIT lenses
1. Nikon AF-S Nikkor 85mm f/1.8G
2. Nikon AF-S Nikkor 50mm f/1.8G
3. Sigma 30mm f/1.4 ART DC HSM Lens
WIDE-ANGLE lenses
4. Nikon AF-S DX NIKKOR 10-24mm f/3.5-4.5G ED
5. Tokina AT-X PRO 11-16mm F2.8 DXII Lens
TELEPHOTO lenses
6. Sigma 150-600mm 5-6.3 Contemporary DG OS HSM
ZOOM lenses
7. Nikon AF-S NIKKOR 24-70mm f/2.8G ED
8. Sigma 17-70mm F2.8-4 Contemporary DC Macro OS HSM
9. Nikon AF-S DX NIKKOR 16-80mm f/2.8-4E ED
MACRO lens
10. Nikon AF-S VR Micro-NIKKOR 105mm f/2.8G IF-ED
Portrait lenses for Nikon D7100
1. Nikon AF S Nikkor 85mm f/1.8G
PROS:
+ Soft bokeh effect
+ Focal length of 85mm
+ Quick focusing
CONS:
– No built-in image stabilization
Portrait photographers are forever debating which lens is the best for portraits, yet no definitive answer exists. The three most commonly discussed lenses – 35mm, 50 mm, and 85mm prime lenses – are all suitable options. However, by employing this Nikon D7100 lens in portrait compositions you can capture energizing images of your subjects brimming with life!
Build and handling: With its reliable plastic exterior and strong metal lens mount, the Nikon 85mm f/1.8G is designed for professional quality results. Also, this prime lens features an effective rubber seal on the mount which helps keep out dust and makes it resistant to wear and tear over time. Despite its larger size, you'll be surprised by how lightweight this powerhouse is!
Performance: Boasting a wide f/1.8 aperture, the Nikon D7100 portrait lens is perfect for low-light photography and creates an impressively shallow depth of field that allows subjects to stand out from the background. It provides two distinguishing focus modes: manual priority AF and manual focus with a fast and silent wave motor ideal for videography purposes.
Best for: The Nikon D7100 lens is ideal for any portrait compositions, but with a keen eye and skilled operator at the helm, it has the potential to excel in product, event, or wedding photography too. You will achieve outstanding results with whatever you shoot using this 85mm f/1.8 lens!
This one here is one of the best lenses for Nikon D7100 if you're into portrait photography. It's incredibly flexible and allows its user to create stunning images with a creamy background, shallow depth of field, and sharp contrast – all at an economical price point. So if you want to take your portraiture work up a notch, this amazing lens should be in your kit bag!
---
2. Nikon AF-S Nikkor 50mm f/1.8G
PROS:
+ Lightweight
+ Extremely affordable
+ Fast autofocusing
CONS:
– A bit of visual distortion
Offering numerous benefits and comparable features to the previous one, this Nikon D7100 portrait lens is an affordable addition that won't break your budget. With a 50 mm focal length and an aperture of f/1.8, this reliable piece of equipment will surely make a smart contribution to any camera kit.
Build and handling: The Nikon D7100 portrait lens is designed for consumer use, with all the necessary buttons and information. It's even lighter than its predecessor at only 6.6 oz (185 g), allowing photographers to capture beautiful shots easily during extended hand-held photography sessions.
Performance: Boasting a wide aperture of f/1.8, this lens provides exquisite bokeh and clear subject separation from the background, as well as exceptional results in dimly lit environments. Though its autofocus speed may be standard, its general image quality is remarkable! The only issue with this lens is that at larger apertures there can be slight softness on the corners and edges of your shots.
Best for: This Nikon D7100 lens is specifically built for taking portrait shots. However, compared to its previous version, it requires less space around the subject. Additionally, this lens can be used in an indoor setting without needing a huge room with limited space. It also comes equipped with numerous features that allow you to capture products, beautiful landscape photographs as well as wedding photography events.
To conclude, this lens is a fantastic and wallet-friendly option for portrait photography with the Nikon D7100. The combination of its large aperture, lightweight build, and remarkable image quality makes it an excellent choice for beginner photographers looking to get into portraits. Not only does it offer many advantages at an unbeatable price, but you won't be disappointed in the stunning results!
---
3. Sigma 30mm f/1.4 DC HSM Fit Lens
PROS:
+ Wide aperture
+ Solid build quality
+ Smooth autofocusing
CONS:
– Lack of weather sealing
If you lay your eyes on a lens with an aperture of f/1.4, you will be aware that it offers at least one significant benefit. But the 30mm lens stands out also with its HSM autofocus system, small size, and affordable price point. Its overall construction is excellent too, making this lens a great choice for any photographer.
Build and handling: Boasting a metallic look and feel, the Sigma lens for the Nikon D7100 is composed of thermally stable composite (TSC) that ensures an elevated sense of professionalism. Its design is sleek with clear markings, while its focusing ring turns with a pleasant silkiness – neither too stiff nor too floppy. Additionally, the AF/Manual switch has been crafted to be conveniently accessible without needing any visual confirmation as it shifts seamlessly between modes.
Performance: Sigma's Hypersonic Motor internal autofocus is truly amazing; its operation is both swift and whisper-quiet. Even when the autofocus feature has been enabled, you can still maintain manual focus thanks to the way that it keeps the front element in position at all times. This Nikon D7100 Sigma lens has an 8-blade aperture ensuring a stunning bokeh effect! Chromatic aberration is present yet well managed – meaning no extra effort needs to go into post-production corrections either.
Best for: If your goal is to take stunning indoor portraits, the Nikon D7100 lens should be on your wish list. Its shorter focal length and f/1.4 large aperture make it a great choice for low-light photography, while its versatility allows you to capture beautiful images in street, landscape, or travel settings too!
To sum it up, the Nikon D7100 lens is a fantastic purchase. It doesn't disappoint when it comes to quality construction and beautiful bokeh in out-of-focus areas. Despite its lack of weather sealing, this lens can create stunning pictures at an unbeatable price point. Investing in this product will undoubtedly provide you with great value for your money!
Wide-angle lenses for Nikon D7100
4. Nikon AF-S DX NIKKOR 10-24mm f/3.5-4.5G ED
PROS:
+ Affordable price
+ Fast autofocusing
+ Image quality sharp throughout the range
CONS:
– No built-in image stabilization
Perfect for the novice photographer, this Nikon D7100 wide-angle zoom lens offers a remarkable balance of affordability and superior quality. With a swift autofocus motor, variable focal lengths, and unparalleled image resolution – it's an ideal choice to embark on your photography journey! For a modest outlay, you can now explore new realms in the world of photography with confidence.
Build and handling: Featuring an outstanding and lightweight design of 16.2 oz (458 g), the Nikon consumer-level lens is ideal for beginners or anyone shooting hand-held, as it's much simpler to maneuver. Don't be fooled by its size – this lens still produces exceptional images! Plus, a switch has been included so you can quickly transition between M/A and M focusing modes with ease.
Performance: This remarkable Nikon D7100 lens offers a maximum aperture of f/3.5, which is an impressive feat within its price range. However, good lighting is essential for optimal shooting results. Without it, photos may be prone to noise and graininess. The Silent Wave Motor ensures quiet yet smooth video capture. So no matter the setting, you can rest assured that your footage will maintain clarity and vibrancy!
Best for: This lens proves to be perfect for taking pictures in tight spaces, such as real estate photos, gathering events, group shots, or even street photography. Its wide-angle abilities and focal lengths allow you to include a lot of subjects in the same picture – making it great for documenting everything within an area quickly.
All in all, the Nikon D7100's budget-friendly wide-angle lens is an ideal pick for amateur photographers desiring a broad range of views without investing a lot into extra camera gear.
---
5. Tokina AT-X PRO 11-16mm F2.8 DXII Lens
PROS:
+ Ultra wide-angle
+ Fast autofocusing
+ Impressive build quality
CONS:
– No image stabilization
If you're looking for an ultra wide-angle lens that excels in low light and can provide fast shutter speeds, look no further than this Tokina lens for Nikon D7100. This f/2.8 aperture zoom ensures clear and sharp images with consistent aperture control throughout its range – making it a great choice regardless of the lighting situation!
Build and handling: The Tokina lens is constructed with a sturdy plastic exterior and features a rubberized ring for enhanced grip. It includes nine shutter blades in the aperture for beautiful, soft bokeh-style backgrounds. Plus, two Super Low Dispersion glass elements and two aspheric elements to boost contrast, and clarity, also reduce chromatic aberration. Advanced multi-layer coatings minimize reflection off surfaces to maximize optical performance.
Performance: The autofocus system provides precision and quiet performance through its internal, silent motor. It produces sharp images with just a small amount of degradation near the edges. When shooting in bright sunlight, there may be some faint chromatic aberration or fringing around the edges. However, this can easily be eliminated during post-processing.
Best for: Perfect for locations where there is limited space, such as a real estate or indoor event, the wide-angle view of this lens offers versatile options. For instance, use it to capture landscapes or group photos – so you can fit all the action into one frame! This Nikon D7100 lens is ideal for capturing night skies too.
The Tokina 11-16mm F/2.8 lens delivers remarkable build quality and a constantly fast aperture, particularly at its shorter focal lengths. Its optical performance is superb for the price point – making it an excellent choice for Nikon D7100 owners!
Telephoto lenses for Nikon D7100
6. Sigma 150-600mm 5-6.3 Contemporary DG OS HSM
PROS:
+ Lightweight for superzoom telephoto
+ Built-in image stabilization
+ Affordable price
CONS:
– Above 500mm loses a bit of quality
If you are searching for an optimal telephoto lens for your camera, then this is the ideal choice. It will provide you with superb results when capturing wildlife or sports events and offers outstanding value at a budget-friendly price point. For sure, one of the best lenses for Nikon D7100 if looking for a super zoom telephoto.
Build and handling: If you're enthusiastic about wildlife or sports photography, the Nikon D7100 telephoto lens is a great option for you. At 68.1 oz (1,930 g), it's lighter than most other lenses in its class even though it has a professional feel and doesn't sacrifice any performance capabilities. With its solid grip and lightweight design, it will take your photography journey to the next level!
Performance: The Nikon D7100 landscape lens is one of the best choices for photographers who demand an incredible range of focal lengths, a wide aperture, and top-notch features. With its performance in low lighting conditions and its high-speed hypersonic motor that ensures smooth and precise focusing, this lens is perfect for gorgeous outdoor photography. Plus it has built-in image stabilization technology to capture images with ease.
Best for: If you're looking for high-quality photos of faraway subjects, this telephoto lens is the perfect solution. With a maximum focal length of 600mm and even sharper images when used with a tripod, it's ideal for capturing wildlife that may be too difficult to get near. As well as sports photography or intricate landscape details.
Therefore, for shutterbugs hoping to capture their subjects from afar, such as wildlife or sports game, this specific lens is a must-have for your Nikon D7100. Sure, it may be more expensive than other alternatives, however, its remarkable features and performance make it an investment worth making.
Zoom lenses for Nikon D7100
7. Nikon AF-S NIKKOR 24-70mm f/2.8G ED
PROS:
+ Standard focal lengths
+ Image stabilization
+ A large aperture
Nikon D7100 is the ultimate zoom lens for more advanced photographers. It has been a long-time favorite of those who are familiar with its remarkable features and capabilities. Revered as an incredibly hardworking, resilient piece of equipment, this lens offers versatility in various ways such as different conditions or settings that you may encounter while shooting.
Build and handling: As you would expect for a professional-grade camera, its build and design are top-notch. It's even equipped with weather-sealing material to protect from inclement conditions. Although, it does pose a bit more stress on your hands while shooting handheld due to the weight of 2.35 lb (1070 g).
Performance: The immense popularity of this product is due to its unmatched performance. Its powerful image stabilization, quick and accurate focusing even in low light photography environments, combined with the sharp contrast image quality are why it has become so widely used by expert photographers.
Best for: With a versatile 24-70 mm range, this standard lens produces exceptional photos for landscapes, events, portraits, and travel. In fact, its all-in-one reliability makes it the perfect companion to accompany you on any journey – no matter what kind of terrain you come across! The lens is incredibly capable in diverse shooting conditions allowing you to capture stunning visuals with confidence.
It is one of the best lenses for Nikon D7100 if you want to achieve the highest quality. Though it is pricier than other options on this list if achieving remarkable images and taking your photography to a professional level are of utmost importance then investing in this lens will be well worth it!
---
8. Sigma 17-70mm F2.8-4 Contemporary DC Macro OS HSM
PROS:
+ Focal length from 17 to 70 mm
+ Image stabilization
+ Perfect for everyday use
CONS:
– A bit of distortion
An excellent all-rounder, the Sigma 17-70mm f/2.8-4 DC Macro OS Lens is an incredibly affordable yet extraordinarily durable option that offers a superb range of focal lengths. Additionally rapid and accurate HSM autofocus capabilities, impressive optical stabilization features, and remarkable close minimum focus distance.
Build and handling: Boasting a combination of plastic and metal components, including a resilient brass bayonet mount and top-notch glass optics, this lens offers excellent build quality for its affordable price. Moreover, the use of Thermally Stable Composite material guarantees continued stability even in fluctuating temperature conditions. Furthermore, it comprises an effortless narrow manual focus ring behind the front element as well as a 7-blade rounded diaphragm that produces beautiful bokeh effects!
Performance: Featuring a minimum focus distance of just 8.6 inches, the Nikon D7100 multipurpose lens grants users access to 1:2.9 macro magnification at its 70mm setting. This ensures that photographers can create shallow depth-of-field shots even with an f/4 aperture on their DSLR camera sensor. Furthermore, Vibration Reduction technology is integrated into the lens for up to 3 stops of compensation.
Best for: This incredibly affordable option is a great choice for daily use. The 17-70mm focal lengths give you the versatility to snap wide shots in low-light environments as well as capture landscapes, streetscapes, architectural details, and more when you zoom out. It's undoubtedly one of the best travel lenses for Nikon D7100 users!
For photographers looking for a reliable, high-performing lens on a budget, the Nikon D7100 standard zoom lens is an outstanding choice. It will provide superior-quality images and versatile macro performance that will make your shots stand out.
---
9. Nikon AF-S DX NIKKOR 16-80mm f/2.8-4E ED
PROS:
+ Great build quality
+ Built-in vibration reduction
+ Perfect for traveling
CONS:
– Has some distortion
It's one of the finest travel lenses for Nikon D7100 on the market. With its large aperture size, users can capture stunning images in both distant and near settings. Additionally, with its affordability and simplicity to use – it's an ideal selection for amateur photographers!
Build and handling: The 16-80mm is a compact, lightweight lens that measures 3.3 x 3.1 inches at its shortest length and weighs only 16.1 ounces – the perfect balance for the Nikon D7100! It features an ergonomic polycarbonate barrel with rubberized rings to control both focus and zoom functions. Plus high-spec glassware includes four ED elements as well as Nano Crystal Coat technology to reduce ghosting and flare. Furthermore, it has a 4-stop stabilizer providing appropriate stabilization in any shooting situation.
Performance: The levels of image sharpness are remarkable across all zoom settings. While lateral chromatic aberration is commonly seen at the shortest end, barrel distortion and vignetting can be quite intense. All in all, though, performance and control remain truly impressive – despite these minor drawbacks.
Best for: If you're a traveling photographer, the 16-80mm lens is the perfect companion. With its versatile focal length range, this lens offers exceptional opportunities to capture all sorts of scenes: ranging from expansive landscapes and large group shots to intimate portraits and street photography! This single piece of gear can effectively satisfy your entire travel photography needs.
With its wide-reaching zoom range, the Nikon D7100 travel lens proves to be both a reliable and economical choice. Its variable f/2.8-4 design allows for more lightweight construction – though this does come with some sacrifices as distortion can occur along with less than stellar edge sharpness at its maximum aperture. Still, it remains an impressive performer overall!
Macro lenses for Nikon D7100
10. Nikon AF-S VR Micro-NIKKOR 105mm f/2.8G IF-ED Lens
PROS:
+ Large aperture for low-light conditions
+ Focal length of 105mm
+ Built-in image stabilization
CONS:
– A bit heavy for hand-held shootings
Macro photographers will be in awe of this lens for its convenient size and ability to render life-sized images from DSLR sensors. Thanks to the f/2.8 aperture and optical stabilization system, you'll be able to capture amazing photos even when lighting is scarce or low.
Build and handling: The Nikon D7100 macro lens is a finely engineered tool, measuring 4.6 x 3.3 inches (116 x 83 mm) and weighing 27.9 ounces (790 grams). Crafted with black composite material, the lens features a comfortable rubberized grip on its manual focus ring and toggle switches for convenient settings. Switching between autofocus and manual mode, as well as turning the optical stabilization system on/off.
Performance: The lens features SWM Technology for rapid and noiseless autofocus, enabling you to effortlessly switch between automatic and manual modes. Its IF system allows the front element to remain stationary, making your circular polarizing filters easier to use. Plus its advanced VRII system provides sharp photographs even at slower shutter speeds – up to four stops lower than standard!
Best for: If you're looking to capture the essence of a small subject, such as insects, this Nikon D7100 macro lens is your ideal choice. Its focal length of 105mm allows for an appropriate distance from the subjects and a lens hood to hinder any shade obstruction.
If you are an enthusiast of macro photography and a proud owner of the Nikon D7100, this Nikkor lens should be your go-to choice. With its optical stabilization feature, it is perfect for capturing crystal clear images whilst allowing close focusing at 1:1 magnification.
---
Round-up
The best lenses for Nikon D7100 depend on the type of photography you are interested in. If you are looking for a versatile travel lens that can take all sorts of shots, then the 16-80mm Nikkor is an ideal choice. On the other hand, macro photographers will love the AF-S VR Micro-NIKKOR 105mm f/2.8G IF-ED Lens – perfect for capturing minute details of small subjects with its 1:1 magnification and optical stabilization system. Each lens has its pros and cons, and no one best option suits all needs – so it's best to carefully weigh your options before making a decision!
Read more: Best Nikon DX lenses.
Disclosure: Some of the links may be affiliate links, at no additional cost to you. If you make a purchase then I will earn a commission, which helps me to run this website. Again: no additional cost for you.
---
PIN IT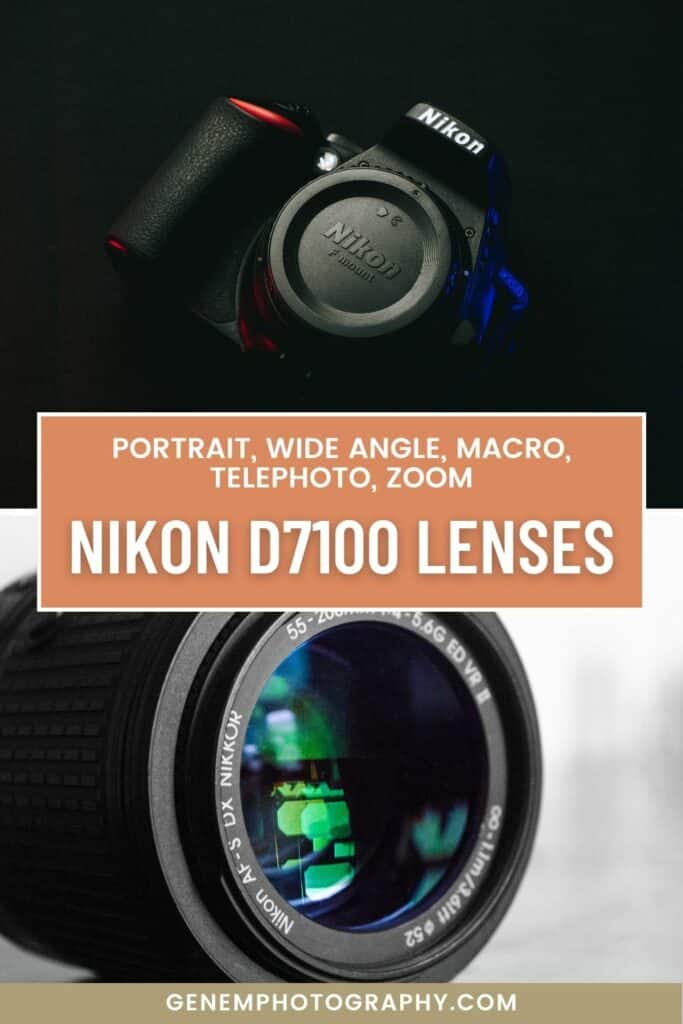 ---
Read more about Nikon lenses: