The Nikon D7200 camera is a fantastic choice for both beginner and professional photographers. With a variety of interchangeable DX-format lenses to choose from, this camera can help bring your photography career or hobby to the next level. The array of options available makes it easy to find the lens that best suits your needs!
No matter what your level is, this list of best lenses for Nikon D7200 users has something just right for you! As it is an entry-level camera, most of the lenses mentioned here will not break any bank accounts. Also, we have included here some pro-grade options, in case you want to take your photography skills to next level.
Best lenses for Nikon D7200
Below is an extensive overview of Nikon D7200 lenses that have been classified into different lens types. We also provide details about each lens including their cost range, specifications, and performance, as well as where to use them. Cost ranges are categorized in that way:
0 – 500$ – Budget $
501 – 900$ – Average $$
901+ $ – Expert $$$
The list of Nikon D7200 lenses:
PORTRAIT lenses
1. Nikon AF-S Nikkor 85mm f/1.8G
2. Nikon AF-S Nikkor 50mm f/1.8G
TELEPHOTO lenses
3. Nikon AF-P DX NIKKOR 70-300mm f/4.5-6.3G ED
4. Sigma 150-600mm 5-6.3 Contemporary DG OS HSM
MACRO lens
5. Nikon AF-S VR Micro-NIKKOR 105mm f/2.8G IF-ED
WIDE-ANGLE lenses
6. Tokina AT-X PRO 11-16mm F2.8 DXII Lens
ZOOM lenses
7. Sigma 18-35mm F1.8 Art DC HSM
8. Sigma 17-50mm f/2.8 EX DC OS HSM
9. Sigma 17-70mm F2.8-4 Contemporary DC Macro OS HSM
Portrait lenses for Nikon D7200
1. Nikon AF S Nikkor 85mm f/1.8G
PROS:
+ Soft bokeh effect
+ Focal length of 85mm
+ Quick focusing
CONS:
– No built-in image stabilization
If you're searching for the best lens for portraits, then the options usually are 35mm, 50mm, or 85mm prime lenses. All of these lenses offer unique features and provide an added sparkle to your photos that other equipment simply can't match. This Nikon D7200 85mm lens is especially well-suited for portrait photography and will give your images of models an excellent spark!
Build and handling: The Nikon 85mm f/1.8G is designed with precision and strength, featuring a resilient plastic body combined with a durable metal lens mount that contains an effective rubber gasket to guard against dust entering the camera system. Surprisingly, this hefty-looking lens is surprisingly lightweight in hand!
Performance: The Nikon D7500 portrait lens's impressive f/1.8 aperture is perfect for capturing stunning photos in even the darkest scenarios, creating a beautiful depth of field that can make your subjects stand out from the background. This versatile lens has two focusing modes – manual priority AF and manual focus. Plus an incredibly fast and silent wave motor, making it ideal for videography projects as well!
Best for: As previously mentioned, the Nikon D7200 lens is ideally suited for portraiture. However, it also has the potential to excel at other types of photography such as product shots and event photos due to a skilled photographer's ability to make use of its features.
Summing up, the Nikon 85mm f/1.8G is one of the best lenses for Nikon D7200 and will give your portrait compositions a serious boost. It provides smooth backgrounds, shallow depth of field, and higher contrast that together yield remarkable photos at competitive prices. Making it an ideal choice if you're looking to take your portrait photography to new heights!
---
2. Nikon AF-S Nikkor 50mm f/1.8G
PROS:
+ Lightweight
+ Extremely affordable
+ Fast autofocusing
CONS:
– A bit of visual distortion
The Nikon lens for beginner photographers offers a wide range of advantages and similar specifications to a previous model. It is an inexpensive option that works well in your camera bag if you are looking to save money on camera gear. Despite its cost-efficiency, this lens still provides ample benefits and high-quality features without sacrificing performance.
Build and handling: Like the previous one, this Nikon D7200 portrait lens is a lightweight 6.6 oz (185 g) and comes fully equipped with all the buttons and details needed for consumer use. Perfect for those long-term hand-held photography sessions, it's an excellent choice that surpasses the prior option in terms of weight and capability!
Performance: This lens is equipped with a wide f/1.8 aperture, creating mesmerizing bokeh effects and clear subject-background contrast – especially in low-light situations! Although the autofocus speed may not be remarkable, its overall image quality surpasses expectations. A little disadvantage is that you won't achieve maximum sharpness at the corners and edges when shooting with wider apertures.
Best for: Ideal for portrait photography, this lens needs less room to properly frame your subjects. Not only is it suitable indoors, but its versatility allows you to capture product details, landscapes, and wedding photos too! With the help of this lens' increased space-saving capability compared to previous options, this could be a better option.
In conclusion, this lens is an exceptional choice for portraits with the Nikon D7200. Its wide aperture, lightweight construction, and first-class image quality are some of the key features that make it a superb option at such an affordable cost. Perfect for beginners who want to give portrait photography a try!
Telephoto lenses for Nikon D7200
3. Nikon AF-P DX NIKKOR 70-300mm f/4.5-6.3G ED
PROS:
+ Lightweight for a long-range zoom
+ Extremely affordable
+ Built-in image stabilization
CONS:
– Doesn't perform well under the low light conditions
If you're on a tight budget but still want to take sharp, high-resolution photos then this telephoto zoom lens for Nikon D7200 is just what you need. It's affordable yet it delivers excellent results and will not disappoint!
Build and handling: This Nikon D7200 landscape lens offers a construction similar to other consumer-level Nikon lenses, without poor or impressive features. Its light weight of 14.7 oz (415 g) makes it effortless and comfortable to take handheld shots while attaining clear images each time. The simplistic yet practical design allows you to easily capture your subjects on the go!
Performance: Although the f/4.5 aperture of this Nikon D7200 budget lens may not be best suited for low-light situations, its Vibration Reduction (VR) image stabilization makes it easier to capture objects without needing a tripod and slow shutter speeds to reduce noise in your images.
Best for: Perfect for capturing subjects from a distance, this lens is ideal for landscapes and wildlife photography. Its lightweight design makes it easy to carry it around. Due to its lightweight design, you don't need to set up a tripod every time, so you won't miss those rare birds or anything else.
In summary, if you are an avid photographer seeking a cost-effective way to capture wildlife images with your Nikon D7200 camera, then this lens is the ideal solution. Not only does it offer outstanding value for its price point, but it also provides unique focal lengths and perspectives that will help elevate your portfolio.
---
4. Sigma 150-600mm 5-6.3 Contemporary DG OS HSM
PROS:
+ Lightweight for superzoom telephoto
+ Built-in image stabilization
+ Affordable price
CONS:
– Above 500mm loses a bit of quality
If you're seeking a super zoom telephoto lens for Nikon D7200, this is the one to choose. An ideal investment for wildlife or sports photographers on a budget, it provides superior quality and performance when compared with other lenses in its class. With this camera tool at your disposal, capturing faraway subjects became possible.
Build and handling: While telephoto lenses can be notoriously hefty, this particular lens weighs in at a manageable 68.1 oz (1,930 g). That's 35 oz (1 kg) lighter than many other telephotos – but that doesn't mean it lacks any of its professional prowess or performance capabilities! As with other Sigma lenses, this one also gives excellent build quality and a convenient grip.
Performance: This Nikon D7200 wildlife lens will not only provide you with an impressive range of focal lengths and aperture, but it also showcases numerous remarkable features that make it stand out from the rest. Its extraordinary performance in low-light conditions is ideal for landscape photography while its high-speed hypersonic motor ensures smooth operation when focusing. The built-in image stabilization feature makes this Nikon D7200 lens even more powerful!
Best for: This telephoto lens will make it easy to document wildlife and landscapes from far away, with its peak focal length of 600mm. Moreover, the image stabilization feature ensures steady and sharp photos when paired with a tripod – ideal for photographing those timid animals or sports events! Plus, you can also zoom in on intricate details within any landscape shot.
Ultimately, if you are aiming to capture distant subjects like wildlife or sporting events, then this is one of the best lenses for Nikon D7200. It may be one of the more expensive lenses on our list but it comes packed with features and capabilities that make it a great value.
Macro lens for Nikon D7200
5. Nikon AF-S VR Micro-NIKKOR 105mm f/2.8G IF-ED Lens
PROS:
+ Large aperture for low-light conditions
+ Focal length of 105mm
+ Built-in image stabilization
CONS:
– A bit heavy for hand-held shootings
Macro photographers are sure to be drawn to this lens! The impressive f/2.8 aperture and optical stabilization system make it ideal for low-light conditions, while its small size allows life-size images to be projected onto a DSRL sensor. This incredible combination of features at this price point is something that no other lens on the market can offer!
Build and handling: The Nikon D7200 macro lens is the perfect blend of performance and structure – at 4.6 by 3.3 inches (116 x 83 mm) in length and diameter and weighs 27.9 oz. (790g). This superior design features a manual focus ring with a rubberized grip for easy handling as well as toggle switches to set the focus limiter, switch between manual or autofocus, and activate/deactivate the optical stabilization system. All are constructed from durable black composite material for maximum longevity!
Performance: SWM technology allows for quick, noiseless autofocusing and switching between manual and auto-focus modes. The IF system ensures that the front lens element is immovable, making circular polarizing filters even simpler to use. With an advanced VR II mechanism baked in place, you can take crisp shots up to 4 stops slower than usual with confidence!
Best for: For anyone looking to capture small objects or creatures from afar, the Nikon D7200 lens is perfect. With its 105mm focal length, you don't have to worry about getting too close to your subject and risk scaring it away! Additionally, since you don't need to get close to your subject, you won't ruin your photo with lens shade. Whether you're taking a detailed shot of flora or photographing tiny animals in their natural habitat, this lens has got you covered.
For your camera, there's no better lens for macro photography than this Nikkor lens for Nikon D7200. Not only does it have optical stabilization and produce stunningly sharp images, but you can also get up close with a 1:1 magnification ratio! If you're an avid enthusiast of Nikkor's products, then this is the lens for you.
Wide-angle lens for Nikon D7200
6. Tokina AT-X PRO 11-16mm F2.8 DXII Lens
PROS:
+ Ultra wide-angle
+ Fast autofocusing
+ Impressive build quality
CONS:
– No image stabilization
The Tokina lens for Nikon D7200 offers excellent sharpness, clarity, and speed to DSLR-format cameras. With its ultra wide-angle f/2.8 aperture, you can expect fast shutter speeds and active focusing even in challenging lighting situations!
Build and handling: The Tokina lens stands out with its robust plastic exterior and rubber-coated ring that ensures the perfect grip. Featuring nine rounded shutter blades in the aperture, two Super-Low Dispersion glass elements, and two aspheric lenses for improved contrast, sharpness, and minimal chromatic aberration. Also, multi-layer coatings, which minimize light reflection are included in the lens.
Performance: The autofocus system offers quiet and precise performance, utilizing an internal yet silent motor. The majority of the photos produced are sharp with minor distortions near the edges being barely noticeable. If shooting in bright daylight does cause some chromatic aberration or fringing. Yet, it can be quickly addressed through post-processing methods.
Best for: If you're looking for a lens to capture tight spaces, such as real estate or indoor events, then it's the best lens for Nikon D7200! The wide-angle view also makes it perfect for landscapes and group photos. Plus, its exceptional features make it an ideal choice for astrophotography.
When it comes to quality and a dependable aperture, the Tokina 11-16mm F/2.8 lens is a great option. Especially at shorter focal lengths, its performance is simply remarkable! With both optical ability and exceptional value for money, this Nikon D7200 Tokina lens makes an outstanding choice!
Zoom lenses for Nikon D7200
7. Sigma 18-35mm F1.8 Art DC HSM
PROS:
+ Large aperture for a zoom
+ Affordable pro-grade gear
+ Excellent in night photography
If you're looking for a top-tier lens that won't break the bank, the Sigma lens for Nikon D7200 is your best bet. Not only does it come with incredible features and capabilities, but its price tag is far lower than what you would expect from such quality optics.
Build and handling: The Sigma ART series is a well-respected choice among professional photographers, due to its superior quality. Constructed with aluminum alloy, it offers an elegant look and touch with a weight of 28.6 ounces (810 g). So although you may perceive the weight of this camera as heavy, it certainly won't be unbearable!
Performance: The remarkable f/1.8 aperture of this lens is the key feature and makes it one-of-a-kind amongst zoom lenses for Nikon D7200. In addition, Sigma's hypersonic motor ensures a fast yet quiet autofocus system – raising its value even further!
Best for: The Nikon D7200 zoom lens is an ideal choice for a large variety of photographic needs. From events and weddings to the street, travel, or even astrophotography. This lens will ensure consistently beautiful photos in any challenging conditions such as low-light or overexposed skies thanks to its wide-angle capabilities and large aperture.
In conclusion, the Nikon D7200 zoom lens is a must-have for all photographers. Its exceptional adaptability and robustness make it an ideal choice in nearly any environment. With this highly reliable tool at your disposal, you can rest assured of spectacular results regardless of the conditions!
---
8. Sigma 17-50mm f/2.8 EX DC OS HSM
PROS:
+ A large aperture
+ Built-in image stabilization
+ Cheap for a zoom lens
This Nikon D7200 travel lens is an outstanding choice. Its wide aperture enables it to concentrate on both far and close subjects effortlessly, making it a multipurpose pick. Moreover, its affordability, as well as straightforward design, make it the perfect selection for those just getting into photography.
Build and handling: It may be a bit heavy if used for lengthy handheld photography. Fortunately, it is with built-in optical stabilization that will save a day or photoshoot. The lens comprises two Fluorite Low Dispersion elements, two glass-molded aspherical elements, and one hybrid aspherical element – all contributing to extraordinary image quality. Additionally, it's enhanced by Super Multi-Layer Coating which minimizes flare from obtrusive light sources.
Performance: This zoom lens may not be as great in aperture compared to the previous one, but it still boasts an extraordinary f/2.8 aperture which is also pretty remarkable! One excellent benefit of this lens is its constant aperture throughout the zoom range, which is beneficial when shooting under dim lighting conditions. Furthermore, images captured with this lens are sharp throughout most of the frame and only have slight blurriness around the edges at mid-zoom settings.
Best for: This Nikon D7200 lens is ideal for a variety of travel photography needs, providing versatility with its 17-50mm focal lengths. Also, whether you need to capture group shots, landscapes, street scenes, or portraits – this lens is great for everyday photography!
For photographers on a budget, the Nikon D7200 travel lens is an excellent choice. Its impressive f/2.8 aperture for a zoom lens and optical stabilization makes it ideal for capturing exceptional photos with superb quality at an unbeatable value!
---
9. Sigma 17-70mm F2.8-4 Contemporary DC Macro OS HSM
PROS:
+ Focal length from 17 to 70 mm
+ Image stabilization
+ Perfect for everyday use
CONS:
– A bit of distortion
The Sigma 17-70mm f/2.8-4 DC Macro OS Lens is a great option that provides an expansive focal length range, fast and accurate HSM autofocus, effective optical stabilization, and close focusing capabilities. This lens will be sure to offer you the versatility you need at a reasonable price!
Build and handling: Boasting impressive build quality at a more than reasonable price, this lens is designed with both plastic and metal components. Its brass bayonet mount ensures durability while its Thermally Stable Composite construction provides stability in fluctuating climates. Furthermore, the manual focus ring located behind the front element combined with the 7-blade rounded diaphragm creates stunning bokeh effects that will greatly enhance any shot.
Performance: Nikon's D7200 multipurpose lens offers a host of features, including razor-sharp focusing as close as 8.6 inches with 1:2.9 macro magnification at the 70mm setting. Plus, its built-in Vibration Reduction technology can be switched on easily thanks to an OS switch located directly on the lens barrel and provides up to three stops worth of compensation!
Best for: If you're seeking a great value lens with incredible versatility, this one here is a great choice. The 17-70mm focal lengths provide limitless possibilities for capturing stunning wide-angle shots even in low light and zooming out to grab streetscapes, detailed architecture, and more. This might be one of the best everyday lenses for Nikon D7200 without breaking your bank account.
Nikon's D7200 standard zoom lens offers an incredibly cost-effective way to get crystal clear images and outstanding versatility. Also with its durable construction, the lens is designed to last.
---
Conclusion
The best lens for Nikon D7200 would be dependent on the type of photography one finds themselves doing. All of the lenses above mostly offer superb image quality, excellent build quality, and great value for money, ensuring that your F-mount camera will be able to capture stunning photos regardless of what you are shooting! With this in mind, you will know that the best lens for your Nikon D7200 is the one that best serves your individual photographic needs!
Read more: Best Nikon DX lenses.
Disclosure: Some of the links may be affiliate links, at no additional cost to you. If you make a purchase then I will earn a commission, which helps me to run this website. Again: no additional cost for you.
---
PIN IT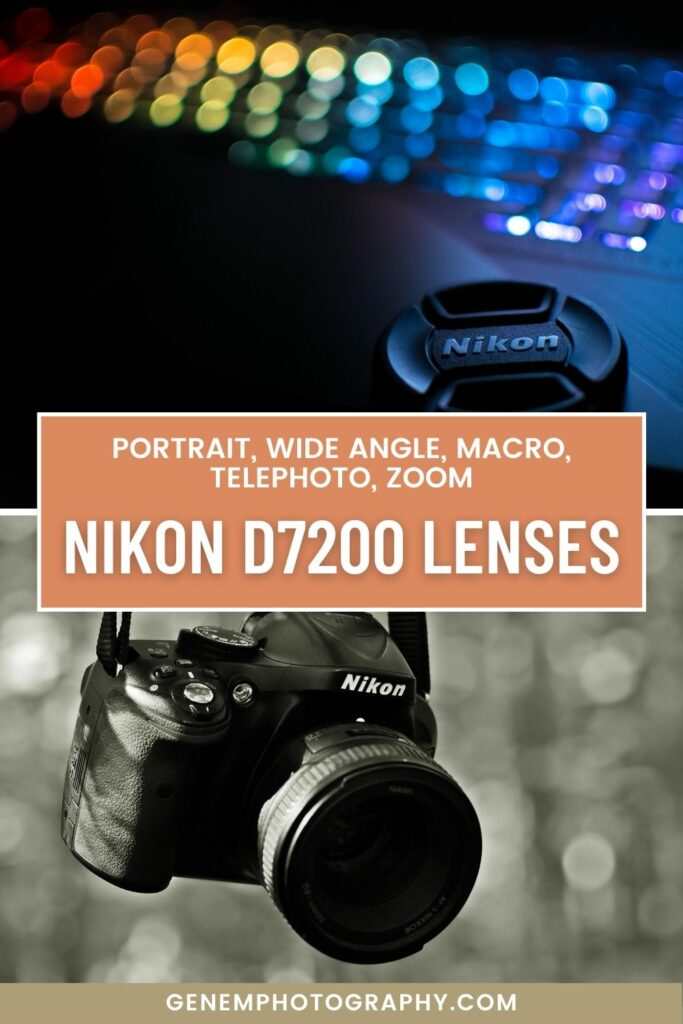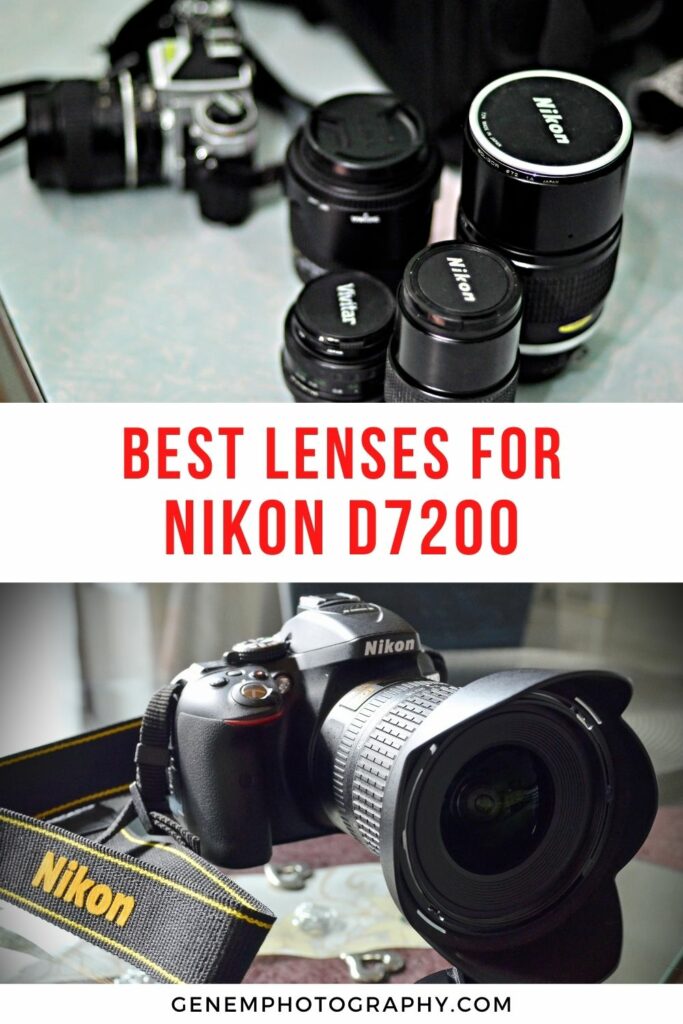 ---
Read more about Nikon lenses: