Are you looking for the best lenses for Sony a6100 that suit you? Well, here is a list featuring top-notch and cost-effective options catering to any photography style and budget.
Finding the perfect lens for your Sony a6100 doesn't have to be daunting. We've done all the hard work for you, handpicking our top lenses considering ratings, reviews, prices, and essential features such as optical stabilization and weatherproofing. Whether you're searching for an all-inclusive zoom or something more specific like a prime lens – this carefully crafted list will help you make that ideal selection!
Best lenses for Sony a6100
Below, you have the best lenses for the Sony Alpha 6100. Whether you're searching for portrait, wide-angle, zoom, video, telephoto, wildlife, or macro lenses – this article has it all! Prices have been organized to make your shopping easier:
Budget $: 0 – 500
Average $$: 501 – 1000
Expert $$$: 1001+
The list of best Sony a6100 lenses:
PORTRAIT lenses
1. Sony 85mm F/1.8-22
2. Sigma 56mm F/1.4 DC DN
WIDE-ANGLE lenses
3. Tamron 11-20mm f/2.8 E-mount
4. Sony E 11mm F/1.8
ZOOM lenses
4. Sony E 16-55mm f/2.8 G
5. Sony 18-105mm f/4
TELEPHOTO lens
6. Sigma 100-400mm F5-6.3 DG DN OS
WILDLIFE lens
8. Sony E 70-350mm F4.5-6.3 G OSS
VIDEO lens
9. Sony 20mm f/2.8
MACRO lens
10. Sigma 105mm f/2.8 DG DN Macro ART
Portrait lenses for Sony a6100
1. Sony 85mm F/1.8-22
If you're searching for an incredible lens that captures unique portraits, this Sony a6100 portrait lens is something to try out. It's affordable and provides outstanding performance with silent autofocus and amazing bokeh effects to ensure perfect image clarity on every shot.
Build and handling: The build quality of the 13.1 oz (371 g) lens at 3.1 x 3.2 in (78 x 82 mm) is decent. It also includes ED (Extra-low Dispersion) element and 9 blade diaphragm to provide unbeatable image quality. Plus, with its convenient AF/MF switch and customizable focus hold button, you can easily adjust settings to get the right shot. Weather-sealed materials also give it additional bonus points.
Performance: Autofocus is fast and silent, thanks to two linear stepping motors paired with a seamless manual focus ring. Even when taking photos at maximum aperture, the center of your shots will remain razor-sharp. On top of that, the bokeh it creates has an astonishing look even if you reduce the f-stop slightly – without compromising its smoothness!
Best for: With an aperture of f/1.8 and an 85mm focal length, you will be amazed when shooting portraits. These features will give you some of the nicest bokeh effects and, for sure, your model will stand out from the background noise. All these elements will bring together any portrait composition to create a masterpiece.
If you're looking for a lens that will provide excellent craftsmanship and handling at an affordable price, this Sony a6100 portrait lens is perfect. Its focal length makes it ideal for stunning portraits with wide aperture settings to create dreamy blurred backgrounds, resulting in beautiful sharp photos. It's one of the best lenses for portraits due to its 85mm focal length..
---
2. Sigma 56mm F/1.4 DC DN
The Sony a6100 portrait lens perfectly combines lightweight portability and design. It has an impressive f/1.4 aperture, which ensures that each picture you take is vibrant and sharp! Additionally, its fixed wide aperture guarantees remarkable image quality from its valued focal length range – allowing for truly captivating photographs!
Build and handling: This 2.3 by 2.6 inches lens is lightweight at only 9.9 ounces and offers basic water resistance to protect against the elements and 55mm front filters for added benefits. Crafted with TSC materials and metal, the lens body is built of quality. Also, the rubberized focus ring turns smoothly without any hassle. Furthermore, the added SLD glass element ensures that axial color aberration – generally hard to address through image processing – can be effectively corrected.
Performance: With its Hyper Sonic Motor, this lens ensures fast and silent autofocusing, perfect for video projects. Additionally, it produces a soft and luxurious bokeh to craft fascinating, out-of-focus highlights and transitions that will truly captivate yourself and your audience.
Best for: As you would guess, this Sony a6100 lens is best for portrait photography. But that doesn't mean it couldn't be used in another field; it can be used in versatile ways for landscapes, cities, or even architectural photography. With this in your hand, you will receive details of every shot.
Whether you're an experienced photographer or just getting started, the Sigma 56mm f/1.4 DC DN Contemporary is a valuable tool in your arsenal! It is incredibly cost-effective, and its wide range of features makes it perfect for capturing unique portrait compositions. Also, due to its focal length, that lens could be more versatile than the previous 85mm.
Sony a6100 wide-angle lenses
3. Tamron 11-20mm f/2.8 Di III-A RXD E-Mount
No matter your experience with photography, you can discover fresh new creative perspectives with that Sony a6100 APS-C lens. Tamron's 11-20mm is equipped with an aperture of f/2.8, providing rapid autofocus speed and aiding it when shooting in low-light conditions.
Build and handling: The Sony a6100 Tamron lens is the perfect combination of strength and robustness. Its formidable build is made from top-notch plastic, metal housing plates, plus weather seals to protect it against condensation or grime. Furthermore, an added fluorine coating on the front element is great for removing chromatic aberration.
Performance: Tamron's advanced RXD technology delivers an exceptionally swift and quiet autofocus system, perfect for capturing spontaneous shots or shooting documentaries. Plus, pictures will maintain their clarity even when you select the aperture to its peak point of f/2.8!
Best for: The perfect partner for taking wonderful nature photographs, landscape shots, and travel images with this wide-angle lens for Sony a6100. Thanks to its aperture of f/2.8 it's also a perfect fit for night photography. Even though some vignetting may be in the corners when using this full aperture range, your pictures will still possess remarkable clarity and quality.
The Sony a6100 wide-angle lens is the must-have option for anyone seeking ultra-wide capacities. Though it may seem expensive, its top features and excellent performance make investing in this product completely worth it.
---
4. Sony E 11mm F/1.8
Sony's a6100 camera with its ultra-wide-angle prime lens creates an exceptional photography setup. Its lightweight and compact design makes it ideal for capturing landscapes, interior architecture, astrophotography, and vlogging. Moreover, this bundle offers unbeatable value, particularly when considering the typically high cost of Sony series lenses.
Build and handling: The 2.6 x 2.28 inch (66 mm x 57.5 mm) lens is designed for portability, thanks to its lightweight construction from high-quality materials. Weighing just 6.38 ounces (181 g), it is a comfortable and convenient companion for your photography endeavors. Additionally, the lens features a dust and moisture-resistant design, ensuring that your photography sessions are stress-free, regardless of the environment or weather conditions. It is a reliable option for every outdoor photography adventure.
Performance: The outstanding Sony a6100 lens boasts a fast f/1.8 aperture and is equipped with a Dual Linear Motor system for quick and quiet autofocus. It also has a customizable focus hold button for added convenience. With 12 elements arranged in 11 groups, this lens delivers exceptional sharpness, thanks to its three aspherical elements and the use of extra-low dispersion (ED) glass. Color fringing is effectively eliminated, resulting in stunning, clear images.
Best for: Vloggers, photographers, and content creators will find this lens valuable. Its impressive focal length enables you to capture various images while still retaining the ability to focus in tight spaces. Whether you're striving for breathtaking landscape shots or intricate architectural photos, this lens for Sony a6100 is a perfect choice, offering a narrow aperture capability for optimal results.
The lens provides exceptional photo quality throughout its aperture range of f/1.8 to f/8, delivering sharp results in the frame's center and edges. Despite lacking some features that are found in professional lenses, its robust construction and lightweight design make it a worthwhile option. The real standout feature of this lens is its unbeatable price point.
Sony A6100 zoom lenses
5. Sony E 16-55mm f/2.8 G
The Sony E 16-55mm f/2.8 G is the perfect all-purpose zoom lens for enthusiastic photographers. Its dependable focal range of 16-55mm and consistent f/2.8 aperture offer top-notch detail. It is an ideal choice for anyone looking to capture stunning images.
Build and handling: The E 16-55mm lens is engineered for ease of use and comfort. It features a 67mm front filter, a reversible hood, rubber focus, and zoom rings for smooth and effortless handling. The sturdy grip ensures your equipment stays secure, making this lens a dependable option.
Performance: The Sony a6100 zoom lens with its f/2.8 constant aperture across all focal lengths delivers bright and precise photos, even in low light conditions. The quiet autofocusing ensures that you can capture photos without disrupting your surroundings. The Linear Response MF provides full manual control, allowing you to fine-tune the focus for optimal results.
Best for: This all-in-one lens is the ideal travel companion for capturing unforgettable moments. It provides clear and detailed photos in bustling cities or remote scenic locations. Rated as one of the top travel lenses for Sony a6100 users, this lens will enhance your photography abilities.
The cost of this top-notch camera equipment may be higher than other options, but the investment is worth it. The superior construction, exceptional optical performance, and compact size make it a smart purchase.
---
6. Sony 18-105mm f/4
This lens is ideal for photographers looking for an all-in-one solution. It offers a wide 6x zoom range and a constant f/4 aperture with optical stabilization to minimize shake. Additionally, zooming and focusing are internal, ensuring the lens stays compact during use.
Build and handling: This Sony a6100 zoom lens has a solid build and an impressive weight of 15.1 ounces (427g), with a length of 4.3 inches (110mm). It offers smooth zooming for video recordings through its power-zoom controls on the left side of the lens barrel. Also features a metal mount construction. Unfortunately, it's not weather sealed.
Performance: Sony's E PZ 18-105mm f/4G OSS zoom lens impresses with excellent autofocusing. One of the key features of this one is its wide focal range and built-in image stabilization technology. Additionally, its fixed aperture for videos adds a layer of convenience to your experience.
Best for: The Sony E PZ 18-105mm f/4G OSS is a fantastic all-around zoom lens that can handle any shooting situation. With its broad focal range and quiet focus, it's ideal for capturing everything from daily life to travel. Its power zoom function is a bonus and can produce exceptional video quality.
Whether you want a one-lens solution for all your photography needs, this lens is worth considering. Despite its weight and size, the Sony a6100 zoom lens provides outstanding optical performance, top-notch construction quality, stabilization features, ultra-fast autofocus, and a broad zoom range. It is one of the best lenses for Sony a6100 for an all-in-one option.
Telephoto lens for Sony a6100
7. Sigma 100-400mm F5-6.3 DG DN OS
The Sony a6100 telephoto lens is a fantastic choice for sports or wildlife photographers, providing excellent quality and broad zoom capabilities while being budget-friendly. As a trusted brand, Sigma consistently delivers top-notch quality; this lens is no exception.
Build and handling: Photography enthusiasts often pick the Sony a6100 Sigma lens for its quality construction. Its metal shell is durable and protected from dust and moisture, ensuring long-term reliability, and its lightweight design allows for easy portability. Whether for an outdoor adventure or any other photography endeavor, this compact yet robust lens has all you need.
Performance: The AFL button enables precise auto-focusing with the powerful silent stepping motor. The Optical Image Stabilizer (OS) provides up to four f-stops of image stabilization, ensuring your shots are always sharp and clear. With these outstanding features combined, you will surely benefit from taking your gear outdoors.
Best for: The Sony a6100 landscape lens is a fantastic choice for photography beginners and professionals. Its exceptional picture quality makes it ideal for both wildlife and long-distance photography. With its ability to deliver remarkable accuracy from long ranges without exceeding your budget, this lens will enhance your camera gear.
For stunning photos without breaking the budget, the Sony FE 100-400mm F4.5-5.6 GM OSS is the perfect fit for you. With its ability to produce images almost as good as professional-grade lenses but with less weight than similar options, this Sony a6100 telephoto zoom should be your go-to option.
Sony a6100 lens for wildlife
8. Sony E 70-350mm F4.5-6.3 G OSS
The Sony a6100 wildlife lens is a cost-effective yet powerful tool that offers optical stabilization, seven blades in the circular aperture mechanism, and Sony's XD (Extreme Dynamic) linear motor autofocusing system. With its remarkable range of 70mm to 350mm, this highly efficient lens will make capturing wildlife easier.
Build and handling: Despite its compact size, this lens packs a punch with its impressive 350mm focal range. Measuring just 22.05 oz (625 g) and 5.6 in (14.2 cm) in length, this lens offers great value for its money with its sturdy build quality. The metal lens mount and zoom ring have been equipped with rubberized banding for a secure grip during shooting.
Performance: The Sony a6100 lens is a top-performing option for wildlife photography. It offers exceptional clarity from all angles and the Optical SteadyShot image stabilization feature will keep images sharp even at a distance. The lens features three ED glass elements to eliminate chromatic aberration and color blur for more stunning results.
Best for: This lens is ideal for outdoors, such as wildlife or bird photography. Its 70-350mm focal range, fast focusing, and silent operation make it perfect for capturing candid shots without disturbing your subject. In addition to shooting sharp stills, it is also quite impressive for video footage.
The Sony a6100 camera users who want to take amazing wildlife, sports, and long-range photos without spending much money or carrying a heavy telephoto lens, should consider the E 70-350mm. This Sony a6100 lens is powerful and budget-friendly, delivering high-quality images with fast focusing speed.
Sony a6100 lens for video
9. Sony 20mm f/2.8
The prime lens for the Sony a6100 camera is an ideal choice for vloggers. It is lightweight with an outstanding wide-angle view when attached to an APS-C camera, and its exceptional specifications make it suitable for content creators of all levels, from beginners to professionals.
Build and handling: The small and compact Sony E 20mm f/2.8 lens measures 0.8 x 2.5 inches and doesn't protrude much from the camera body. A plastic hood is included for a seamless fit and appearance. Additionally, due to its weather seals, it is protected against dust and moisture damage.
Performance: The E 20mm f/2.8 lens is the perfect addition to your Sony a6100 camera, ensuring that all the content you capture will be full of stunning detail. Its wide range of view and bright f/2.8 aperture make it suitable for various angles and lighting conditions, bringing a vibrant quality to all your photos and videos. 
Best for: With the Sony a6100 vlogging lens, you can elevate your photography and videography skills to a new level. This compact lens allows you to capture stunning landscapes, produce high-quality videos, and take memorable photos, no matter where your adventures may lead.
If you're searching for an affordable lens that delivers top video quality, then it's might be for you! The pancake lens provides stunning open-aperture images and produces clear photos and videos. It's truly one of the best value video lenses for Sony a6100 users on a budget!
Macro lens for Sony a6100
10. Sigma 105mm f/2.8 DG DN Macro ART
Unlock a stunning world of minuscule details with the Sony a6100 macro lens, designed specifically for Sony cameras. Experience the thrill of discovering new micro-dimensions at an unbeatable price.
Build and handling: This Sony a6100 lens features a quality build with weather-sealed materials. With its classical Sigma design and comfortable grip, the lens is further enhanced with a Super Multi-Layer coating that enhances clarity and sharpness while eliminating flare and ghosting.
Performance: Capture moments with stunning detail and a beautifully blurred background thanks to its f/2.8 aperture. The hypersonic motor also ensures fast and quiet autofocusing, perfect for capturing even moving subjects like insects without disturbing them.
Best for: Experience the world of macro photography like never before with the 105mm focal length lens. Get up close and capture stunning shots without any hindrance from lens shade or proximity to your subject. This amazing lens is ideal for taking pictures of small animals and other living beings.
The Sony a6100 lens is a must-have for macro photographers, providing the perfect blend of 105mm focal length and f/2.8 aperture for stunning macro shots. It's hypersonic motor technology delivers seamless autofocus for effortless and flawless images.
---
Conclusion
With so many options available, it can be difficult to choose the best lens for Sony a6100 camera that fits your needs. Whether you're looking for wide-angle shots or macro capabilities, there is certainly something that fits your needs and your budget. Before making a purchase, take some time to consider the kind of visuals you want to create with your lens. This will help ensure you make an informed decision on investing in the best product!
---
PIN IT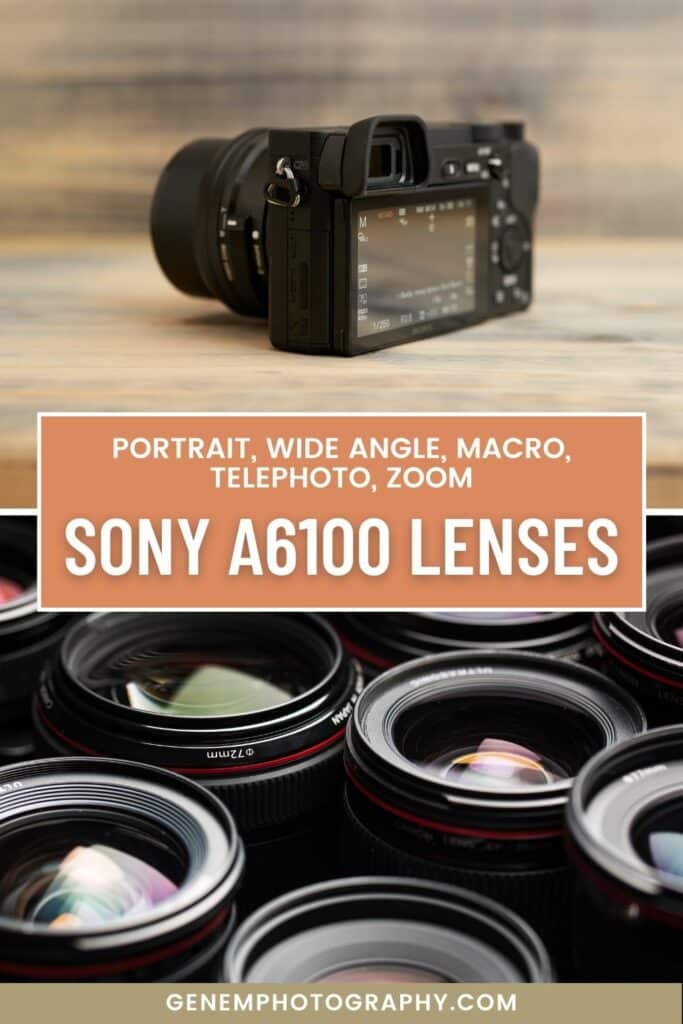 ---
Read more about Sony lenses: