Are you struggling to decide which lenses will elevate your Sony a6400 photography? With so many options on the market, it's often hard for photographers to choose. To make this easier, we've gathered our top recommendations of the best lenses for Sony a6400. We have selected from various styles and budgets suitable for any photographer!
Our comprehensive list of the best Sony a6400 lenses takes into account customer ratings and reviews, prices, and features such as optical stabilization and weatherproofing – so that no matter if you're in search of an all-in-one zoom or specialized prime lens – this guide will help you find the perfect one.
Best lenses for Sony a6400
Below, you will find the best lenses for Sony a6400. Here, you'll find all the necessary information on lenses, from price ranges to usage instructions. All prices have been categorized for your convenience:
Budget $: 0 – 500
Average $$: 501 – 1000
Expert $$$: 1001+
The list of best Sony a6400 lenses:
1. Portraits with candid bokeh => Sony 85mm f/1.8-22
2. Portrait photography on a budget => Sigma 56mm F/1.4 DC DN
3. Full body portraits => Sony FE 35mm f/1.8
4. Pro-grade everyday lens => Sony E 16-55mm f/2.8 G
5. Everyday lens for travel => Tamron 17-70mm F2.8 Di III-A VC RXD
6. Night photography => Tamron 11-20mm f/2.8 E-mount
7. Real estate photography => Sony E 10-18mm f/4 OSS
8. Everyday lens on a budget => Sigma 18-50mm F2.8 DC DN | C
9. All-in-one lens => Sony 18-105mm f/4
10. Telephoto lens => Sigma 100-400mm F5-6.3 DG DN OS
11. Wildlife photography on a budget => Tamron 70-300mm F/4.5-6.3 E-mount
12. Pancake lens for vlogging => Sony 20mm f/2.8
13. Prime lens for versatile photography => Sony 28mm f/2.0
14. Macro photography => Sigma 105mm f/2.8 DG DN Macro ART
Sony a6400 portrait lenses
1. Sony 85mm F/1.8-22
Are you searching for the best lens for portraits? Boasting a sleek design, this Sony a6400 portrait lens offers unrivaled capabilities at an affordable price. With its silent autofocus and remarkable bokeh effects, portrait photographers will experience stunning image sharpness that is second to none – making every shot count!
Build and handling: This lens has been crafted with a modern, minimalistic design and is made to be weather-resistant. Furthermore, it has an ED (Extra-low Dispersion) element for superior image quality and a 9-blade diaphragm. This lens weighs only 13.1 oz (371 g) at 3.1 x 3.2 in (78 x 82 mm). To make your life easier, features like the AF/MF switch and customizable focus hold button are included!
Performance: Autofocus is rapid, silent, and intuitive due to the dual linear stepping motors and an electronically coupled manual focus ring that operates with effortless grace. Even when shooting at maximum aperture, sharpness remains impressive in the center of your shot. Moreover, the bokeh delivers a stunning look that doesn't sacrifice smoothness if you reduce f-stop marginally.
Best for: The impressive f/1.8 aperture and 85mm focal length of this lens will add a beautiful, eye-catching energy to your portrait compositions, making the results flawlessly magnificent. With these settings, you can easily separate your subject from its background with an artfully blurred effect for ultimate impact.
You won't be disappointed with this lens's remarkable handling and build quality. Not only is it affordable, but it also has an ideal focal length for taking portrait photos! You can easily take sharp shots and breathtakingly beautiful blurry backgrounds with a wide aperture setting. This portrait lens for Sony a6400 is simply top-notch and should be at the top of your list!
---
2. Sigma 56mm F/1.4 DC DN
The Sony a6400 portrait lens is the perfect combination of lightweight and portability, providing a remarkable f/1.4 maximum aperture for capturing vibrant images with unparalleled quality at its valued focal length range. With its fixed wide aperture, you can guarantee stunning clarity, resulting in alluring photos!
Build and handling: As is typical from Sigma, this lens doesn't disappoint. With just a basic level of water resistance to guard against external elements, its body measures 2.3 by 2.6 inches and weighs 9.9 ounces while supporting 55mm front filters!
Performance: This lens gives you a silky smooth, luxurious bokeh to create mesmerizing out-of-focus highlights and transitions and also features a Hyper Sonic Motor for rapid autofocusing. It even features silent focusing, which also renders it the ideal choice for video projects.
Best for: This Sony a6400 lens is the perfect addition to your photography arsenal for portraiture, but its features will also allow you to capture stunningly gorgeous architecture shots, urban scenes, and event images. With its lightweight construction, you can effortlessly bring it to explore the world.
With its features and cost-efficiency, the Sigma 56mm f/1.4 DC DN Contemporary is a great addition to any photographer's kit. Its excellent performance makes it ideal for professionals and those just starting with photography! If you are passionate about creating portrait compositions with ease, then that lens will make a difference.
---
3. Sony FE 35mm f/1.8
The dependable Sony a6400 35mm lens is the perfect choice if you're looking for convenience and reliability. This brilliant piece of equipment can easily handle any situation, no matter how low-light. Take this great lens when traveling to explore landscapes or take amazing pictures of your friends.
Build and handling: Measuring a mere 1.8 by 2.5 inches and weighing in at an ultra-light 5.4 ounces, Sony's E 35mm F1.8 OSS is the perfect lens for those who don't want to lug around heavy equipment when using their APS-C mirrorless system!
Performance: With the Optical image stabilization in this lens, you can take sharp and distortion-free photos and videos even when shooting handheld. Additionally, its 7-blade circular aperture produces more natural bokeh than polygonal versions. The aspherical elements also reduce distortion, while ED (Extra-Low Dispersion) glass components provide excellent contrast and resolution without compromising colors.
Best for: Experienced photographers and amateurs alike will admire the superior range of views the Sony a6400 prime lens offers for portrait and travel photography, from vibrant, crystal-clear images in both bright or dim settings to capturing anything from full-body shots with lots of people to bustling street scenes that seem almost alive.
If you're searching for a reliable yet unassuming lens for Sony a6400 that is perfect for tighter spaces and low light photography conditions, that would be an option. With its minimum focusing distance of 1ft and high performance in lower light settings, this lens will help you easily capture almost any shot!
Travel lenses for Sony a6400
4. Sony E 16-55mm f/2.8 G
If you are a passionate photographer searching for the perfect everyday zoom lens, the Sony E 16-55mm f/2.8 G is your go-to choice! It boasts an impressive and extensive focal length range from 16 to 55mm on APS-C mirrorless cameras, and its constant aperture of f/2.8 ensures that every shot taken with this magnificent lens will render superior clarity!
Build and handling: The E 16-55mm lens is designed for convenience and comfort. A reversible hood, 67 mm front filters, rubber focus, and zoom rings make this lens effortless to rotate with a simple touch. It provides a superior grip, so you can be sure your equipment will stay safe.
Performance: Capture extraordinary pictures with the Sony a6400 zoom lens! A fixed f/2.8 aperture across all focal lengths gives you bright, precise images even in low-light environments. Silent autofocusing also ensures no one will be disturbed by loud noises when shooting. Plus, Linear Response MF allows for total control and manual focusing to perfection!
Best for: If you're a photographer, this all-in-one lens is the perfect companion. Capture those special moments, city streets, or majestic vistas, no matter where your travels take you. Plus, it has been highly rated as one of the best travel lenses for Sony a6400 and will help sharpen your photography skills!
Not only does this product boast remarkable optical performance and superior construction, but it is also incredibly compact. Investing in this top-notch camera gear might cost you more than similar options, but it will undoubtedly pay off over time and be worth the price!
---
5. Tamron 17-70mm F2.8 Di III-A VC RXD
The Tamron lens for Sony a6400 is the perfect companion to bring along your creative journey. Boasting an extensive range of focal lengths with f/2.8 aperture, this remarkable lens was specifically designed for APS-C format cameras. With its incredible performance and reliability, this high-quality multipurpose lens for Sony a6400 is guaranteed to elevate your experiences.
Build and handling: Tamron's 17-70mm F2.8 has an advantage over its competitors, weighing in at a lightweight 18.5 oz (525 g). The construction of this product stands out with superior weather seals for long-lasting performance and fluorine coating for easy cleaning that guards against damage from moisture or grease.
Performance: With the Sony a6400 travel lens, you can use its RXD autofocus motor that triggers ultra-fast focusing. Even in dimly lit environments, this lens performs brilliantly! Focusing produces little to no sound, making it perfect for capturing video clips. Moreover, optical image stabilization technology is also included for further enhanced user experience.
Best for: Tamron 17-70mm is an ideal lens for the travel photographer, providing remarkable value in a single package. Its constant f/2.8 maximum aperture at all zoom ranges makes it a go-to option for any photographic needs, from night photography to travel videos and more! With your Sony A6400 camera paired with this fantastic lens, you can easily capture stunning images from various angles.
Overall, if you are trying to find a zoom for travel or everyday use, this affordable Sony a6400 lens could be the perfect fit. Considering the focal range, wide aperture of f/2.8 through the zoom range, and optical stabilization, there isn't a better option at this price point.
Sony a6400 wide-angle lenses
6. Tamron 11-20mm f/2.8 E-mount
Whether you are a novice or an expert photographer, explore unimaginable angles and horizons with the Tamron 11-20mm for Sony's E-mount mirrorless APS-C format cameras. Boasting unrivaled speed and consistent with the aperture f/2.8, this lens will help elevate your photography journey to unprecedented heights!
Build and handling: The Tamron lens for Sony a6400 is an incredibly sturdy product that fits comfortably in your hands. It is made of premium plastic, metal mounting plate, and weather seals to ensure it resists moisture or grease. Additionally, its front element contains a fluorine coating, which provides extra protection—altogether making this item both lightweight and formidable simultaneously!
Performance: Tamron's advanced RXD technology offers a remarkably rapid and quiet autofocus system, perfect for shooting documentaries or capturing candid photos. Furthermore, even when the aperture is set to its widest setting of f/2.8, every picture is still crisp and clear!
Best for: Capturing nature's beauty, especially landscapes and travel scenes, Tamron's 11-20mm f/2.8 is an ideal partner! It offers a wide maximum aperture of f/2.8, which you can also take astounding starry night photos. Although there may be some vignetting in the corners at this full aperture range, it still yields sharp and clear images with remarkable quality!
When selecting an ultra-wide-angle zoom lens for your Sony a6400, the Tamron 11-20mm F2.8 Di III-A RXD should be heavily considered! Though admittedly more expensive than other options, its premium features and performance – combined with weatherproof construction – make every penny worth it!
---
7. Sony E 10-18mm f/4 OSS
Experience superior performance with the Sony a6400 wide-angle zoom! This APS-C format mirrorless camera is lightweight and compact, offering an f/4 aperture across its entire range and 3-stop optical stabilization.
Build and handling: The Sony lens for a6400 is lightweight and compact, boasting an incredibly reliable metal mounting plate. With only 2.5 inches by 2.8 inches and weighing 7.9 ounces (225 grams), you can take it on your trips without dragging down your luggage! However, it does not have weather seals to protect it from Mother Nature's unpredictable outbursts.
Performance: The autofocus of this lens is fast and effortless, while the powerful optical image stabilizer makes it ideal for shooting in low light. The central sharpness stays consistent across the entire zoom range; however, a slight edge softening can still occur at 10mm when you reduce your aperture setting.
Best for: This lens is made for landscapes, architectural interiors, and astrophotography, thanks to its f/4 aperture! Its ultra-wide design makes it perfect for real estate photography in tight spaces. Capture unique landscape compositions with ease while enjoying the stability of this all-inclusive lens!
The Sony a6400 zoom lens is an engineering marvel, combining its compactness and featherweight design with incredible power. Boasting a constant f/4 aperture rating throughout the entire range and optical stabilization of up to 3 stops, this lightweight lens can deliver stunning performance in any environment!
Sony a6400 zoom lenses
8. Sigma 18-50mm F2.8 DC DN | C
Despite its diminutive size and lightweight – measuring 4.25 inches (74.5 mm) in length and a mere 10.2 oz (290 g), respectively – the Sigma 18-50 mm F2.8 DC DN Contemporary ensures maximum aperture at f/2.8 across the entirety of its zoom range, making it an ideal choice for those wanting to capture sharp images quickly with precision!
Build and handling: Sigma's TSC (Thermally Stable Composite) material ensures excellent build quality, keeping tolerances tight even during temperature fluctuations. On top of this, the lens is extremely lightweight and compact, making it easy to handle. Additionally, its zoom ring and focus rings move smoothly for extra precision. Noteworthy drawbacks include no auto/manual switch or customizable function buttons due to its downsized design.
Performance: The image quality throughout the frame is superb, with only marginal blurring at the highest zoom levels. At f/2.8 aperture, out-of-focus areas have a pleasingly smooth bokeh effect, and axial chromatic aberration is almost nonexistent. Lateral chromatic aberrations are also absent in even the outermost corners of your shots, but distortions still tend to be an issue when shooting wide open.
Best for: The 18-50mm range is perfect for capturing people, making it an excellent choice for portraits, weddings, parties, and events. It's also ideal for documentaries, interviews, lifestyle shoots, or theater photography. Plus, fashion shoots in the studio to capture candids and even some sports! Overall, it's an everyday lens.
Sony a6400 Sigma lens is the ultimate combination of speed, silence, and quality. With an autofocus that outperforms many other lenses at only a fraction of their weight and cost, you will surely get your money's worth with this little powerhouse. In short, it's an unbeatable buy that packs an even bigger punch!
---
9. Sony 18-105mm f/4
With a wide 6x zoom range and constant f/4 aperture, this lens is an ideal choice for any photographer looking for an all-in-one. Features optical stabilization to reduce shake. Zooming and focusing occur internally, meaning the lens won't extend during use!
Build and handling: This Sony a6400 zoom measures 4.3 inches (110mm) in length and weighs an imposing 15.1 ounces (427g), yet despite its bulky design, it maintains excellent build quality. The barrel has power-zoom controls on its left side to ensure smooth zooming, even for video. The lens mount is constructed from sturdy metal, but it's not weather-sealed.
Performance: The Sony E PZ 18-105mm f/4G OSS zoom is fast for autofocusing. From the wide focal range, built-in image stabilization, and fixed aperture for videos, this lens offers many features that make taking stunning photos more effortless. While delivering exceptional image quality overall, there are some slight drawbacks, such as a lack of sharpness at the edges & pincushion distortion visible in certain shots.
Best for: If you're searching for an all-in-one zoom lens suitable for various topics and exceptional video work, the Sony E PZ 18-105mm f/4G OSS is your best bet. It has a wide focal range with quiet focusing capabilities combined with its power zoom feature, making it perfect to use one single lens for everyday life to travel photography.
If you are searching for a top-notch lens that can do everything, this is the one I would highly recommend. It's heavy in size but still offers astounding optical performance, quality construction, stabilization features, extremely rapid autofocus, and versatile zoom range. This lens has been recognized to be the best travel lens for Sony a6400 camera users.
Sony a6400 telephoto lenses
10. Sigma 100-400mm F5-6.3 DG DN OS
Whether you're a photography enthusiast or capturing sports and wildlife events, the Sony a6400 telephoto lens will impress with its exceptional quality, extensive zoom capabilities, and budget-friendly pricing. Sigma lenses never disappoint in terms of quality and performance.
Build and handling: Boasting remarkable craftsmanship, the Sigma lens is an optimal choice for photography enthusiasts. Featuring a metal shell and sealed to safeguard against dust and humidity, this product offers long-term durability and featherweight portability – up to 400mm of optical zoom! With its robust build yet petite size, it has everything you need for your next outdoor adventure.
Performance: The powerful silent stepping motor is perfect for auto-focusing, while the AFL button allows you to take precise control. Not only that, but the Optical Image Stabilizer (OS) provides up to 4 f-stops of stabilization, so your images will always look sharp and crisp. With such outstanding features combined, you can create stunning photos!
Best for: From amateur photographers to more professionals, this Sony a6400 landscape lens is the perfect fit! With its phenomenal accuracy from extended ranges and budget-friendly prices, you can observe wildlife photography in all its glory without breaking your wallet. It is a great lens to add to your camera gear when just starting with wildlife or other types of photography that require a long distance.
Whether you're a professional nature photographer or want to capture stunning images with an unbeatable price tag, the Sony FE 100-400mm F4.5-5.6 GM OSS is your ideal companion! It offers near professional-grade images and less weight than its nearest competitors! If you don't require top-of-the-line images, then Sony's a6400 telephoto zoom lens should be at the forefront of your list when choosing lenses!
---
11. Tamron 70-300mm F/4.5-6.3 E-mount
If you're looking for a 70-300mm lens that is both lightweight and compact, this Sony a6400 lens fits the bill perfectly! Its fast AF operation comes from an ultra quiet and powerful RXD stepping focus motor, while its moisture-sealed construction keeps out any external elements.
Build and handling: At an incredibly lightweight 19.2 ounces (545g), this Sony a6400 telephoto zoom lens offers effortless operation with its electronically coupled manual focus ring and mechanical zoom ring. Thanks to entirely internal focusing, the front element and filter rings remain in place while zooming — an added benefit that makes handling a breeze!
Performance: The RXD autofocus system lives up to its promise with quick and barely audible performance. It boasts 15 optical elements in 10 groups, including one low dispersion front element and seven rounded aperture blades on its iris diaphragm. Manual focus is fully accessible and compatible with Sony cameras' DMF system. This lets the user quickly shift between autofocus and manual focus on demand.
Best for: The Tamron 70-300mm is an excellent lens for wildlife, landscape, and portrait photography. Since it has a narrower maximum aperture, you must ensure you have enough light or use a camera with a higher ISO to achieve the best image quality. This lens can also be used as an excellent video lens!
Perfect for photographers who want an inexpensive yet high-quality Sony a6400 wildlife lens, the Tamron 70-300mm is a savvy purchase. It's one of the lightest and most compact lenses on the market, making it ideal for travelers or those looking to take their camera out for a casual stroll.
Sony a6400 lenses for video
12. Sony 20mm f/2.8
If you're searching for a Sony a6400 lens for vlogging, this prime might be one for you! It's lightweight and offers an incredible wide-angle view when attached to an APS-C camera. Its unbeatable specifications make it ideal for all content creators – regardless of their skill level or niche.
Build and handling: The E 20mm f/2.8 is a minuscule lens measuring only 0.8 x 2.5 inches, barely extending from your camera body – plus it even has an included plastic hood, adding another half inch to match the barrel diameter exactly! Unfortunately, it does not offer dust or splash protection for extra assurance against accidental spills and drops.
Performance: Take breathtaking photographs and videos with this lens! With its wide angle of view and a bright f/2.8 aperture, you can be sure to achieve the most vivid details in all your photos and HD recordings – no matter where you point your camera!
Best for: This mini lens opens doors to a world of creative photography! Whether exploring interiors, capturing stunning landscapes, or simply taking everyday snapshots – this miniature marvel is always by your side. The portability and flexibility of this pocket-sized lens make it perfect for documenting life's most memorable moments on the go!
The Pancake lens is remarkably featherweight and produces extraordinary images with an open aperture. Likewise, it enables you to take crystal clear photos and videos at small apertures for terrific results – making this one of the best Sony a6400 lenses for video if you're on a budget!
Sony a6400 prime lens
13. Sony 28mm f/2.0
If you're beginning to explore photography, the budget-friendly Sony a6400 prime lens is an excellent starting point. Its remarkable aperture and petite size offer tremendous speed and durability. When you add this device to your arsenal of tools, your journey toward becoming a masterful photographer will be set in motion!
Build and handling: This sleek prime lens is astonishingly light and features a robust aluminum alloy body that is always a great addition to photographers. Moreover, its improved moisture and dust resistance reassure when shooting in hazardous weather conditions.
Performance: With this lens, you can effortlessly and precisely capture all cherished memories with its vivid color. Featuring an f/2.0 aperture, it gives you comprehensive control in any environment – including low-light photography settings! Moreover, its silent autofocus motor also makes it perfect for your videos.
Best for: Often overlooked in photography, the 28mm prime lens can be an invaluable tool. With its potential to capture sharp details that would otherwise go unseen and provide distinct perspectives for all types of visuals – from sweeping landscapes to captivating portraits – this lens should never be underestimated.
The Sony a6400 lens is an unbeatable asset to any camera gear, providing excellent value for money and producing outstanding performance with remarkable image quality. This fantastic device lets you shoot incredibly rapidly without breaking the bank!
Sony a6400 macro lenses
14. Sigma 105mm f/2.8 DG DN Macro ART
This macro lens designed for Sony cameras is your ticket to unveiling the breathtaking beauty of tiny organisms and objects! The quality you get at this unbeatable price point is unmatched.
Build and handling: The Sony a6400 macro lens offers unequaled professional image quality with its weather-resistant design and precision grip. The Super Multi-Layer coating guarantees peak clarity and sharpness by drastically reducing flare or ghosting effects with fantastic accuracy.
Performance: Record every moment with stunning clarity, and enjoy a blur effect in the background with its f/2.8 aperture! Plus, the remarkable hypersonic motor grants lightning-fast focus speed without making any noise.
Best for: Take your macro photography to a whole new level! With the unprecedented 105mm focal length, you can take photos without invading your subject's personal space and without any fear of lens shade. Get ready for stunning shots like never before with minimal effort.
This might be the perfect solution if you own a Sony a6400 camera and require an ideal lens for macros. Its 105mm focal length, paired with its f/2.8 aperture, makes macro photography more manageable! Moreover, it is fitted with hypersonic motor technology to ensure each shot captured will be flawless with zero effort from your end.
---
Conclusion
The best lenses for Sony a6400 cameras depend highly on your needs and budget. Whether you're looking for a prime lens to capture detailed images in any environment or a macro lens to explore the tiny wonders of the world, there is an ideal option that best suits your specific requirements. With the options outlined above, you can look forward to capturing remarkable photographs and videos with ease. All you need is effort, dedication, and the best lens for your Sony a6400 camera!
---
PIN IT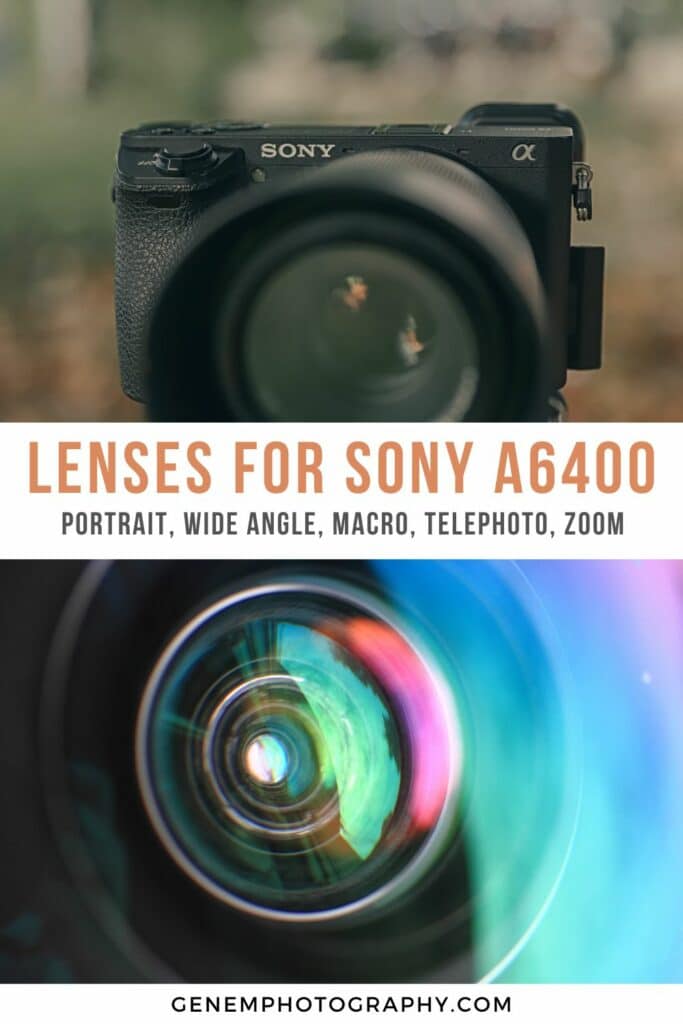 ---
Read more about Sony lenses: