Finding the best lenses for Sony a6600 camera can be a difficult task. With so many different options available, it can be hard to know which lens will best suit your needs. To help you make an informed decision, we have compiled this list of the top lenses for the Sony a6600 camera.
These Sony a6600 lenses have been selected based on their performance, features, and value for the money. Whether you are looking for a lens to capture everyday shots or want something more specialized for sports or wildlife photography, there is sure to be something here that will fit your needs. So let's take a look at these top contenders and find out which one is best.
Best lenses for Sony a6600
What is the best lens for Sony a6600? With so many intricacies to take into account – from the desired effect and shot type, all the way down to budget limitations – recognize what features you value most to discover your perfect lens.
Trying to figure out the best lens for your specific needs can be overwhelming, but I have compiled a comprehensive list of Sony a6600 lenses. Each option is divided into prime, wide-angle, and other categories so that you can make an informed decision based on what kind of photography you'll be embarking upon. The prices are also broken down into three convenient budget sizes:
Budget $: 0 – 500
Average $$: 501 – 1000
Expert $$$: 1001+
Best portrait lenses for Sony a6600
1. Sigma 85mm f/1.4 DG DN ART
For years, photographers have been debating which type is the best lens for portraits – 85 mm, 50mm, or 35mm. But with the Sony a6600 portrait lens available now, you can add an extra touch of sparkle to your photos. So why not take advantage of this opportunity and see what wonders it can do?
Build and handling: Sigma's Art lens is the perfect combination of quality and size! Constructed from plastic and brass for maximum durability, it weighs in at only 22 ounces – making this an incredibly light option among its peers. Additionally, convenience features like a hold button and AF/MF switches are included within its compact design, along with a large lens hood for added protection.
Performance: With an impressive f/1.4 aperture, this lens is an ideal option for any photographer. Its Autofocus system promises razor-sharp accuracy and locks onto your subject in a matter of milliseconds. Even when shooting under low light conditions or capturing high-exposure scenes! You will be amazed at the stunning quality images it creates.
Best for: If you are a portrait photographer, then this lens offers something extraordinary. An unparalleled soft background and a beautiful bokeh effect. Adjusting the aperture to f/16 further allows for stunning landscape shots that look like they were taken by professionals!
Unleash your creativity with the Sigma lens for Sony a6600. Create beautiful photographs with alluringly blurred backgrounds and mesmerizing bokeh – perfect for achieving photographic excellence!
---
2. Sony E 50mm f/1.8
This compact and budget-friendly lens is a great option for beginners or professionals. It's capable of creating smooth defocusing, stunning bokeh effects, as well as impressive low-light performance due to its wide aperture and 7 blades circular diaphragm. With this professional quality lens in hand, you'll be able to capture perfect shots no matter the situation!
Build and handling: The Sony a6600 portrait lens is exceptionally crafted with a metal body and focusing ring. Additionally, this device comes complete with an aesthetic plastic barrel-shaped lens hood. Not only is the E 50mm f/1.8 remarkably lightweight, but it's also one of the most reliable 50mm lenses on the market – ready to accompany you everywhere!
Performance: The autofocus performance of the contrast detection system is remarkable. AF operations are practically silent when in use, and if you set your aperture to f/4 – f/8 then the 24-megapixel Sony sensor will shine through with amazing image quality!
Best for: Sony a6600 lens top-notch bokeh is one of the best seen in other APS-C lenses, making it an ideal choice for portrait photographers. Its potential for landscapes makes this a must-have addition to any photography arsenal!
Ultimately, the Sony 50mm f/1.8 is an exceptional pick for anyone wanting to capture stunning portraits without breaking the bank in terms of lens expense! It offers additional great value due to its image stabilizer included in the package. It's no wonder that this excellent piece of equipment is a welcome addition to the limited selection of lenses available for Sony NEX cameras.
---
3. Sony FE 35mm f/1.8
If you're looking for a dependable Sony a6600 lens, the 35mm is your go-to. Even in low-light situations, this reliable 35mm can handle almost anything that life throws at it with ease. Whether you're traveling to explore some new sights or just want to snag an awesome photo of your friends quickly and effectively, this great lens can do it all!
Build and handling: The featherlight E 35mm F1.8 OSS measures a mere 1.8 by 2.5 inches and weighs in at just 5.4 ounces, making it an incredibly portable lens for Sony's APS-C mirrorless system users! Plus, it has a reversible hood included with the package along with front and rear caps plus the support of 49mm front filters – the same size used by many other lenses that Sony sells!
Performance: Ensure you capture crisp, undistorted photos and videos when shooting handheld with the integrated Optical image stabilization within the lens. This lens also features a 7-blade circular aperture that creates more naturally rounded defocusing or bokeh compared to standard polygon-shaped aperture lenses. The aspherical elements of this lens significantly reduce distortion, and the ED (Extra-Low Dispersion) glass components provide exceptional contrast, resolution, and vivid colors.
Best for: For portrait and travel photography, the Sony a6600 prime lens offers an unbeatable range of views for photographers. In bright or dark settings, it will still yield vibrant results every time! With its 35mm focal length, you can capture anything from intimate full-body pictures with lots of people to bustling street scenes that look almost alive.
One of the best lenses for Sony a6600 might look unglamorous but still, it's formidable. The minimum focus distance of 1ft and its low-light versatility makes it an ideal choice for photographers who are short on space yet need dependable backup gear. With this camera in hand, you can achieve almost any shot!
Best travel lens for sony a6600
4. Tamron 17-70 F2.8 Di III-A VC RXD
The Tamron lens for Sony a6600 provides an impressive range of wide-angle to short telephoto focal lengths with f/2.8 aperture, making it perfect for APS-C format Sony cameras. Furthermore, this remarkable lens is equipped with optical image stabilization and produces sharp images of excellent quality. It is undoubtedly one of the most powerful lenses on the market!
Build and handling: Tamron's 17-70mm F2.8 lens is a superb example of the company's modern products, boasting a lightweight design at just 524g (18.5oz). Despite its smaller size, it features top-notch construction quality and several weather seals to provide durability in any condition. Furthermore, a fluorine coating has been applied to make cleaning easier as well as protecting against moisture and grease damage.
Performance: With Sony a6600 travel lens, you can benefit from its RXD (Rapid eXtra-silent stepping Drive) autofocus motor that provides lightning-fast and noiseless auto-focusing. Its performance on this camera is exemplary in any lighting condition! Not only is it incredibly responsive but also virtually silent when enabling autofocus, making it a preferred choice for movie production or spontaneous photographic opportunities.
Best for: The Tamron 17-70mm is the perfect cost-effective lens for photographers who are always on the go. Its constant f/2.8 maximum aperture across its entire zoom range allows you to take stunning photos from various perspectives. Not only that, but it also offers vibration control and lacks focus breathing – two features essential for creating high-quality videos!
If you're on the hunt for a high-quality travel zoom lens for Sony APS-C cameras, the Tamron 17-70mm F2.8 Di III-A VC RXD is certainly worth considering. With its impressive image stabilization and remarkable image quality, it's an absolute bargain at this price!
Best zoom lens for sony a6600
5. Sony E 16-55mm f/2.8 G
Photographers who want the highest quality in a versatile zoom lens should consider the Sony E 16-55mm f/2.8 G. With an f/2.8 aperture, you will enjoy sharp and clear photos on any APS-C mirrorless camera with its 16-55mm focal length!
Build and handling: The E 16-55mm lens is designed with convenience and comfort in mind; it supports 67mm front filters, comes complete with a reversible lens hood, and has rubber focus and zoom rings that are easy to identify by feel. These ridged rings make turning the lenses effortless. Additionally included are both front and rear caps for further protection of your equipment.
Performance: When you're looking for a camera lens with outstanding image quality and performance, then this Sony a6600 zoom lens is an excellent choice. With its steadfast aperture of f/2.8 across the entire focal range, this lens is optimal for capturing beautiful images in low-light environments. Additionally, it offers fast and dependable autofocusing that's remarkably quiet in use. Plus manual focusing provides easy control due to Linear Response MF!
Best for: Whether you're an aspiring photographer or a seasoned pro, this all-in-one lens is your ideal companion. You can seize unique moments in any environment – from close-up urban settings to sprawling landscapes. Additionally, it's considered one of the top travel lenses for Sony a6600.
Not only does it boast exceptional optical performance and construction, but its size is surprisingly compact. Still, despite its higher price tag, this remarkable investment will unquestionably pay off in the long run.
Best telephoto lenses for sony a6600
6. Sigma 100-400mm F5-6.3 DG DN OS
A Sony a6600 wildlife lens on a budget. If you're on the hunt for reasonably priced, excellent quality zoom telephoto lenses with large magnification capabilities suitable for sports and wildlife photography, then look no further than the Sigma 100-400mm F5-6.3 DG DN OS Contemporary.
Build and handling: The Sigma lens offers remarkable construction for a consumer-grade product. Metal has replaced plastic near the mount and there is an additional gasket providing defense against dust and moisture. Additionally, its lightweight and petite size make it an ideal lens for those needing up to 400mm of reach.
Performance: When it comes to auto-focusing, the silent and lightning-fast stepping motor has got you covered. You can also opt for direct control with a dedicated AFL button. With the Optical Image Stabilizer (OS) feature, you can expect to gain up to 4 f-stops.
Best for: It should come as no shock that this camera is the go-to choice for the outdoor enthusiast. If you want to take stunning wildlife photography without breaking your budget, then this telephoto zoom lens offers an unbeatable solution. This remarkable piece of gear lets you capture distant wildlife with ease and clarity!
The telephoto zoom is a fantastic addition to any nature photographer's arsenal, providing near-identical image quality as the Sony FE 100-400mm F4.5-5.6 GM OSS at a fraction of the cost and weighing less for improved portability. If you're not a professional photographer then it's one of the best lenses for Sony a6600 for its unbeatable value!
---
7. Sony FE 200-600mm F5.6-6.3
With its surprisingly low cost, the Sony a6600 superzoom telephoto lens meets professional specifications while providing photographers with an amazing way to get close-up shots of wildlife that would otherwise be out of reach. Now even budget-conscious photographers can capture breathtaking images of nature's majesty!
Build and handling: This device features three programmable focus-hold buttons to ensure you capture any shot. Constructed with dust and moisture resistance, it can safely withstand harsh environments. Plus, its front element is coated in fluorine and a Nano AR Coating – eliminating unwanted reflections, glare, or ghosting – so it's easier to get perfect photos!
Performance: Enjoy unbeatable images with this lens' optical stabilization, 11-blade circular aperture mechanism, and internal zoom. Additionally, Sony's superior Direct Drive SSM focusing system ensures smooth transitions between focus points for a truly remarkable photographic experience.
Best for: Mounting this Sony a6600 telephoto lens with your camera will require extra effort, however, it's worth every bit of energy. Sports, action, and wildlife photographers benefit immensely from its unparalleled versatility in one outstanding super telephoto zoom package- making it an unbeatable option for all your photography needs!
The Sony FE 200-600mm f/5.6-6.3 G OSS is a bulky and hefty lens, so when coupled with a small Sony camera the combination can feel awkward in your hands – that's why I highly recommend investing in an additional vertical grip to improve ergonomics. The great news is that this advanced lens comes at an extremely reasonable price point while offering top-tier quality – making it worth your investment!
Best vlogging lens for sony a6600
8. Sony 20mm f/2.8
This prime lens is extremely lightweight and provides an expansive wide-angle perspective when connected to an APS-C sensor camera. With these specifications, it's one of the best Sony a6600 lenses for vloggers.
Build and handling: At only 0.8 x 2.5 inches, the E 20mm f/2.8 barely protrudes from your camera body and comes with a small plastic lens hood that increases its height by half an inch while matching the same diameter of the barrel. Sadly, this lens does not provide dust or splash protection for extra safety measures against any accidental spills or drops during use.
Performance: Boasting a wide angle of view, as well as an f/2.8 aperture that provides ample brightness, this lens can capture stunningly clear photos and Full HD videos with remarkable detail and contrast across the frame.
Best for: Thanks to its small size, this lens offers extraordinary portability and versatility – perfect for interior photography, landscapes, street photos, or everyday casual moments. Capture all the experiences you want with ease!
The Pancake lens is immensely lightweight and captures top-notch images with a wide-open aperture. Furthermore, it produces sharp photos and videos at narrower apertures, making it an ideal addition to any camera!
Best wide-angle lenses for sony a6600
9. Tamron 11-20mm f/2.8 Di III-A RXD Sony
The Tamron 11-20mm is the perfect choice for anyone looking to capture amazing, extensively wide-angle shots on Sony's E-mount mirrorless APS-C format cameras. Its fast and constant f/2.8 aperture offers unparalleled versatility and adds yet another layer of possibility to your photography journey!
Build and handling: Despite its compact and lightweight frame, the Tamron lens for Sony a6600 is especially robust. It's crafted with a metal mounting plate, high-quality plastic barrel, and weather seals to protect from moisture or grease – all of which make for an incredibly durable build. Plus, it has a fluorine coating on the front element.
Performance: Drawing on Tamron's RXD (Rapid eXtra-silent stepping Drive) technology, the autofocus system uses a very swift and virtually silent stepping motor, making it perfect for movie shooting or candid use. Moreover, sharpness remains exceptional across the entire image frame even when you shoot wide-open at f/2.8.
Best for: The Tamron 11-20mm f/2.8 is a superb lens for marveling at nature's beauty, particularly in landscape and travel photography. Moreover, thanks to the f/2.8 maximum aperture, you'll be able to take breathtaking images of starry nights too. Even though it produces somewhat heavy vignette effects at f/2.8, this lens still manages to produce excellent quality photographs of night skies that are clear and sharp.
If you're searching for an ultra wide-angle zoom lens for Sony a6600 that has a phenomenal maximum aperture, then the Tamron 11-20mm F2.8 Di III-A RXD should be top on your list of choices. Although it may not be the most affordable lens on the market, its unique features, powerful performance, and reliable weather-resistant construction make this an invaluable purchase for the price.
---
10. Sony E 10-18mm f/4 OSS
Experience great performance with the Sony a6600 wide-angle zoom, featuring an APS-C format mirrorless camera! Not only is it compact and lightweight, but also boasts a constant f/4 aperture rating throughout its entire zoom range as well as 3-stop optical stabilization.
Build and handling: This Sony lens is a lightweight and compact wide-angle zoom that boasts a metal mounting plate rather than plastic, along with an included bayonet-fit petal hood. Although the build quality feels dependable, it lacks weather seals to protect against inclement conditions. This product measures 2.5 inches by 2.8 inches and weighs a mere 7.9 ounces (220 grams)
Performance: The AF of this lens works with remarkable speed and smoothness, while the optical image stabilizer makes it a great choice for shooting in low-light settings. The center sharpness remains impressive throughout the entire zoom range, although edge sharpness can be somewhat lacking at 10mm even when you close down the aperture. Other aspects of performance and quality are fine across all focal lengths!
Best for: With its constant f/4 aperture, this lens is perfect for landscape photography and architectural interiors – not to mention that it can even handle the challenge of astrophotography. Moreover, thanks to ultra-wide capabilities, it makes a perfect fit for tight-spaced photography genres such as street photography.
The Sony a6600 wide-angle zoom lens is remarkably compact and lightweight, yet has tremendous power. From its constant f/4 aperture rating across the entire zoom range to its 3-stop optical stabilization, this superb lens provides exceptional performance in any setting.
---
11. Sony Zeiss 24mm f/1.8
The Sony Carl Zeiss 24mm f/1.8 ZA is an incredible wide-angle prime lens for Sony a6600 camera. It's exceptionally sharp from corner to corner at any aperture, with no discernible distortion. It also has exceptional close-focusing capabilities that allow you to create stunning images with beautiful shallow depth-of-field effects.
Build and handling: Crafted with premium materials, the Zeiss 24mm F1.8 is a large prime lens that measures 2.6 by 2.5 inches and weighs 7.9 ounces, complete with 49mm front filters for maximum versatility on any shoot you can imagine! Although it boasts excellent construction quality from all angles, unfortunate weather sealing at this price point leaves something to be desired.
Performance: The auto-focusing on the prime zoom works fast, with a locking time of only 0.2 seconds on the subject. It is highly capable in terms of resolution, delivering up to your highest expectations given its price. At f/1.8 it's already quite sharp and delivers even better results at optimal aperture settings. All that is combined with low lateral CA.
Best for: This lens is the perfect companion for capturing every special moment, from interior photography to landscapes, street shoots, and those everyday casual shots. Its portability and versatility make it ideal for anyone looking to capture their experiences with ease.
One of the best lenses for Sony a6600 may be a bit too expensive, but it's worth every penny. Not only is the quality of images excellent and sharper than other lenses at f/1.8 even on the edges of frames, but its close focusing ability and blurred background setting will make your subject stand out more in any photo you take!
Best prime lenses for sony a6600
12. Sigma 56mm F/1.4 DC DN
This lens is remarkably lightweight and compact, despite featuring an impressive f/1.4 maximum aperture. With a fixed ultra-wide aperture that captures stunningly vibrant images, this sophisticated design offers unparalleled image quality at its valued focal length range.
Build and handling: The body is constructed out of metal and features a big, rubberized focus ring that's both responsive and secure. Furthermore, it has basic water resistance for added protection. At 2.3 by 2.6 inches wide with a weight of 9.9 ounces, this model supports 55mm front filters. Also, this lens includes a reversible lens hood as well as front and rear caps to protect your investment even further!
Performance: The lens stands out due to the quality of its bokeh, which renders eye-catching and smooth out-of-focus highlights and transitions. Additionally, it is equipped with an HSM motor for faster focusing than ever before – all while being almost inaudible! This makes it perfect for video work as well.
Best for: This lens excels in portraiture, yet it is also perfect for impressive landscape shots, architectural photographs, urban scenes, and even event photography. Its angle of view provides a wide range of creative possibilities!
With an extraordinary combination of features and a budget-friendly cost, the Sigma 56mm f/1.4 DC DN Contemporary stands out among its peers. Its exemplary performance makes it such an ideal addition to any camera kit – particularly if you are passionate about portrait photography!
---
13. Sony 28mm f/2.0
A perfect starting point for those just beginning their journey into photography, this budget Sony a6600 lens provides an unprecedented viewpoint. Compounded with its compact size and the notable aperture of prime features, you won't regret taking your first steps in becoming a photographer with this fast and reliable lens!
Build and handling: This quick prime lens is impressively lightweight but built with a shock-resistant aluminum alloy body making it ideal for professional use. Plus, its enhanced moisture and dust resistance provide unparalleled assurance when photographing in harsh environments.
Performance: Enjoy the outstanding performance and crisp images in any scenario, including low light photography with this premium lens. Its f/2.0 aperture offers extreme control, while its silent autofocus motor ensures sharp photos and videos loaded with vivid colors. Capture every moment precisely the way you want it!
Best for: The 28mm prime lens is often undervalued in the photography world, yet can still bring tremendous benefit to a photographer's collection. Its exclusive point of view offers enormous creative potential for both landscapes and portraits alike. Moreover, it even supplies you with the opportunity to capture stunning details from nature that would likely go undetected – making it an absolute must-have piece of equipment for any committed shooter!
Offering unbeatable value for money, the Sony a6600 lens is an amazing addition to any camera collection and offers superior performance with exceptional image quality. With this magnificent piece of gear, you can achieve high-speed shooting without having to break the bank!
Best macro lens for sony a6600
14. Sigma 105mm f/2.8 DG DN Macro ART
Unlock the spectacular beauty of small creatures and objects with a macro lens tailor-made for Sony cameras. Boasting remarkable quality, this product offers unbeatable value – you won't find anything else like it at such an attractive price point!
Build and handling: With its weather-sealed materials and comfortable grip, the Sony a6600 macro lens provides an uncompromising professional look. Furthermore, to ensure optimal image clarity and contrast, it comes with a Super Multi-Layer coating that can effectively minimize flare or ghosting effects.
Performance: Enjoy the superior quality of f/2.8 aperture, capturing every minute detail with ease and creating a soft blur effect in the background! Its hypersonic motor ensures faster-than-lightning focus speed without making any noise at all – providing you with an exquisite experience while preserving your precious memories forever!
Best for: Macro photography just got a whole lot easier! With the 105mm focal length, you can now take your shots without disrupting your subject's personal space and forget about lens shade being an issue. Capture beautiful images with effortless ease!
If you're looking for the perfect lens to use with your Sony a6600 camera, then this is it! It boasts an impressive 105mm focal length and an aperture of 2.8 that makes macro photography so much fun. Plus, its hypersonic motor helps capture those sharp shots every time – all at a price that won't break the bank!
---
Conclusion
Finding the best lenses for your Sony a6600 can be quite an adventure! But with this guide, you should have no problem picking out the best option for your needs. Whether you need a sharp and fast zoom lens for travel or a macro lens to capture incredible close-ups – there are great options available for your Sony a6600. With the right lens on board, you're sure to capture stunning photographs and videos that look professional and creative. So go ahead, experiment with different lenses, and find the best one for you!
---
PIN IT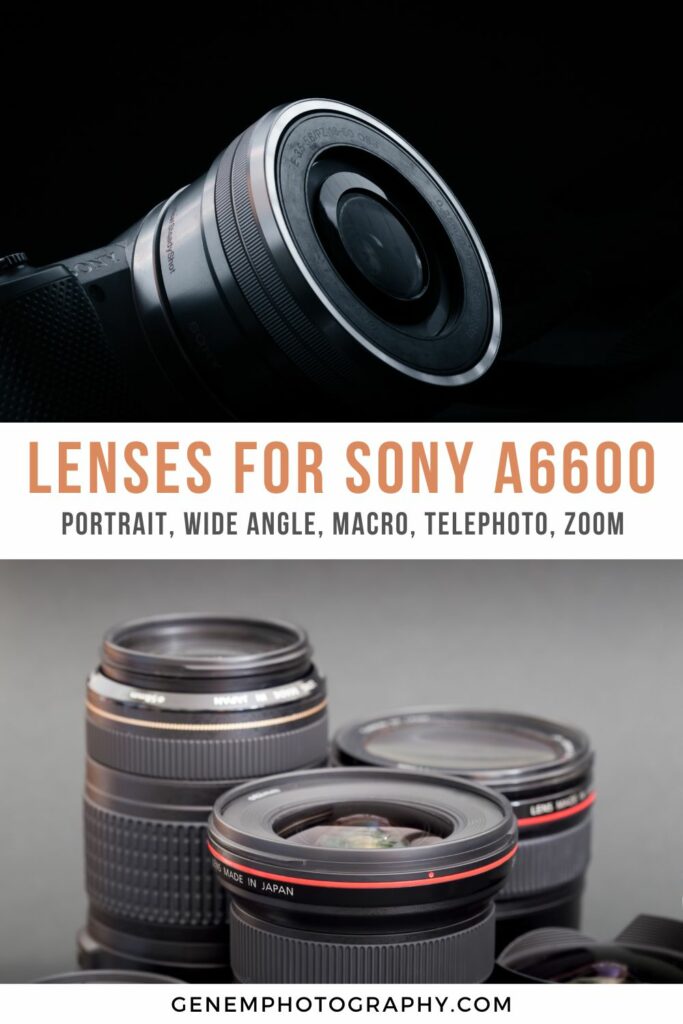 ---
Read more about lenses: