If you're searching for the best lenses for Sony a6300, then we have something here for you! We pulled together our top picks of quality and affordable options that accommodate any budget and photography style.
Our carefully curated selection of the top Sony a6300 lenses takes all aspects into account – from customer ratings, reviews, and prices to features such as optical stabilization and weatherproofing. Whether you're after an all-encompassing zoom lens or something more specialized like a prime one – this list will find just what you need!
Read more: How to Choose a Camera Lens That Fits Your Needs.
Disclosure: This article features affiliate links, including Amazon.com. If you decide to buy through one of these links, I'll earn a small commission at no extra expense to you. For more details, please see my disclosure policy.
Best lenses for Sony a6300
Here is the list of the best lenses for the Sony Alpha 6300. This article contains different lenses for portraits, wide-angle, zoom, video, telephoto, wildlife, prime, and macro. The prices of the lenses are categorized as follows:
Budget $: 0 – 500
Average $$: 501 – 1000
Expert $$$: 1001+
The list of best Sony a6300 lenses:
PORTRAIT lenses
1. Sony 85mm F/1.8-22
2. Sigma 30mm F1.4 Contemporary DC DN
WIDE-ANGLE lenses
3. Sony E 10-18mm f/4 OSS
ZOOM lenses
4. Sony E 16-55mm f/2.8 G
5. Tamron 17-70mm F2.8 Di III-A VC RXD
TELEPHOTO lens
6. Sigma 100-400mm F5-6.3 DG DN OS
PRIME lenses
7. Sony E 50mm f/1.8
WILDLIFE lens
8. Tamron 70-300mm F/4.5-6.3 E-mount
VIDEO lens
9. Sony 20mm f/2.8
MACRO lens
10. Sigma 105mm f/2.8 DG DN Macro ART
Portrait lenses for Sony a6300
1. Sony 85mm F/1.8-22
If you're in the market for a top-notch lens to capture stunning and unique portraits, look no further than this Sony a6300 portrait lens. Excellent performance at an affordable price, this powerful lens features silent autofocus and remarkable bokeh effects – ensuring quality image sharpness.
Build and handling: Crafted with a sleek, modern design and built to withstand any weather condition, this lens is the perfect choice for the savvy photographer. It's equipped with an ED (Extra-low Dispersion) element for exceptional image quality as well as a 9-blade diaphragm. Weighing only 13.1 oz (371 g) at 3.1 x 3.2 in (78 x 82 mm), it also features convenience features such AF/MF switch and a customizable focus hold button!
Performance: Autofocus is both swift and quiet, thanks to two linear stepping motors paired with an electronically connected manual focus ring that moves like a dream. Even when taking photos at maximum aperture, the center of your shots will remain sharp as can be. On top of that, the bokeh it produces has a stunning look even if you decrease the f-stop slightly – without affecting its smoothness one bit!
Best for: Capture your subject with breathtaking clarity and saturated color thanks to the f/1.8 aperture and 85mm focal length of this lens! This setting allows you to easily separate your model from its surroundings with an eye-catching bokeh effect. All this will make any portrait composition truly magnificent.
You will be satisfied with the remarkable craftsmanship and handling of this lens. Not only is it cost-effective, but its focal length also makes it perfect for taking portrait shots! With a wide aperture setting, you can take stunningly sharp photos accompanied by dreamy blurred backgrounds. This portrait lens for Sony a6300 certainly stands out.
---
2. Sigma 30mm F1.4 Contemporary DC DN
This might be one of the best lenses for portrait photography at this price point. For aspiring photographers seeking a reliable option for portraits, the Sony a6300 Sigma lens is an outstanding choice. This lightweight model from Sigma's renowned series of lenses provides great quality for all your shots with impressive aperture effects that yield sensational image resolution sure to amaze both hobbyists and professionals alike!
Build and handling: Stunningly, the 30mm F1.4 stands just 2.9 by 2.6 inches and weighs a mere 9.4 ounces – an impressive feature for its f/1.4 design! With metal and polycarbonate construction that accentuates professional styling, this lens can support 52mm front filters without sacrificing size or build quality in any way whatsoever.
Performance: Boasting an incredible stepping motor that provides fast, silent autofocusing, this lens is designed to guarantee remarkable optics. Its Super Multi-Layer coating dramatically minimizes flare and ghosting effects while providing the best control over depth of field for awe-inspiring images.
Best for: Perfect for capturing beautiful portraits, this lens is also remarkably versatile due to its range of focal lengths. You can explore a vast selection of shooting options with it; from travel and landscape photography to events too! What's more, the autofocus mechanics are potent yet whisper-quiet at the same time – an option when making videos as well!
The Sigma portrait lens for Sony a6300 is an unbelievable deal, with its amazing f/1.4 aperture and outstanding specs! Its reduced focal length will offer you more options than the previous 85mm model – suitable to use in any kind of situation!
Sony a6300 wide-angle lens
3. Sony E 10-18mm f/4 OSS
If you need a new lens for tight spaces then this Sony a6300 wide-angle zoom might be the one you're looking for! This APS-C format lens is both lightweight and portable, featuring an f/4 aperture across its entire range coupled with 3-stop optical stabilization.
Build and handling: The Sony lens for a6300 is designed to be light and compact, featuring an impressively dependable metal mounting plate. At only 2.5 inches by 2.8 inches and weighing merely 7.9 ounces (225 grams), you can take it wherever your adventures lead without feeling the burden of extra weight! Despite its excellent features, this one does not come with weather seals that would protect it from unexpected changes in nature's temperaments.
Performance: This lens is the perfect choice for capturing photos in low-light settings, with its lightning-fast autofocus and powerful optical image stabilizer. From 10mm to 18mm, you can expect an impressive level of sharpness across the entire zoom range. However, a slight softening may occur around the edges when aperture sizes are reduced.
Best for: This lens is the perfect tool for shooting breathtaking landscapes, detailed architectural interiors, and awe-inspiring astrophotography thanks to its f/4 aperture. Even in tight spaces, its ultra-wide design makes taking stunning real estate shots a breeze! Capture unique landscape compositions with steadiness – all while enjoying an incredibly compact size!
The Sony a6300 lens is the ultimate combination of size, lightweight design, and power. It features a constant f/4 aperture rating throughout its range plus optical stabilization for up to 3 stops! This powerful yet featherweight lens can offer you outstanding results in any environment with tight space.
Sony a6300 zoom lenses
4. Sony E 16-55mm f/2.8 G
If you are an enthusiastic photographer in search of the ideal all-purpose zoom lens, then Sony's E 16-55mm f/2.8 G is your best option! With its dependable focal range of 16 to 55mm on APS-C mirrorless cameras and reliable constant aperture at f/2.8, it's a perfect choice for any photography enthusiast looking to capture stunning images with top-quality detail.
Build and handling: The E 16-55mm lens is designed for maximum convenience and comfort. With its 67 mm front filter, reversible hood, rubber focus rings, and zoom rings, you can effortlessly handle this lens with a simple touch. With its grip, you can rest assured that your equipment will remain secure.
Performance: With its fixed f/2.8 aperture across all focal lengths, you can shoot with this Sony a6300 zoom lens brilliantly and precise photos even in dark conditions. Silent autofocusing ensures that no one is disturbed by loud noises while taking pictures. Additionally, Linear Response MF grants full control so you can fine-tune the focus manually to get absolute perfection!
Best for: The all-in-one lens is your perfect travel companion for the most captivating experiences. Whether journeying through bustling cities or exploring remote breathtaking vistas, you will be able to capture every moment with clearness and detail. Rated as one of the best travel lenses for Sony a6300 users, this one is sure to help elevate your photography skills!
Investing in this top-of-the-line camera gear may come with a higher price tag than other alternatives, but you will quickly recognize that it was well worth the cost. Not only is its construction of superior quality and offers remarkable optical performance, but also its surprisingly compact form factor makes it an even greater buy.
---
5. Tamron 17-70mm F2.8 Di III-A VC RXD
If you're a budding photographer or an established professional, the Tamron lens for Sony a6300 will take your creative endeavors to unprecedented heights. With its focal lengths and f/2.8 aperture, this top-of-the-line multipurpose lens was tailored with APS-C format cameras in mind – providing you with exceptional experiences!
Build and handling: Tamron's 17-70mm f/2.8 truly shines compared to its competitors, with a featherlight weight of 18.5 oz (525 g). What sets this product apart is its superior weather seals that ensure long-term performance, as well as its fluorine coating which allows for easy maintenance and protects against any damage from moisture or grease.
Performance: With Sony's a6300 travel lens, you can explore the world with stunningly clear images. The autofocus motor of this lens is fast and reliable even in challenging lighting conditions. It also produces no noise for quiet video recordings. What's more, its optical image stabilization feature adds extra plus points.
Best for: As a traveling photographer, the Tamron 17-70mm lens is an absolute essential. Its fixed f/2.8 aperture allows anyone to take pictures in any lighting condition with incredible accuracy – especially useful for night photography or capturing videos! When coupled with your Sony a6300 camera, you'll be able to shoot exquisite images from all angles without breaking a sweat!
That could be one of the best lenses for Sony a6300 if you are looking for versatility. If you're looking for a zoom lens to take with you on your travels and use in your day-to-day life, then consider it as a great option. Its wide f/2.8 aperture throughout its focal range along with optical stabilization make it an unbeatable choice – especially at such an affordable price point!
Telephoto lens for Sony a6300
6. Sigma 100-400mm F5-6.3 DG DN OS
The Sony a6300 telephoto lens is ideal for sports or wildlife photographers, offering exceptional quality, and vast zoom capabilities. After all, being still completely budget-friendly. Sigma delivers excellent quality over and over again, and this one is no exception.
Build and handling: With its excellent construction, the Sigma lens is a great option for photography hobbyists. Boasting an impenetrable metal shell and sealed to ensure protection from dust and moisture, this product ensures long-term reliability while remaining lightweight so you can take it anywhere! It has all you need for your next outdoor journey with its robust composition but small size.
Performance: Utilize the robust silent stepping motor for auto-focusing with precision thanks to the AFL button. Furthermore, you can be sure that your images will always remain sharp and crisp due to up to four f-stops of Optical Image Stabilizer (OS) provided in this product. By combining these remarkable features, you'll create picturesque photographs!
Best for: Whether you're just getting into photography or consider yourself a professional, the Sony a6300 landscape lens is an excellent choice! Not only does it offer remarkable accuracy from extended ranges without breaking your budget, but it's also perfect for wildlife and long-distance photography. With its affordability and incredible picture quality, this lens will be sure to elevate your camera gear when starting in these genres of photography.
If you want to take breathtaking photos without breaking the bank, then Sony's FE 100-400mm F4.5-5.6 GM OSS is your ideal match! This lens allows you to capture images that are nearly as good as professional-grade ones with a fraction of the weight compared to other comparable lenses on the market. If the highest quality pictures (like it is with pro-grade telephoto lenses) aren't essential for you, Sony's a6300 telephoto zoom should be your go-to choice!
Sony a6300 prime lens
7. Sony E 50mm f/1.8
The Sony E 50mm F1.8 OSS will take your photography to the next level! This short telephoto lens has extraordinary sharp optics and optical stabilization, which means that you can capture beautiful pictures with ease. All of your photos will be incredibly crisp and detailed – even experienced photographers won't be able to resist admiring them!
Build and handling: The Sony a6300 lens is extremely portable, measuring only 2.4 x 2.4 inches and weighing 7.1 ounces with 49mm front filters included for your convenience. Besides being incredibly lightweight and compact, this lens is designed to provide you with the highest quality performance as it features a metal body and focus ring, plus its front element won't rotate or alter length while adjusting settings!
Performance: The Sony a6300 prime lens is optimized with optical stabilization, making it easy to take stunning handheld photos at longer shutter speeds. Plus, the camera's contrast detection system provides remarkable AF performance and operates virtually noiselessly – ensuring that any footage filmed while holding the camera remains steady and smooth. This powerful feature elevates your photography experience without compromising on quality!
Best for: With its stunning bokeh and versatility across portraits, this lens is an essential addition to every photographer's kit! Not only does it provide remarkable results with APS-C cameras, but experienced photographers will be astounded at the images they get out of this amazing piece of equipment.
The Sony 50mm f/1.8 is the perfect choice for anyone searching to capture outstanding portraits without breaking the bank on lenses! Plus, it includes image stabilization which adds more value and makes this one a unique pick compared to other Sony NEX series lenses.
Sony a6300 lens for wildlife
8. Tamron 70-300mm F/4.5-6.3 E-mount
If you're searching for a 70-300mm lens that is both lightweight and compact, this Sony a6300 lens checks all the boxes. The amazingly quiet but powerful RXD stepping focus motor gives quick AF performance, while its moisture-sealed construction ensures external elements stay out of your shot.
Build and handling: The Sony a6300 telephoto zoom lens is incredibly lightweight at only 19.2 ounces (545g) and offers effortless operation with an electronic and mechanical coupling, giving you precise control over zooming. Also, due to its internal focusing system, both the front element and filter rings stay in place while you operate — making handling this incredible camera simple!
Performance: The RXD autofocus system is a dream come true with its rapid and almost silent operation. It includes 15 optical elements in 10 groups, including one low-dispersion front element and seven rounded aperture blades on the iris diaphragm. Not to mention, manual focus can be accessed just as easily. Plus it's compatible with Sony cameras' DMF system which allows for swift shifting between autofocus and manual focus at your discretion!
Best for: The Tamron 70-300mm lens is ideal for wildlife, landscape, and portrait photography. However, since its maximum aperture is limited, you must ensure that the light conditions are favorable or use a camera with a higher ISO to produce the finest image quality possible. Furthermore, if you're into video production this lens makes an excellent choice due to its versatility!
For photographers seeking a budget-friendly yet excellent Sony a6300 wildlife lens, the Tamron 70-300mm is your ideal choice. It's much lighter and more compact than any other model on the market. Making it perfect for people who are always traveling or just want to bring their cameras out while they're leisurely strolling outdoors.
Sony a6300 lens for video
9. Sony 20mm f/2.8
If you are on the hunt for a lens to accompany your Sony a6300 camera when vlogging, then look no further! This prime lens is lightweight and has an incredible wide-angle view once attached to your APS-C camera. Plus, its superior specs make it perfect for all sorts of content creators from beginner level up through professionals!
Build and handling: The E 20mm f/2.8 lens is small and compact at 0.8 x 2.5 inches, and it barely protrudes from the camera body! Moreover, a plastic hood comes included for an exactly fitting look and feel. Also, there's no need to worry about dust or water damage as this lens doesn't come with any of those features already in place!
Performance: With this lens, your shots and videos will be stunning! Its wide range of view combined with its bright f/2.8 aperture means all the content you capture is full of vibrant detail – no matter what angle or lighting condition it's taken in!
Best for: Take your photography and video to a whole new level with the Sony a6300 vlogging lens! Capture stunning shots of gorgeous landscapes, shoot everyday videos, and take snapshots – all from this compact Sony a6300 lens. With its portability, you can have amazing images no matter where life takes you! The perfect way to snap those special moments on the go.
If you're seeking the highest-quality video footage at a great price, then this might be it! This pancake lens produces amazing open-aperture images as well as pristine photos and videos. It's truly one of the best Sony a6300 video lenses for budget shoppers out there!
Macro lens for Sony a6300
10. Sigma 105mm f/2.8 DG DN Macro ART
Step into an exquisite world of wonders with this Sony a6300 lens for macros designed for Sony cameras. Discovering new mini-dimensions at such a competitive price point is quite a bargain.
Build and handling: The Sony a6300 macro lens provides the highest quality professional images, resulting from its weatherproof design and precision grip. Additionally, the Super Multi-Layer coating ensures remarkable clarity and crispness. This technology eliminates the flare or ghosting effect.
Performance: Preserve your favorite memories with remarkable detail and a stunningly blurred background provided by its f/2.8 aperture! Its hypersonic motor also offers rapid autofocusing speeds without creating any noise for maximum convenience. Excellent feature when capturing living objects, even when they don't want to pose (like insects).
Best for: Unlock an entirely new realm of macro photography with the 105mm focal length. Easily capture breathtaking shots without worrying about lens shade or getting too close to your subject! This extraordinary lens is perfect for photographing small animals and other living creatures.
One of the best lenses for Sony a6300 if your field is macro photography. This magical combination of 105mm focal length and f/2.8 aperture make capturing breathtaking macros easier than ever before. Its hypersonic motor technology makes taking each shot effortless – ensuring your photos are flawless.
---
Conclusion
When it comes to finding the best lenses for Sony a6300 camera, you're certainly spoiled for choice! From wide-angle shots and portraiture to macro capabilities – there are a variety of options that cater to your requirements as well as budget. To ensure successful shooting experiences, take time in considering what kind of amazing visuals you wish to create with your lens so that you can invest in the best product out there.
---
PIN IT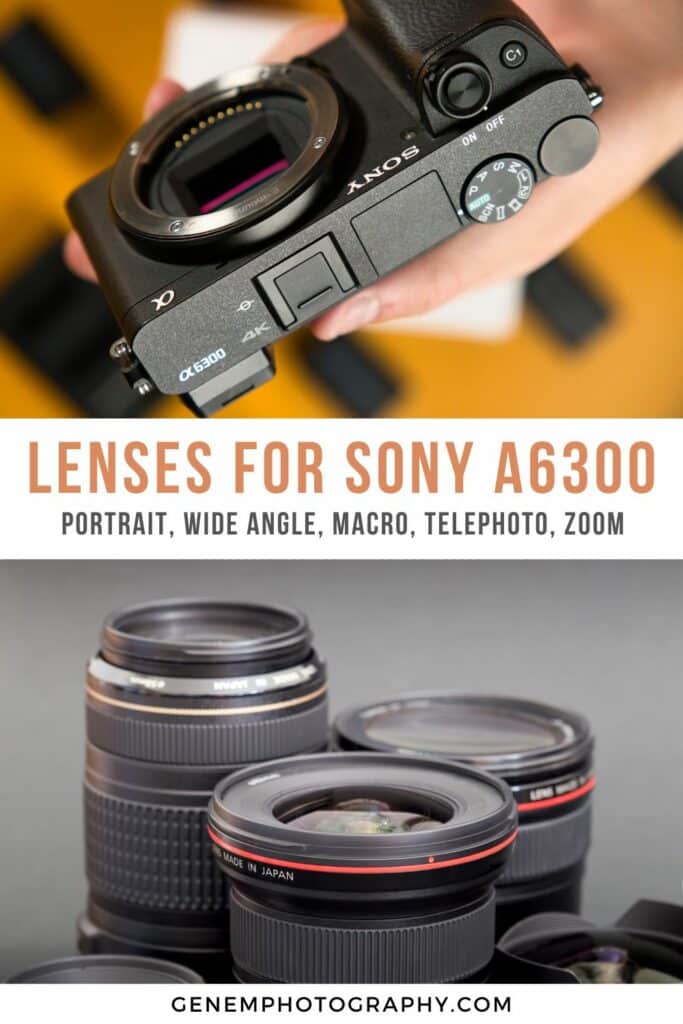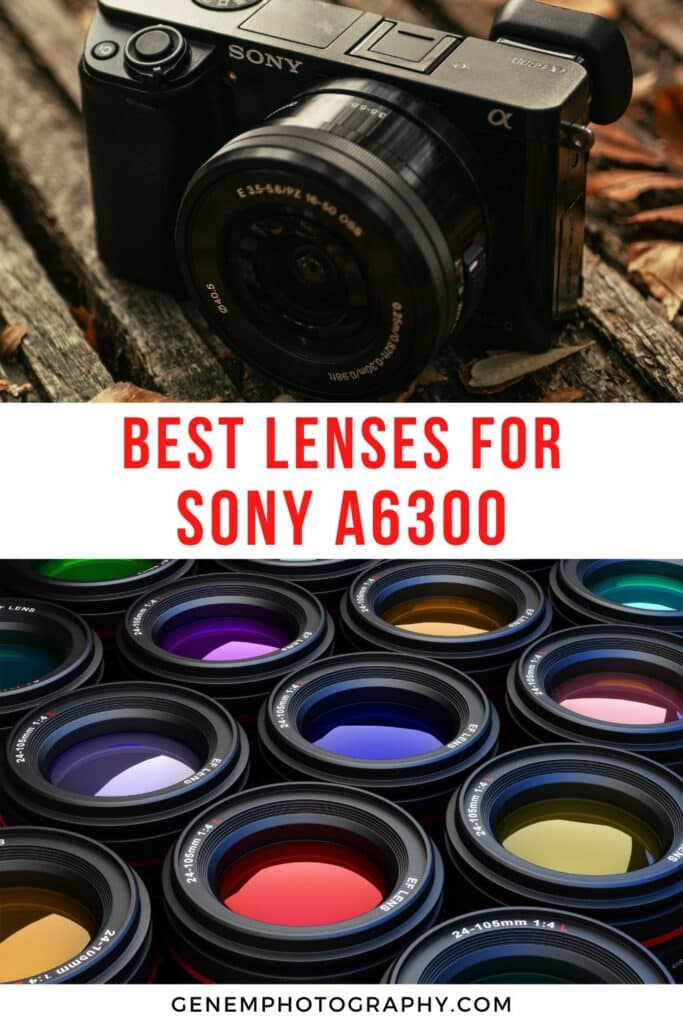 ---
Read more about Sony lenses: