Nikon's D3200 is a DX-format camera that has charmed many photographers. With its interchangeable F-mount lenses, there are a plethora of options, from macros to telephotos you can experiment and explore the limits of photography. This model is popular among beginners in the field because it offers so much at such a reasonable price.
For this popular camera, we have compiled a list of the best lenses for Nikon D3200! Not only are there budget-friendly options available, but also some top-notch professional choices. No matter your skill level or price range – we can be sure that there's a lens perfect for you.
Best lenses for Nikon D3200
Check through this comprehensive list of Nikon D3200 lenses organized by type, with cost range and performance details included. Cost ranges are categorized as follows:
0 – 400$ – Budget $
401 – 800$ – Average $$
801+ $ – Expert $$$
The list of Nikon D3200 lenses:
PORTRAIT lenses
1. Nikon AF-S Nikkor 85mm f/1.8G
2. Nikon AF-S Nikkor 50mm f/1.8G
3. Nikon AF-S DX NIKKOR 35mm f/1.8G
ZOOM lenses
4. Sigma 18-35mm F1.8 Art DC HSM
5. Nikon AF-S DX NIKKOR 16-80mm f/2.8-4E ED
6. Sigma 17-70mm F2.8-4 Contemporary DC Macro OS HSM
WILDLIFE lens
7. Nikon AF-S 200-500mm f/5.6 E ED VR
SPORTS lens
8. Sigma 150-600mm 5-6.3 Contemporary DG OS HSM
WIDE-ANGLE lenses
9. Nikon AF-S DX NIKKOR 10-24mm f/3.5-4.5G ED
10. Tokina AT-X PRO 11-16mm F2.8 DXII Lens
TELEPHOTO lens
11. Nikon AF-P DX NIKKOR 70-300mm f/4.5-6.3G ED
MACRO lens
12. Nikon AF-S VR Micro-NIKKOR 105mm f/2.8G IF-ED
Nikon D3200 portrait lenses
1. Nikon AF S Nikkor 85mm f/1.8G
PROS:
+ Soft bokeh effect
+ Focal length of 85mm
+ Quick focusing
CONS:
– No built-in image stabilization
If you're searching for the best lens for portraits, then you usually have options between 35mm, 50mm, and 85mm prime lenses. These all options offer incredible features and will add a special touch of sparkle. But if you're looking for something extra, then this Nikon D3200 85 mm lens is perfect for portrait photography that brings each image to life!
Build and handling: The Nikon 85mm f/1.8G is the perfect combination of robustness and accuracy, boasting a tough plastic body along with a metal mount that contains a reliable rubber gasket to keep dust away from the camera system. Also, it's pretty lightweight for hand-held photoshoots, even though it might look a bit bulky.
Performance: The Nikon D3200 portrait lens will take your photos to the next level with its remarkable f/1.8 aperture, granting you a beautiful depth of field even in dim scenarios. Its manual priority AF and manual focus modes make it truly versatile, while the wave motor ensures quick yet silent performance – perfect for videography projects!
Best for: As you would already guess, this is built for portrait photography. But as is the case with other lenses, you can also use this one in different types of photography. For example, it would be a reliable addition to capturing products and outdoor events as well.
In conclusion, the Nikon 85mm f/1.8G is undoubtedly one of the best lenses for Nikon D3200 and can take your portrait photography to an entirely new level! It offers smooth backgrounds, shallow depth of field, and sharper contrast while maintaining a competitive price tag. This lens should be at the top of your list if you're looking to elevate your portrait compositions!
---
2. Nikon AF-S Nikkor 50mm f/1.8G
PROS:
+ Lightweight
+ Extremely affordable
+ Fast autofocusing
CONS:
– A bit of visual distortion
The Nikon D3200 portrait lens is designed with beginners in mind, offering comparable specs as the previous 85mm, while staying true to the budget-friendly cost. Despite the lower price, this lens still manages to provide several advantages and quality features that make it a smart addition for any beginner!
Build and handling: This Nikon D3200 portrait lens is an ideal selection for those seeking a consumer-friendly option with all the essential buttons and elements. You won't have to worry about long handheld photography sessions either, as this lightweight lens weighs in at only 6.6 oz (185 g), which is also lighter than previous.
Performance: With its f/1.8 aperture, this lens takes remarkable photos with beautiful bokeh and sharp subject differentiation from the background – even in low-lighting photography conditions! Its autofocus speed may be typical, but still, its images remain consistently clear across the frame. Well, except for some corner softness at wide apertures.
Best for: This lens is tailored for portrait photography, and has one little advantage over the 85mm – it needs less room to capture your images. So, this Nikon D3200 lens is also useful in indoor settings. Additionally, its versatile nature allows you to use it for product details shots as well as landscapes, events, and wedding photos.
The portrait lens for Nikon D3200 is a good option when you are choosing a prime lens. It is lightweight and will help you take great pictures. It also has a large opening that helps the picture look better. This lens is good for beginners who want to take portrait photos and it won't cost too much money.
---
3. Nikon AF-S DX NIKKOR 35mm f/1.8G
PROS:
+ Large aperture
+ Fast autofocus
+ Very lightweight design
CONS:
– No image stabilization
A Nikon D3200 prime lens is an exceptional value for budget-conscious photographers. Although it's a small lens, its stunning image quality will astound photographers!
Build and handling: This Nikon D3200 lens is lightweight, weighing only 7 ounces (200 g)! With its pocket-sized form and ease of portability, you can capture stunning shots hand-held without any exhaustion. Additionally, the straightforward design delivers all that you need for excellent photos with a few simple turns!
Performance: The most remarkable advantage of this lens is its large f/1.8 aperture, which is quite astonishing considering its size and modest price tag. This means you can shoot in darker settings without having to reduce the shutter speed too drastically. Additionally, it has a quiet focus motor that makes capturing videos easier!
Best for: Perfect for portraits, the 35mm fixed focal length lens will provide many more opportunities. Use it indoors to photograph products and different events. Or outside to snap breathtaking landscapes or capture street photography detail with ease. Even you can use it as additional gear for your travel adventures, as it doesn't take up much space in your camera bag.
It is one of the best lenses for Nikon D3200 users if you are looking for a versatile prime lens on a budget. As a beginner or hobby photographer, you can experience great benefits with just a minimal budget. You will have access to a large aperture and a fast-focusing motor.
Zoom lenses for Nikon D3200
4. Sigma 18-35mm F1.8 Art DC HSM
PROS:
+ Large aperture for a zoom
+ Affordable pro-grade gear
+ Excellent in night photography
The Nikon D3200 Sigma lens is a professional-grade choice with remarkable features. Although it comes at an increased price compared to other lenses on this list here, its premium specifications render the purchase well worth your money.
Build and handling: The Sigma ART series is sought-after for its expert-grade quality, pleasing countless photographers. Constructed from aluminum alloy, it not only looks sleek and sophisticated but also feels luxurious in the hands. Though it weighs 28.6 oz (810 g), it still falls within reasonable limits of weightlessness.
Performance: This lens stands out from the rest due to its remarkable f/1.8 aperture, an extraordinary feature for a zoom lens that is compatible with Nikon D3200. This Sigma lens focuses quickly and quietly because of its hypersonic motor – making it one of the best choices you could make!
Best for: Nikon D3200 zoom lens is incredibly versatile and suitable for nearly any photographic desire. Its wide-angle feature, combined with its large aperture, makes it the perfect companion for indoor photography needs like weddings, product photos, or events. Also, it would do wonders for everyday travel shots such as street scenes or portraits. Additionally, it is one of the best lenses for Nikon D3200 if your field is astrophotography.
In short, the Nikon D3200 zoom lens is a must-have for any advanced photographer's toolkit. Its convenience and capability to handle multiple shooting scenarios make it an ideal option, especially at its reasonable cost. No matter if you have overexposed skies or low-light conditions, this lens will guarantee exceptional results!
---
5. Nikon AF-S DX NIKKOR 16-80mm f/2.8-4E ED
PROS:
+ Great build quality
+ Built-in vibration reduction
+ Perfect for traveling
CONS:
– Has some distortion
The Nikon D3200 zoom lens is one of the best low-cost options available on the market, allowing you to take remarkable pictures both distant and close-up. Paired with its affordability and user-friendly design, it is a perfect choice for beginners!
Build and handling: At just 3.3 x 3.1 inches and weighing only 16 ounces, the 16-80mm lens is a lightweight, compact powerhouse featuring an ergonomic polycarbonate barrel with rubberized rings for effortless control of focus and zoom functions. Its high-spec glassware includes four ED elements combined with Nano Crystal Coat technology to minimize ghosting and flare. Plus a 4-stop image stabilizer for extra clarity.
Performance: The image clarity across all zoom settings is astonishing! Although lateral chromatic aberration can be detected at the shortest end, barrel distortion and vignetting do exist as slight hindrances. However, performance and control remain remarkable – despite these minor flaws.
Best for: As a traveling photographer, the 16-80mm lens is an option to consider when you're on a limited budget. Its versatility allows you to capture any kind of image – from sweeping landscapes and group shots to intimate portraits and street photography! Whether it be a sunset or something more unexpected, this single lens offers all the creative possibilities you'll ever need for your travel adventures.
The zoom range of this Nikon D3200 travel lens on a budget is excellent, and its affordability makes it a reasonable choice. However, this does come with some drawbacks: slight distortion can appear along with slightly blurred edges at the maximum aperture. Despite these minor challenges, the budget lens remains a remarkable performer!
---
6. Sigma 17-70mm F2.8-4 Contemporary DC Macro OS HSM
PROS:
+ Focal length from 17 to 70 mm
+ Image stabilization
+ Perfect for everyday use
CONS:
– A bit of distortion
For those seeking a dependable yet affordable all-rounder lens for their photography needs, the Sigma 17-70mm f/2.8-4 DC Macro OS Lens is an ideal choice. Not only does it boast impressive focal lengths and rapid HSM autofocus capabilities, but its optical stabilization feature is highly efficient while also boasting extraordinary close minimum focus distances as well.
Build and handling: For its affordable price, this lens offers remarkable build quality with a blend of metal and plastic components – such as a resilient brass bayonet mount and professional glass optics. Additionally, the Thermally Stable Composite material provides stability even in temperature fluctuations. It has a narrow manual focus ring behind the front element plus a 7-blade rounded diaphragm for beautiful bokeh effects!
Performance: The Nikon D3200 multipurpose lens sets itself apart from the competition with its minimum focus distance of only 8.6 inches, enabling users to achieve 1:2.9 macro magnification at 70mm setting. Additionally, this powerful lens is equipped with Vibration Reduction technology which provides up to 3 stops of compensation to capture clear and sharp images under challenging conditions.
Best for: With its focal lengths, it's the perfect option for everyday use.! With its 17-70mm focal lengths, you can take wide shots in low-lit settings as well as stunning photographs of the outdoors, cityscapes, and buildings when zooming out. It's one of the best lenses for Nikon D3200 for travel!
For photographers searching for a high-performing, cost-effective option, the Nikon D3200 standard zoom lens is an excellent idea. It delivers superb image quality and versatile macro capabilities that will make your photos truly stand out from the crowd.
Nikon D3200 lens for wildlife
7. Nikon AF-S 200-500mm f/5.6 E ED VR
PROS:
+ Excellent image quality for wildlife and sports
+ Image stabilization and good autofocus
+ Affordable price for a superzoom telephoto
CONS:
– Not fully weather sealed
With this in your hands, it's made possible to capture breathtaking photos of animals, athletes, vistas, and other distant objects! As you attach this lens to a DX-format camera, the magnification will be 1.5x, resulting in up to 750mm of focal length!
Build and handling: The Nikon D3200 wildlife lens is the heaviest and biggest option here, with a weight of 73.7 ounces (2,090 grams) and a length of 10.5 inches (267.5 mm). The lens body is made with a sleek, lovely design that has traditional Nikon styling. You'll be able to easily identify it by its gold branding and white focal length markings. Unfortunately, it's not fully weather sealed.
Performance: This 200-500mm telephoto zoom for the Nikon D3200 is a smart investment with beneficial features for wildlife photography. The constant-aperture design and electromagnetically controlled diaphragm within this lens provide consistent exposure even when shooting at a rapid pace. Enhanced Vibration Reduction provides up to 4.5 stops of stabilization, while the 'Sport' mode optimizes tracking for moving subjects.
Best for: If you are a fan of the outdoors, then this wildlife lens for Nikon D3200 is something for you. Capturing animals at a distance and moments in sports events is made possible with this option here. But don't forget to bring your tripod, because this weight for hand-held shootings is reasonable only for bodybuilders.
When taking into account the prices of superzoom telephoto lenses, the Nikon AF-S 200-500mm f/5.6E ED VR is reasonably priced. It is one of the best lenses for Nikon D3200 if you want to capture wildlife or even sports events.
Nikon D3200 lens for sports
8. Sigma 150-600mm 5-6.3 Contemporary DG OS HSM
PROS:
+ Lightweight for superzoom telephoto
+ Built-in image stabilization
+ Affordable price
CONS:
– Above 500mm loses a bit of quality
This is a telephoto zoom lens that will capture your desired wildlife or sporting events, and it will be done at an affordable price point. Especially when taking into account its cost, it is one of the best lenses for the Nikon D3200 camera if your field is capturing sports.
Build and handling: Weighing a mere 68.1 ounces (1,930 g), this lens is noticeably more lightweight than its competitors yet still provides the superior performance and durability that you expect from professional lenses. Its ergonomic grip and featherlight design will be additional help in capturing your shots more easily.
Performance: With an expansive aperture and pro-grade features, this Nikon D3200 sports lens is an excellent option for your camera gear. It performs brilliantly in inadequate light conditions and its hypersonic motor also guarantees accurate focusing at lightning speed. For stunning outdoor photography that captures every detail, this lens has in-built image-stabilization technology to eliminate camera shake.
Best for: If you need high-quality, distant photographs, this telephoto lens is the ideal choice. With a maximum focal length of 600mm and even sharper results when set up on a tripod, it's perfect for snapping shots of wildlife that might be too far away to reach. Furthermore, apart from sports events, it's great for capturing landscape details as well.
If you're a photographer who loves to take shots of far-away people, animals, or events from the sidelines such as sporting games and wildlife activities – this Nikon D3200 lens is a great addition. Yes, it may cost more than other options on this list but its remarkable capabilities make it an investment that pays off in spades!
Wide-angle lenses for Nikon D3200
9. Nikon AF-S DX NIKKOR 10-24mm f/3.5-4.5G ED
PROS:
+ Affordable price
+ Fast autofocusing
+ Image quality sharp throughout the range
CONS:
– No built-in image stabilization
The Nikon D3200 wide-angle zoom lens is the perfect choice for beginner photographers, providing excellent specifications. Fast autofocus, wide-angle perspective, and variable focal lengths give you added versatility in your shots – all this at a price that won't break the bank!
Build and handling: Weighing just 16.2 oz (458 g), the Nikon consumer-level lens is perfect for hobby photographers shooting hand-held. Despite its size, it still has enough power to produce images with quality. Additionally, a switch has been included so you can swiftly change from M/A and M focusing modes with ease.
Performance: The Nikon D3200 lens offers a remarkable maximum aperture of f/3.5 at an affordable price, but you must ensure good lighting for the best results to avoid graininess and noise in your photos or videos. To prevent focusing issues this device is equipped with Silent Wave Motor which ensures top-notch video capture that remains clear and vibrant.
Best for: This lens is the ideal choice for taking photographs in minimal spaces, like real estate photos, parties, group pictures, or even street photography. Thanks to its wide-angle capacities and focal lengths you can include multiple subjects in a single frame – making it perfect for capturing an entire scene quickly.
All things considered, the Nikon D3200's budget-friendly wide-angle lens is an ideal option for amateur photographers who are looking to capture a broad range of views without spending large amounts on additional camera equipment.
---
10. Tokina AT-X PRO 11-16mm F2.8 DXII Lens
PROS:
+ Ultra wide-angle
+ Fast autofocusing
+ Impressive build quality
CONS:
– No image stabilization
With the Tokina lens for Nikon D3200, you can take photos in low-light conditions with excellent accuracy and swiftness. Its f/2.8 wide aperture zoom enables you to capture sharp images across distances – within any type of environment! Whether it's indoor or outdoor photography, its consistent aperture control ensures fantastic results.
Build and handling: The Tokina lens is constructed from a durable plastic housing, and its ergonomic rubberized ring provides an excellent grip for enhanced control. Furthermore, the nine shutter blades in the aperture produce velvety bokeh-style images with remarkable precision. This lens also features two Super Low Dispersion glass elements and two aspheric elements that reduce chromatic aberration to improve clarity and contrast. Plus, advanced multi-layered coatings minimize reflection off surfaces while maximizing optical performance!
Performance: The autofocus system provides a seamless, silent experience with its inner motor that grants you the power to capture razor-sharp images without any distortion around the edges. When shooting in bright sunlight, some faint chromatic aberration or fringes can appear near your photos' corners. Thankfully though, this can be quickly fixed when editing!
Best for: With its expansive view, this Nikon D3200 lens is ideal for locations with confined spaces such as real estate and indoor gatherings. The potentials are boundless – you can use it to photograph wondrous scenery or group images so that no one is left out of the shot! Moreover, due to its wide-angle characteristics and sizable aperture, you can even take breathtaking night sky photos too!
With its incredibly fast aperture remaining constant throughout the zoom range and remarkable optical performance, this lens offers great value for your money. Enjoy outstanding image quality at a fraction of the cost – the Tokina 11-16mm F/2.8 won't disappoint!
Telephoto lens for Nikon D3200
11. Nikon AF-P DX NIKKOR 70-300mm f/4.5-6.3G ED
PROS:
+ Lightweight for a long-range zoom
+ Extremely affordable
+ Built-in image stabilization
CONS:
– Doesn't perform well under the low light conditions
If you're on a tight budget and looking for an incredible telephoto lens for Nikon D3200, then that might be your best bet. It's highly capable of delivering outstanding performance in terms of image quality while simultaneously saving you hundreds upfront!
Build and handling: The Nikon D3200 landscape lens construction is similar to many other consumer-level options. However, one of the key features is its weight of 14.7 oz (415 g). This makes handheld shots with a telephoto zoom a breeze, while it's still can produce clear images.
Performance: With an f/4.5 aperture, in low-light situations, shooting may not be ideal but its VR image stabilization will certainly make object capturing easier! Although to truly reduce noise and take full advantage of all its capabilities, it is highly recommended to also use a tripod to lower shutter speeds as needed.
Best for: If you need an economical lens for shooting far-away subjects, this is the one to get. It does well with wildlife and landscapes, plus it's light enough that you don't have to carry a tripod around everywhere. Instead of missing out on those special moments because of the time spent setting up your gear, this lens will ensure they'll be preserved forever! But be sure that you have enough lighting.
This lens is the ideal pick for any Nikon D3200 user who wants to take their wildlife photography skills up a notch. With an extremely affordable price, you can discover new focal lengths and dimensions that will make your images stand out from the rest!
Macro lens for Nikon D3200
12. Nikon AF-S VR Micro-NIKKOR 105mm f/2.8G IF-ED Lens
PROS:
+ Large aperture for low-light conditions
+ Focal length of 105mm
+ Built-in image stabilization
CONS:
– A bit heavy for hand-held shootings
If you are a macro photographer, your dreams have been answered with this lens! It is small in size and produces life-sized photographs with digital SLR sensors. Plus, its f/2.8 aperture combined with optical stabilization offers the ability to capture perfect shots even in dim lighting scenarios. With this, you can make all your macro photography fantasies come true!
Build and handling: The Nikon D3200 macro lens has a pretty decent build, with dimensions of 116 x 83 mm and a weight of 790 grams. Its chic black composite material provides an ergonomic grip on the manual focus ring and toggle switches, allowing you to quickly transition between autofocus or manual mode. Also, the optical stabilization system can be effortlessly switched on or off on the lens.
Performance: The lens's SWM Technology grants effortless and quiet autofocus, granting you the ability to toggle between manual and automatic modes endlessly. Its IF system keeps the front component static, enabling easy access to circular polarizing filters. Furthermore, its advanced VRII mechanization allows astonishingly sharp images even at four steps beneath regular shutter speeds!
Best for: The macro lens for Nikon D3200 is perfect to capture the smallest of creatures, like insects. With a 105mm focal length, you can take detailed photographs from an optimal distance while avoiding any shading from the lens. This guarantees that your shots will turn out well!
If you love capturing the beauty of macros with your Nikon D3200, then this Nikkor lens is perfect for you! Its optical stabilization technology guarantees that every shot will be clear and defined at 1:1 magnification.
---
Conclusion
When searching for the best lenses for Nikon D3200, it's essential to consider what type of photography you plan on doing. It's vital to take into account each lens's strengths and weaknesses as there isn't a single solution ideal for everyone! Hopefully, our information has helped you decide to acquire the best Nikon D3200 lens for your needs.
Read more: Best Nikon DX lenses.
Disclosure: Some of the links may be affiliate links, at no additional cost to you. If you make a purchase then I will earn a commission, which helps me to run this website. Again: no additional cost for you.
---
PIN IT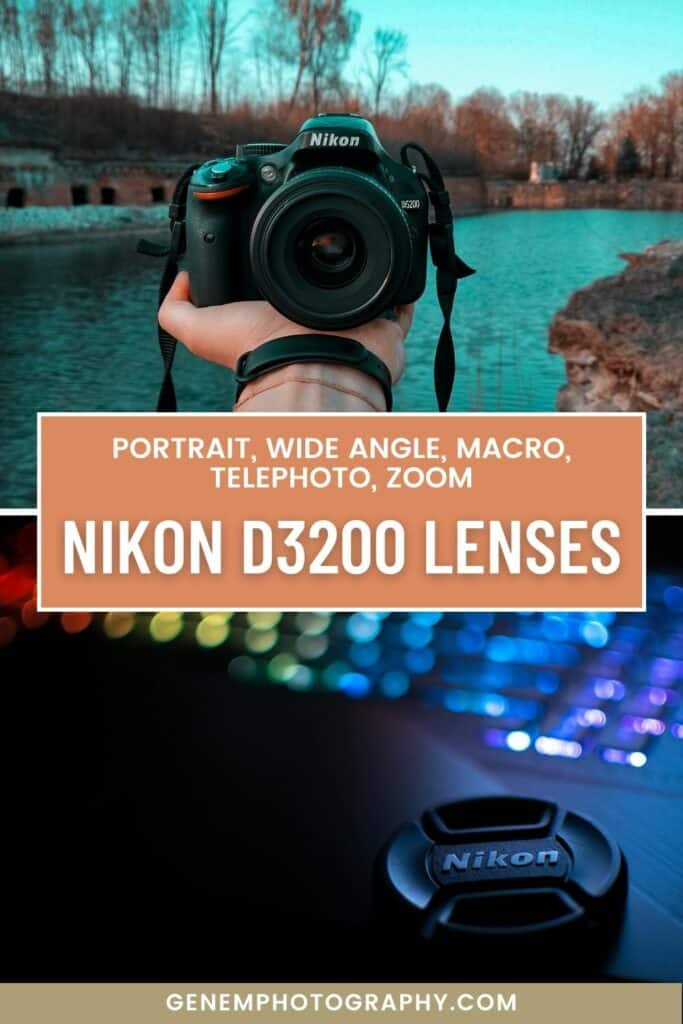 ---
Read more about Nikon lenses: