The Sony a7R IV is an ideal choice for photographers at any level, but especially those looking to take their passion and skills to the next stage. Its full-frame capabilities ensure proficient photography every time!
Upgrade your photography game with the top lenses for Sony a7R IV! From travel to portrait, vlogging, and beyond – find the perfect lens here. Uncover stunning macro images whilst capturing breathtaking landscapes in full-frame resolution.
Best lenses for Sony a7R IV
What is the best lens for Sony a7R IV? There are many factors to consider. From desired effect and shot type, down to budget constraints; discover what qualities you need most – so you could find the optimal lens that's just right for you!
Although selecting the right lens for your needs can seem daunting, I have completed a list. Sony a7R IV lenses are categorized by usage – prime, wide-angle, and more – so you have access to a range of options tailored just for different fields of photography. To make sure there's something available that works within any budget, the prices are divided into three distinct categories:
Budget $: 0 – 700
Average $$: 701 – 1400
Expert $$$: 1400+
---
Best travel lens for Sony a7R IV
Sigma 24-70mm f2.8 DG DN ART
Ideal for the aspiring traveler, a standard full-frame zoom lens is an essential piece of equipment, offering balanced performance in both landscape and portrait photography. With its versatile 24-70mm focal length and maximum aperture at f/2.8, this trusty companion ensures that you won't miss any photo opportunity!
Build and handling: This 29.5oz (835g) pro-grade Art lens is surprisingly lightweight and compact for its large aperture range – thanks in part to the built-in Super Multi-Layer and Nano Porous Coating which reduces flare and ghosting, and produces brilliantly sharp images with vivid colors.
Performance: Sony a7R IV lens has all the features that any photographer could ask for! It offers an impressive f/2.8 aperture and lightning-fast autofocus, allowing you to capture vibrant photos with precise detail, regardless of lighting conditions. Plus its Art performance brings out vivid colors like never before – although notably lacking image stabilization technology itself, its in-camera body image stabilizer (IBIS) easily makes up for this minor handicap when shooting stills.
Best for: With its impressive versatility, this travel lens for the Sony a7R IV is your ideal companion on all of life's adventures. From street photography to hikes in nature – capture every moment with brilliant clarity and expressiveness!
This lens is an amazing choice for any photography enthusiast, especially those starting. Its blazing-fast speed and adjustable range of focal lengths make it perfect to capture both beautiful landscapes & outstanding portrait shots with ease!
---
Sony E 16-55mm f/2.8 G
This Sony a7R IV lens is the perfect choice for photographers who demand top performance in a versatile zoom lens format. Featuring an f/2.8 constant aperture across its 24-82.5mm equivalent focal range – this essential piece of kit provides unbeatable sharpness and clarity on any APS-C mirrorless camera. It's also for full-frame Sony cameras.
Build and handling: This camera and lens duo delivers outstanding performance in a beautifully-compact package; the perfect balance of power and portability. Also, the weather-sealing of this lens offers invaluable protection, while its customizable focus button and solid construction lend an unmistakable professional touch.
Performance: The G-Master lens is a formidable choice for image quality and performance – from the center of an image to its far corners, clarity shines through even when shooting wide open at maximum aperture. Coupled with impressive autofocusing that proved fast, reliable, and almost silent in use; manual focusing also offers intuitive control thanks to Linear Response MF feature integration!
Best for: This all-in-one lens is the perfect companion for any photography enthusiast. From tight quarters to wide landscapes, you can get creative and capture moments that span a variety of scenes – from events to travel adventures. Revel in its versatility and take advantage of unique perspectives!
Sony a7R IV lens is offering an impressive combination of features for both experienced stills and movie photographers. Despite its professional-level price tag, this is certainly worth investing in.
Best portrait lenses for Sony a7R IV
Sigma 85mm f/1.4 DG DN ART
Photographers have argued for years over which is the best lens for portraits – 85 mm, 50 mm, or 35mm. This could be a real deal for you: the Sony a7R IV portrait lens offers an extra special zing to all your photos of models. So why not find out what it can do?
Build and handling: Sigma's pro-grade Art lens proves to be a great balance between quality and size, with its durable plastic construction reinforced by a brass mounting plate. At only 22 ounces, it stands as one of the lightest lenses on the market in comparison to others within its class. Other features such as a focus hold button and AF/MF switch make for an incredibly compact design that even comes complete with a large lens hood.
Performance: This f/1.4 lens is a powerful choice for any photographer-even in low light environments and high exposure shoots, it creates stunning quality images with exceptional accuracy from its reliable Autofocus system that locks onto your target within milliseconds.
Best for: With portrait photography in mind, this lens offers an unparalleled soft background and a magnificent bokeh effect not found anywhere else. You can even adjust the aperture to f/16 for stunning professional-quality landscape shots!
Unleash the potential with this Sony a7R IV 85mm prime lens. Capture stunning images that feature beautifully blurred backgrounds and captivating bokeh – perfect for achieving professional-style results!
---
Sony FE 50mm f/1.2 GM
Sony a7R IV lens is nothing short of impressive, boasting an f/1.2 aperture that offers unparalleled performance in low-light situations and the ability to capture motion without having to resort to high ISO settings. However, this superior technology comes at quite a steep cost – but those willing to pay can expect fantastic results!
Build and handling: Crafted from professional-grade materials with weather sealing, this lens boasts a range of features that ensure sharpness and clarity. In particular, its Nano AR Coating II reduces flare and ghosting while the robust yet compact design is surprisingly lightweight giving it an f/1.2 pro-level specification – guaranteeing undeniable performance in any situation!
Performance: This lens is ideal for photographers who demand quick results and excellent quality. Its ultra-fast aperture ensures speed without compromising clarity, while minimized chromatic aberration keeps photo sharpness consistent from center to edges – all at a premium price point!
Best for: This professional-grade lens is a versatile option, offering photographers the perfect canvas to create stunning portrait compositions as well as landscapes, sports events, and weddings. Its ultra-wide aperture gives it added flexibility for any environment or photographic style you may encounter.
Boasting incredible low-light capabilities and breathtaking bokeh – it might be one of the best lenses for the Sony a7R IV. Although its high price tag may make it a luxury investment, anyone who chooses to take advantage will certainly not be disappointed with their results – images of sumptuous quality are guaranteed!
---
Sony FE 35mm f/1.8
Sony's FE 35mm f/1.8 Lens offers an unbeatable combination of features and performance, making it a perfect choice for everyday use. The attractive design is lightweight yet ultra-compact, plus the lens boasts superb image quality at an affordable price point – all covered by its versatile focal length range to provide excellent utility!
Build and handling: The Sony FE 35mm f/1.8 boasts a lightweight aluminum alloy body that is sealed to defend against dust and moisture, delivering excellent build quality for its class of full-frame lens – just shy of the flagship GM range's exceptional standards. Weighing in at 281g, this piece packs tremendous value into an impressively slim form factor!
Performance: This lens offers superb performance for capturing video shots due to its linear motor that ensures quiet and smooth focusing. Moreover, the autofocus is lightning-quick; with a focus distance of 0.5s from the minimum up to infinity – you'll feel like it's instant!
Best for: With its versatile angle of view and ability to capture vibrant, detail-rich results even in low light settings, the 35mm focal length is a go-to lens for photojournalists and wedding photographers alike. Whether you're shooting street scenes or full/mid-body portraits with multiple subjects, this classic option delivers stunning images.
Get stunning results with the 35mm focal length and its wide aperture. This compact, the lightweight prime lens provides exceptional sharpness in the center of every frame – even when shooting at f/1.8.
Best vlogging lens for Sony a7R IV
Sony FE 20mm f/1.8 G
Vlogging with the Sony a7R IV? Before you mark your lens choice off, consider these essential aspects for optimal user experience: lightweight enough to stay comfortable in hand; short focal length ideal for capturing self-shots as well. With all important factors considered – the Sony a7R IV vlogging lens is sure to offer what you need.
Build and handling: Boasting a featherweight 13.2 oz, this ultra wide-angle prime lens offers vloggers optimal portability and performance. Also, Nano AR Coating is there for minimized ghosting and flare. Plus, its construction includes a dust/moisture resistance system so don't be afraid to take this bad boy on all of your adventures!
Performance: Every vlogger wants to stand out in the crowd, and an f/1.8 aperture is key for creating a stunningly blurred background effect. This same large-aperture advantage also lends itself well to low-light performance – perfect if you're shooting on the go! A bonus would be the ability to focus silently; not detracting from the audio quality of any video production.
Best for: Make your creative vision come to life with the 20mm lens – perfect for close-up street photography, real estate shots in tight spaces, or wide landscape views. This versatile tool offers endless possibilities and results you can be proud of!
One of the best Sony a7R IV lenses for vloggers offers a wealth of features that make it an indispensable asset to any photographer's toolkit. From its silent autofocus and large aperture, right down to the remarkable image clarity in both photos and videos – this highly versatile product compensates for its high price point every step of the way.
Best prime lens for Sony a7R IV
Sony FE 135mm f1.8 GM
A 135mm prime lens is a valuable addition to any professional photographer's kit, offering an array of creative new perspectives. The Sony a7R IV lens does this with style and finesse – however, you may need deep pockets if you're looking for something truly unique. Investing in special equipment can be well worth the cost!
Build and handling: This telephoto prime lens is a powerhouse of quality, weighing in at 33.5 oz. (950 g). It's designed from professional grade materials to ensure even weather sealing and it boasts Nano AR Coating for reduced ghosting and flare – providing you with the best image possible every time!
Performance: Professional photographers will appreciate this lens's outstanding image quality and sharpness. With an f/1.8 aperture, 135mm focal length, excellent contrast, and details even in low light conditions, it makes any subject stand out from its background with ease.
Best for: The Sony a7R IV 135mm lens will make your portrait photography projects stand out with its stunning depth of field and beautiful bokeh. It can also capture weddings, sports events, sweeping landscapes, or detailed street shots from far away.
If you're a dedicated portrait photographer, then don't look away, because that's one of the best lenses for Sony a7R IV. With superior quality and a slight price tag, it offers excellent value that can help elevate your photography to pro-level status!
Best wide-angle lenses for Sony a7R IV
Sony FE 16-35mm f2.8 GM
Sony a7R IV G Master lens is crafted to offer endless possibilities for your photography. This high-grade tool features countless benefits, but without an inflated price tag – allowing anyone the opportunity to capture special moments with its remarkable specs.
Build and handling: Ultra-wide lenses offer unprecedented versatility with focal lengths ranging from 16 to 35mm, allowing you to capture closer-range shots and impressively wide angles. Constructed using the highest quality weather-sealed components, this lens also features a focus switch and a hold button for added convenience.
Performance: The G Master series continues to impress with its high-quality image caliber, from wide-angle shots to maximum focal length. Autofocus Dual DDSSM systems enable a speedy and quiet operation for unequaled focus accuracy – delivering crisp contrast and sharpness that will astound any creative.
Best for: With wide angle capabilities and versatility, this lens is an ideal choice for diverse types of photography from close-range gatherings to landscapes. Capture everything you need in one shot by using it for moments such as group photos at events or weddings or capture the magnificence of a cityscape with its stunning qualities.
This wide-angle lens for Sony a7R IV may come with an uncompromising price tag, but its excellent performance is certainly worth investing in. If you're on the hunt to get your hands on impressive images, then this is surely among one the best options available.
---
Sigma 14-24mm f/2.8 DG DN ART
Sony a7R IV Sigma lens is the ideal choice for budget-conscious photographers, nearly halving the cost of its predecessor. Despite its lower price point, it still offers exceptional image quality and on par aperture with only minimal divergence in focal length when compared to the previous lens.
Build and handling: The Sony a7R IV wide-angle lens provides fast and silent autofocusing capabilities with its built-in HyperSonic Motor. Perfect for prolonged handheld shooting, this 28oz powerhouse also offers Multi-Layer Coating to help reduce flare & ghosting in your images.
Performance: Sigma Art lenses are renowned for their exceptional image quality – this particular model is no exception. It provides outstanding contrast and sharpness, while the f/2.8 aperture allows remarkable performance in challenging low-light conditions.
Best for: Sony a7R IV lens is an invaluable tool for all types of photography, from events and architecture to real estate shots. Its wide viewing angle also makes it the perfect choice for capturing stunning panoramic landscapes that will take your breath away.
The Sony wide-angle lens is an outstanding choice, offering a superb quality-to-price ratio. You may sacrifice some specs with this option when compared to the previous model. However, for those in need of professional results at an excellent value, it does not disappoint.
Best telephoto lenses for Sony a7R IV
Sony FE 70-200mm f2.8 GM OSS II
The Sony a7R IV telephoto zoom lens has been highly sought-after, with preorders filling and an impressive waiting list. This latest model is 30% lighter than its predecessor and provides any enthusiast or professional photographer with superior photography capabilities.
Build and handling: This pro-grade telephoto lens comes with a strong aluminum alloy body, providing it with exceptional strength and stability while keeping the weight low at 36.9oz (1045g). To ensure an optimal photo experience, 5-axis Optical SteadyShot combined with Nano AR Coating II further minimizes flare and ghosting in your photos, delivering crystal clear images.
Performance: The Sony a7R IV lens is sure to impress with its wide and fast maximum aperture of f/2.8 – something rarely found in telephoto zoom lenses! Enjoy quicker autofocus speed and stunning results even when shooting during low-light conditions.
Best for: With its versatile capabilities, this telephoto zoom can capture various subjects – from landscapes and wildlife photography to sports! Its fast autofocus, focal lengths, and shutter speeds make it ideal for capturing the perfect moment.
For those looking to take their photography up a notch, investing in the Sony a7R IV telephoto lens is an essential move. Boasting professional-grade imaging capabilities and stabilizing optics, this premium piece of camera gear will help you capture quality photos with sharp precision – making every penny spent worth it!
---
Sony FE 200-600mm F5.6-6.3
This surprisingly affordable Sony a7R IV zoom lens at a pro-grade level has been a hit with photographers looking to get up close and personal with those hard-to-reach distant subjects, like wildlife. This go-to option allows even the most budget-conscious photographer to capture stunning shots of nature in all its glory!
Build and handling: Featuring three customizable focus-hold buttons that ensure you never miss the shot, this device is also engineered with dust and moisture resistance to keep it safe no matter the environment. A fluorine coating on its front element plus a Nano AR Coating eliminates unwanted reflections, glare, or ghosting for perfect images.
Performance: This lens will give you a superior photographic experience with its built-in optical stabilization, 11-blade circular aperture mechanism, and internal zoom. Enjoy smooth focus transitions thanks to Sony's advanced Direct Drive SSM focusing system.
Best for: Sony's FE 200-600mm F5.6-6.3 G OSS lens is a must-have for sports, action, and wildlife photographers – providing unparalleled versatility in an incredible super telephoto zoom package.
With its relative affordability, portability, and excellent performance, Sony's FE 200-600mm telephoto zoom lens was an instant hit upon release. Despite being a slightly narrower aperture than what is generally available on the market, it quickly became increasingly difficult to get your hands on in the months after launch.
Best budget lens for Sony a7R IV
Sony 28mm f/2.0
This lens offers a unique perspective for any beginner photographer. With its fast and small size, paired with prime features such as the impressive aperture, this budget Sony a7R IV lens is an ideal choice to kick-start your journey into photography!
Build and handling: This fast prime lens is surprisingly lightweight yet robustly constructed with an aluminum alloy body, making it well-suited for professional use. Additionally, its moisture and dust resistance provides extra peace of mind when shooting in adverse weather conditions.
Performance: The premium design of this lens provides extraordinary performance even in challenging scenarios, such as low light photography. Enjoy the extreme control from its f/2.0 aperture and silent autofocus motor for sharper images that come to life with vibrant colors.
Best for: 28mm prime lenses may be overlooked in the photography world, but can still offer immense value for a shooter's portfolio. Its unique perspective adds creative potential to images of landscapes and portraits alike. Moreover, it even allows you to capture beautiful details from nature that would otherwise pass by unnoticed – making 28mm an absolute must-have lens for any serious photographer!
With its unbeatable value for money, the Sony a7R IV lens offers stellar performance and impressive image quality. It's an excellent addition to any camera gear collection that needs high-speed capability without breaking the bank!
Best zoom lens for Sony a7R IV
Sony FE 24-105mm f4 G OSS
Sony's G Series lens is a must-have for any serious photographer! Offering superior performance and exceptional versatility, you'll be able to capture stunning images no matter the situation. Whether your passion lies in portraits or landscapes, the subject will always provide superb results. Indulge yourself with state-of-the-art photography gear.
Build and handling: An aluminum body gives this wide-angle pro-grade lens an impressive weight without sacrificing quality. Thanks to the Nano AR and Fluorine coatings, you can trust its dust and moisture resistance. This professional-grade, wide-angle lens is built to last.
Performance: With a maximum aperture throughout its zoom range, this lens gives you incredible control over your focus and allows for stunning background blur. Super Sonic autofocus provides lightning-fast performance that is whisper quiet – the signature of G-series technology. The real game changer here? Built-in image stabilization engineered to help produce sharp images no matter what lighting conditions you're shooting in!
Best for: A wide-angle zoom lens is a must-have for everyday photography. From capturing the hustle and bustle of busy city streets to snapping those perfect portraits on your travels or enjoying nature at its finest – this essential tool will ensure that no moment goes uncaptured!
The camera is already amazing, but you can take your photography up a notch with this one of the best lenses for Sony a7R IV. The cost of this lens is more than justifiable for its exemplary performance. It stands as one of the best value-for-money investments aspiring professionals could make to perfect their photography portfolios.
Sony a7R IV macro lens
Sigma 105mm f/2.8 DG DN Macro ART
Capture the beauty of minuscule creatures and objects with a macro lens specially designed for Sony cameras. Get remarkable quality at an attractive price point – you won't find better value elsewhere!
Build and handling: Sony a7R IV macro lens offers an uncompromising professional aesthetic, weather-sealed materials, and a comfortable grip. To optimize image clarity and contrast, the lens is also equipped with Super Multi-Layer coating for suppressing flare and ghosting effects.
Performance: With the f/2.8 aperture, you'll experience the best in quality with stunning details and soft background effects. Uncompromisingly fast focus is achieved through its hypersonic motor for a noiseless journey into capturing your favorite moments!
Best for: Macro photography just got simpler – the 105mm focal length allows you to capture shots without invading your subject's space, and eliminates lens shade from becoming a problem. Enjoy beautiful images with ease!
This is one of the best lenses for Sony a7R IV and is an ideal choice for macro photography, boasting a powerful 105mm focal length, aperture of 2.8, and hypersonic motor – all at an unbeatable price!
---
Conclusion
There was a review of the best lenses for Sony a7R IV. With an array of options available, the full-frame camera presents a unique opportunity to customize your photography experience. From travel to macro lenses – everyone has their own advantages and disadvantages that should be weighed carefully. Ultimately it is up to you to determine which lens best suits your individual needs! Let's equip ourselves with new possibilities and add some fresh perspectives into our camera bags.
---
PIN IT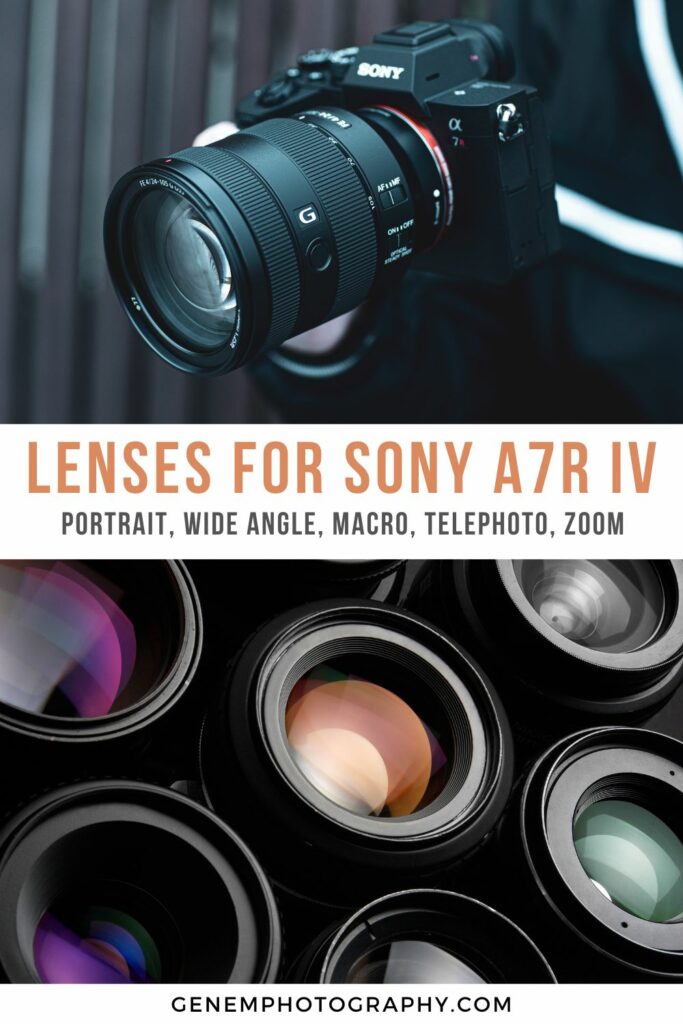 ---
Read more about lenses: